Some people, like moths, are drawn to flame. For those that find their way into wildland firefighting, there is an allure to a forest fire: hearing the freight train- like roar as it advances, seeing the columns of smoke that rise into the sky, feeling the heat that permeates Nomex pants and shirts and can make trees explode in a shower of sparks.
For some, the challenge of the fight against a fire is the attraction: the sprint to contain it, the din of air support delivering payloads of water and retardant, the exhaustion of a 16-hour workday, and the battle weary comradery that comes from spending day upon day with the same overly-tired, overly-caffeinated and overly-filthy people. This is not to romanticize this work; but there is no question it provides a charged and exciting challenge.
Wildland firefighting offers both the promise of a decent paycheck and the opportunity to work outside, but most who stay in the profession have some form of addiction – to the adrenaline, to the challenge, or to the escape it offers from the real world. These are equal opportunity addictions, and the fix – fighting fire in a remote forest – is sought by both men and women.
Women have been trained to fight forest fires since the turn of the 20th century, during times when males were stretched thin during U.S. military engagements or when a large number of ongoing fires outpaced male-only crews' capacities. The first evidence of women fighting fires on National Forests was in 1915, where photos show wives of Forest Service rangers trained to help battle fires in what is now the Mendocino National Forest in California.
The first women in the postwar period known to have actually been paid by the Forest Service for fire suppression served on an all-women wildland firefighting crew on the Lolo National Forest in Montana in the 1970s. Full female integration on Forest Service fire crews didn't come easily, but by the late 1970s, women had finally worked, and sometimes fought, their way onto most types of Forest Service fire crews. Including the most elite crews.
Elite Crews, Dangerous Responsibilities
Wildland firefighting is a complex endeavor, and the Forest Service plays a primary role in staffing and funding suppression efforts on public lands (not just National Forests) across the nation. From the National Interagency Fire Center (NIFC), to Incident Management Teams, and down to local district resources, every cog in the wheel serves an important function in the fight to suppress fires. Wildland firefighting resources are designated as a Type I, Type II, or Type III resource based on power, experience, leadership and availability, with a Type I resource providing greater overall capability due to skill, size, capacity and experience.
Without question, working on or near a fireline is dangerous. It requires training and fitness, whether a person is on an engine crew that delivers water to the front lines, or on a district crew made up of various Forest Service staff pulled together only when a "fire bust" happens and they are needed to assist in suppression efforts. Nearly everyone who approaches a fire is required to be red-carded (having passed the minimum training module for wildland firefighting) and be able to pass some version of the work capacity test, the most difficult level requiring "rucking" a 45-pound pack for three miles in 45 minutes or less.
This culture, where there is pressure to be the toughest, the baddest and the best, wasn't an easy one for women to break into.
To earn a spot on the most elite crews, like hotshot crews, rappel crews or smokejumper crews, you need to have a couple of fire seasons of experience and pass special training. The nature of the work done by these specialized crews imposes extra physical demands on their members, so the physical fitness requirements to gain a spot are higher. After all, these crews are called upon to travel around the country for remote initial attack efforts or for the toughest fire assignments.
In the world of elite wildland firefighting crews, who is "the best of the best" is often a subject of debate. Currently, the required level of experience and physical fitness is very similar for these three types of crews. But this doesn't stop crews from throwing shade about which type is the most physically fit and who works the hardest. Similar (mostly) friendly rivalries exist even among the same type of crews at different bases.
This culture, where there is pressure to be the toughest, the baddest and the best, wasn't an easy one for women to break into. Historically there was debate about whether women had the required physical capabilities to belong on these crews. But the past 40 years have proven that females, without any "gender norming" or lowering of standards, can more than hold their own in the world of wildland firefighting. And while numbers are still low (only about 10 percent of the permanent Forest Service wildland firefighting force is female), women have worked their way into permanent placements and management positions where they help orchestrate wildland firefighting efforts.
The Right Woman for the Job
Lacey England flew in a helicopter eight times before she ever experienced landing in one. That's because in each of those first eight flights, she got her feet back on land by rappelling to the ground, first in rookie training, then as a certified member of the Montana-based Gallatin National Forest Rappel Crew. Rappel crews are an initial attack wildland firefighting crew. Rappelling, like its better-known and arguably more glamorous cousin, smokejumping, is just a fancier and faster way to get to a wildfire. Once you hit the ground, the same arduous, dirty, work of fighting a wildland fire begins.
Sara Knapp, Assistant Superintendent of the Bitterroot Interagency Hotshot Crew, based on Montana's Bitterroot National Forest, also rappelled for several years. But she prefers to work on the bigger fires that a hotshot crew gets to see.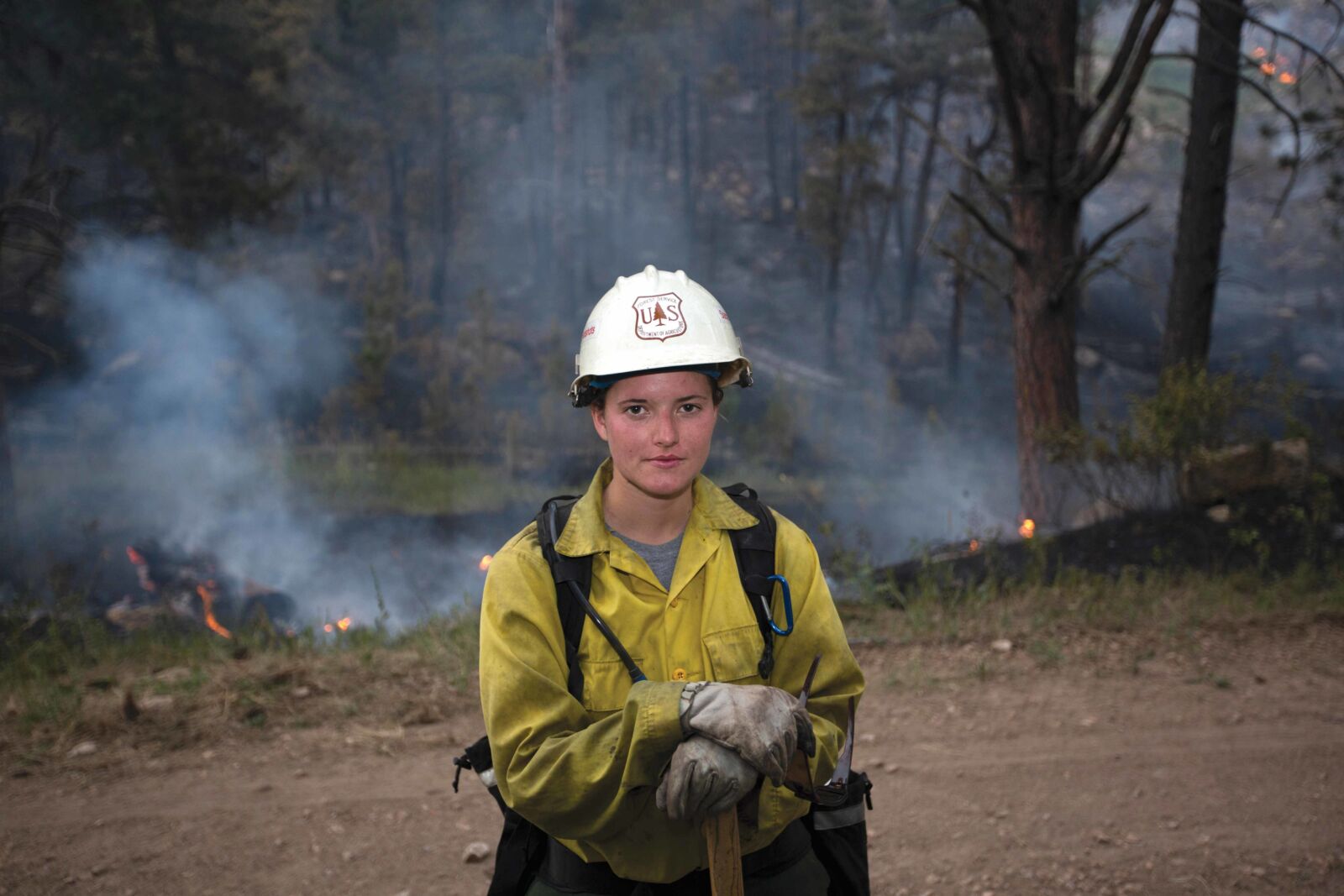 Molly Day is another former hotshot. While Molly shudders at the thought of rappelling out of a helicopter or jumping out of a plane, big monster fires don't phase her. Now a Fire Prevention Officer on the Stanislaus National Forest in California, Molly worked on the Stanislaus Hotshot Crew for ten years and her favorite part of the job was burnout operations– starting backfires to eliminate the fuels in between a fireline and the front of a fire. "I loved those big firing shows, when you and the crew just become another force of nature."
And Shelly Allen, Fire Management Officer on the Tahoe National Forest in California, has worked on both a rappel crew and a hotshot crew, but what she really wanted to do was follow the footsteps of her father right out the door of a DC-3 airplane and become a smokejumper. "The fire aspect wasn't really what motivated me. It was the physical challenge. I wanted to be the best of the best," Shelly said, "to push my limits, and prove to myself that I was up to it." And up to it she was.
Hotshots
Interagency Hotshot Crews (IHC) are a Type I ground crew of at least 20 highly trained people. Hotshot crews are collectively required to have an extensive level of experience and training, and each member must maintain a high level of physical fitness. Hotshot crews started in southern California in the late 1940s on the Cleveland and Angeles National Forests and were made up primarily of members of the Civilian Conservation Corps. In 1976, several women were hired onto hotshot crews around the western U.S. In 1989, the Lolo Hotshots hired the first woman superintendent to run the crew. Six additional women have since achieved a Hotshot Superintendent title.
The name "hotshot" stems from the fact that these crews are often put in the hottest part of fires. Hotshot crews are often given arduous and dangerous assignments and frequently respond to large, high-priority fires. When Sara Knapp experienced her first big fire, on Utah's Fishlake National Forest, "It was the most amazing thing ever." The intensity of both the fire and the fight captivated her, "It was this powerful thing; it was loud; it was a rush. I was hooked."
Sara has been fighting wildland fire for 18 seasons. While some might call her short, Sara is a physical powerhouse. As a woman with a small stature, she believes it is important to work out harder to exceed the minimum physical qualifications required by a hotshot crew member in order to silence both self and external criticism.
Hotshots are trained and equipped to hike to and work in difficult, remote terrain for extended periods of time with little support. These crews are required to have the ability to rapidly construct handline, a fire control line constructed by clearing vegetation down to mineral soil to create a fuel break to slow or stop the advance of a fire. Handline is built using hand tools (versus a fireline which is built with a bulldozer), including chainsaws, pulaskis, hoes and shovels. Hotshots move quickly, carrying their 45-pound packs and tools faster than the average person can jog.
In the off-season, Sara doesn't take time to rest or recuperate– she takes on different physical challenges. She bikes, Nordic skis, and has earned the moniker "Little Evil" for her jammer skills in the roller derby rink. And she runs. In April 2017, to raise money for the Wildland Firefighter Foundation, Sara ran her first 100K in Zion, Utah. Part of this is innate, but another part is her commitment to remaining in top physical shape for her career.
While hotshots have a home base, they travel to assignments throughout the U.S., and may rarely return to their base during a busy fire season. According to Sara, firefighters, especially hotshot crew members, are escapists. Fire provides a way to "Jet away from real life; it's an opportunity to get away from all the mundane, routine things that you have to do when you're an adult," she laughs.
Hotshot crews are often given arduous and dangerous assignments and frequently respond to large, high-priority fires.
While hotshots have a home base, they travel to assignments throughout the U.S., and may rarely return to their base during a busy fire season. According to Sara, firefighters, especially hotshot crew members, are escapists. Fire provides a way to "Jet away from real life; it's an opportunity to get away from all the mundane, routine things that you have to do when you're an adult," she laughs.
Along with constructing handline, IHCs are trained in burnout operations, or "those big firing shows" as Molly calls them, which involves setting fire to unburned fuels located between the control line and main fire. They also are trained to "hold the lines," which often includes providing on-the-ground direction for aerial support, like retardant and water drops.
Burnout operations were one of Molly Day's favorite aspects of the job, but she also acknowledges how dangerous they can be, especially if you don't have the confidence to question everything. In the world of wildland fire, you are trained to speak up if you encounter a situation that you think might be unsafe.
Molly recounts a story of a close call on a fire on California's Shasta-Trinity National Forest, where her crew was tasked with conducting a burnout in the dark, in steep, unfamiliar terrain. Her crew, without taking time to verify it, relied upon information relayed to them by a previous crew about on-the-ground conditions and safety measures. Molly was uncertain about the situation, but wasn't comfortable raising her concerns. As the operation progressed, it became clear that her crew had been misdirected, and as a result Molly and a couple of other firefighters nearly ended up being caught by the flames.
It was a close enough call that she actually considered whether to deploy her fire shelter, which is one of the worst scenarios wildland firefighters can find themselves in and is almost always indicative that mistakes have been made. Molly and the others made it to safety, but it wasn't a lesson she has forgotten, "From that point on, I always asked the questions that I didn't want to ask before for sake of sounding of silly."
Smokejumpers
Vivid lore surrounds smokejumpers, who since 1940 have parachuted out of planes to reach the fires they fight. Approximately 270 Forest Service smokejumpers work today out of seven National Forest bases across the West. Smokejumpers are a key part of the initial attack force of wildland firefighters, because they are one of the fastest resources available to reach a remote wildfire shortly after it is ignited or spotted (and hopefully while it is still relatively small).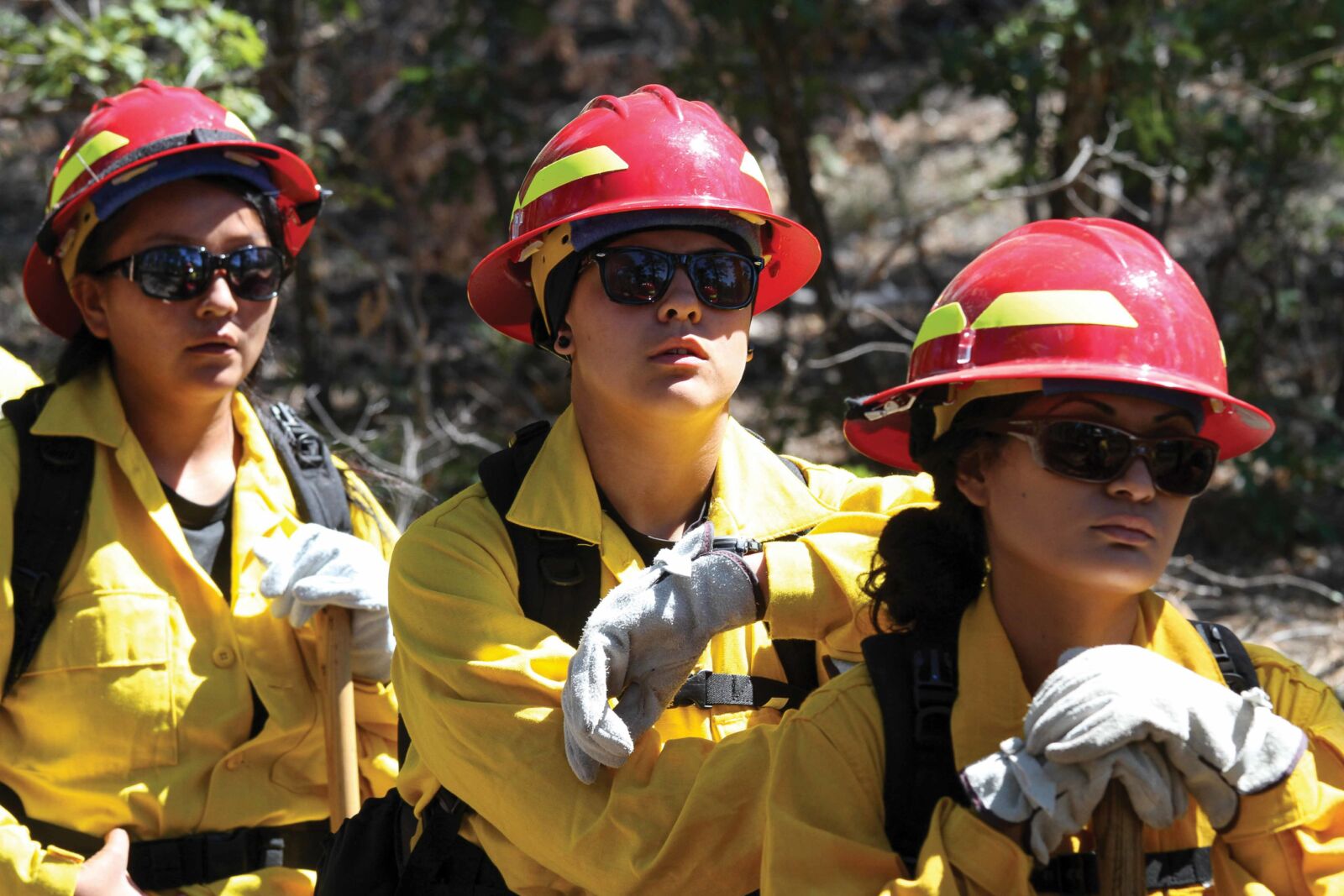 After parachuting to the safest, most proximate location to the fire, the jumpers use hand tools (which are also dropped in via parachute), to begin controlling or extinguishing the blaze. They can provide a ground assessment and may order additional resources to best control the fire. The size of the fire and availability of resources will determine how many jumpers staff the fire, but any number between two and twenty will be "kicked out" to work on the incident. Depending on the circumstances, the jumpers will either extinguish the fire, or turn it over to another crew for additional suppression or "mop up."
Smokejumping requires a high degree of physical fitness, because once jumpers have completed their mission on the fire, they often have a cross-country "pack-out" to the nearest road, where they will be picked up for transport back to their base. Not only can the pack-out be a lengthy distance over dicey terrain, it requires rucking more than 100 pounds of gear.
Other dangers are inherent as well. Sometimes a jumper "hangs-up" in a tree. A jumper must have the upper body strength (and presence of mind) to safely tie off, release from the chute and get to the ground. Once the fire has received the required attention, they then have to climb back up the tree to retrieve the chute (or other cargo that may have gotten "hung"). The worst injuries occur when jumpers are impaled on a limb during their descent or if they somehow crash on landing.
Shelly Allen completed rookie training in Grangeville, Idaho in 1997, then transferred to the McCall Smokejumper Base where she worked until 2005. "I loved the job, loved the culture, loved keeping myself in top shape. And I got to see so many places of the country that most people will never see."
Smokejumping was the most difficult of the elite wildland fire fighting circles for women to break into due to the antiquated and patriarchal belief that females couldn't meet the physical fitness requirements. The first woman smokejumper, Deanne Shulman, was hired in 1979, but despite meeting the established physical fitness standards, was "washed" from the program for being a few pounds under the required weight. This was despite it being known that there were several underweight men on other bases.
After filing an Equal Employment Opportunity Commission complaint, supported by one of those underweight men, Deanne was allowed to try again, so long as she weighed at least 130 pounds on the first day of her appointment. This requirement has since been lowered to 120 pounds, but the physical fitness standards, including a 110-pound pack test, remain the same. In 1981, she completed rookie training and jumped at the McCall, Idaho Smokejumper Base for five years.
"I loved the job, loved the culture, loved keeping myself in top shape. And I got to see so many places of the country that most people will never see."
"Deanne paved the way for women jumpers, and it wasn't easy for her," Shelly acknowledges, "When I met her, I was star struck, it was like meeting a rock star. She is amazing." Shelly's crew was like family to her and, although she was one of only a few females, she didn't feel unwelcomed or disrespected. She attributes this to both the women who came before her and to having the right mindset. Shelly's first fire jump was into the Selway-Bitterroot Wilderness on the Nez Perce-Clearwater National Forest. Her jump partner that day was a woman and they had a woman spotter kicking them out the door. "It is a moment that stuck out for me," she recalls.
Another memorable moment for Shelly was an acknowledgement by a fellow jumper of her strength and accomplishment. "After a pack-out over eight miles of rough terrain … I threw off my 110-pound pack, which was almost how much I weighed, and one of the other jumpers just shook his head and said, 'Shelly, if I had to put my own weight on my back for these pack-outs, I couldn't do it.'"
Rappel Crews
Rappel crews have a similar initial attack mission that smokejumpers have, and face many of the same physical challenges, however rather than jumping from a plane, they get to the fire via helicopter. If, as is often the case, there isn't a nearby landing spot or if landing is prohibited because the fire is in Wilderness, they rappel down 250 feet to reach the ground.
While the physical fitness requirements at most rappel bases are similar to those required for smokejumping, they haven't been standardized across the rappel program. Regardless of the standards, a crew member better be prepared to ruck a 100-pluspound pack over rough terrain, because the helicopter that they dropped from rarely returns to pick them up. Like smokejumpers, rappellers must pack-out their gear to a road.
Lacey England will start her fifth season with a permanent appointment on the Gallatin Rappel Crew this year, which guarantees her work for 13 pay periods. A permanent position also provides employees with the potential for lateral moves and opportunities for applying for advancement that might only be advertised to internal candidates. "I'm not sure how long I will stay with this crew, or in fire, but having a permanent appointment opens doors," she says.
She has begun training to be a helicopter manager and is qualified to be an incident commander on some fires. In a couple more seasons, she is planning to begin spotter training, another step-up in responsibility. Once a crew is dispatched to a fire, the spotter has the primary responsibility for doing rappel crew member safety checks, communicating with the pilot, determining the best site to rappel into, and leading the process to get crew members and then gear bags safely to the ground.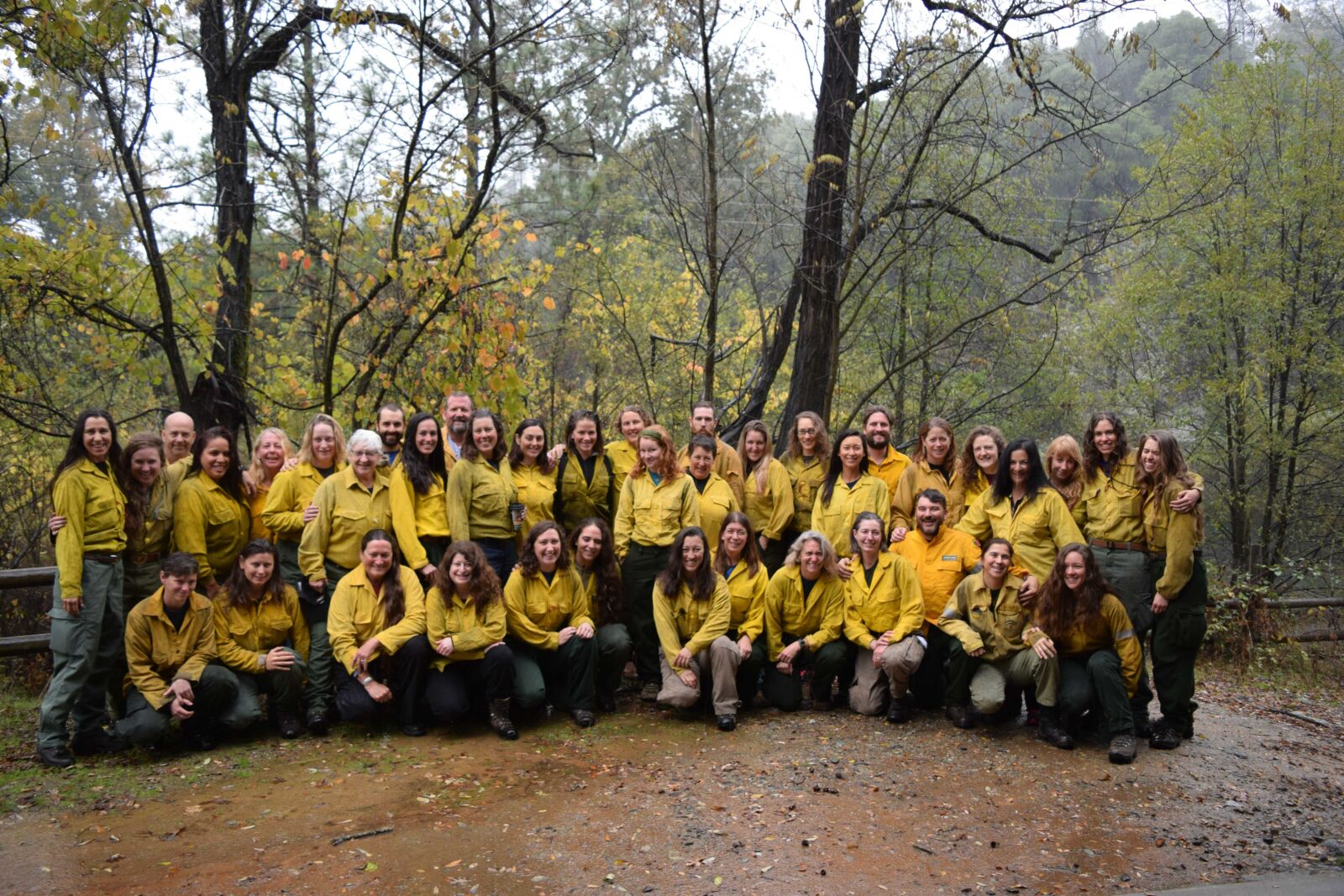 Lacey's first fire rappel was on Idaho's Nez Perce-Clearwater National Forest. But the summer of 2013 was one of her most memorable fire seasons. "It was rappelapalooza," she recalls. "During one stretch we were working out of Grangeville, Idaho, and I went on four back-to-back fires. I'd get off a fire, get transported back to the heli-base, and just have enough time to get my belly-bag repacked, maybe an hour, before we were sent off again. It was a meat grinder. But it was great. Those tough experiences are the ones that seem to stand out since you pushed through and survived."
Grit and Humor
None of these women want to be a "woman wildland firefighter" poster child. "Women firefighters shouldn't all be defined in the same way. We don't all fit the same mold," asserts Lacey.
Molly concurs, "I don't fit that mental picture that most people have of a typical firefighter." In fact, before she began fighting wildfire, Molly had trained to be a manicurist. But this unique background made her an asset to the crew in ways that couldn't have been predicted when she became the crew expert on tool sharpening and maintenance. "That [manicurist] experience taught me the importance of maintaining your tools, keeping your tools sharp, with a clean edge. You can't do the job as well and as fast if your tools aren't in good shape."
But the fact that they have been successful on their respective crews does show that they all have mental and physical toughness in common. This grit unifies wildland firefighters regardless of their gender.
So, what advice do these women have for those who are considering a job in wildland firefighting?
Shelly says it is crucial to be authentic, to be who you are, to not to try to act like someone you're not. "People respond best to that," she asserts. "And when it comes to leadership, there are certainly some truisms that can found in generalized differences between the way men and women lead, but that is okay, those differences aren't what makes a good or bad leader."
Molly's advice is not to underestimate yourself. "I was pushed in a healthy way by the folks whose opinion mattered to me, both men and women. They were hard on me, but at times they also knew better than me what I could do." She reflects that having done the work that she has and having tough experiences to look back on "makes things that come up now in my life easier, as I think back and realize I've done much harder things."
Molly also advises that you will build confidence over time. She recounts how scared she was on her first fire – her confidence was low and she was surrounded by experienced, "crusty" characters. It was nerve wracking trying to prove herself. "I thought I was just going to be a temp, but now, 20 years later and here I am. I only have four years until I'm eligible to retire. Now I'm one of those crusty old characters!"
Lacey's advice to other women who are interested in working as a wildland firefighter is to have a good support system and to have a realistic expectation that you may encounter some type of sexism. "You have to go into it recognizing that it is a male-dominated culture. You have to prepare yourself for that and make a plan for how you are going to deal with it. The plan has to be one that works for you. We are all going to react differently and have our own lines that we draw in the sand. But you shouldn't ever allow inappropriateness to be normalized. And you shouldn't be intimidated."
Sara's advice to other up-and-coming women is that, like in many male-dominated professions, females need to work harder and smarter to be heard and respected, but that persistence and hard work will pay off and confidence can be learned. "You spend a lot of time beating your head against the wall, but once you realize you have the ability to change the way you deliver the message, to communicate in a way that is different than how you might have learned to [as a female], you learn not to be intimidated. There is a shift and people start listening."
Sara also counsels, that above all else, maintain a sense of humor. "If you can't laugh at things anymore, you should get out," she warns. And then she passes on some of the best advice she ever received from a past supervisor: "He'd say, 'you've got to have gravel in your gut.'"
About the Author
Dayle Wallien is the Conservation Partnerships Director for the National Forest Foundation. Dayle grew up in the Cascade Mountains of north central Washington, not far from the North Cascades Smokejumper Base. While working on her undergraduate degree and prior to going to law school, Dayle spent five seasons working as a wildland firefighter for the U.S Forest Service, both on the Okanogan-Wenatchee National Forest and as a rappeller on the Malheur National Forest Rappel Crew. Reach her at [email protected].
Learn more about the women featured
We've posted expanded profiles of the four women featured in this article on our blog. Learn more below: