Whether the road is a highway or a dirt track, driving tours are one of the most popular ways to experience our incredible National Forests. Thanks to support from Ford's Bronco Wild Fund, the NFF is helping ensure our National Forests stay beautiful and healthy for all users of our public lands. Through this blog series, we're highlighting just a few of the incredible routes Bronco owners and all drivers can take to connect with their National Forests. Remember to know before you go by checking with local managing agencies for updates and restrictions. When going off-highway, keep to designated OHV routes to limit impacts on water resources and wildlife habitat. And consider planting trees with the NFF to help offset the carbon footprint of your trip: planting two trees can mitigate 1 ton of CO2 over the trees' lifetime!
About the Route
Route Distance: 232 miles
Suggested Duration: 2-3 days
Nearest Cities: Reno, Nevada; Las Vegas, Nevada
Starting Point: Lake Tahoe, California
Ending Point: Lone Pine, California
Highway 395 traverses the east side of California's Sierra Mountain Range. It travels between the extremes of the Lower 48's highest and lowest points (Mount Whitney and Death Valley) and passes by some of the oldest living beings on the planet (ancient bristlecone pines), all in one drive. This road is less traveled compared to California's other attractions, although it passes by Yosemite, Kings Canyon and Sequoia National Parks and through the Inyo National Forest, which is unique in the state for its expansive network of OHV trails.
The road encompasses an array of California's history as well. It passes by the ghost town of Bodie, a once-thriving Gold Rush mecca with nearly 10,000 people and now a relic of the era preserved in a state of "arrested decay". And it runs through the Manzanar National Historic Site, where the U.S. government incarcerated more than 110,000 Japanese immigrants in internment camps during World War II.
South Lake Tahoe
Start at the southern end of Lake Tahoe, one of the largest freshwater alpine lakes west of the Mississippi. This lake, straddling the California/Nevada border, is known for its exceptional water clarity. And the town, of course, is known for a variety of world-class outdoor activities from skiing in winter and mountain biking, hiking, and camping in summer.

Mono Lake and Mammoth Lakes
A two-hour drive along 395 from South Lake Tahoe brings travelers to the surreal Mono Lake on the Inyo National Forest. The salt lake's 70 square miles are ringed with surreal groves of limestone towers called tufa and its surface is dotted with volcanic islands. Check out the South Tufa area for a one-mile loop with some of the best views of the towers. Mono Lake's water hosts an abundance of brine shrimp, making it a regular stop for dozens of species of migrating birds in the spring and fall and a year-around population of California's gulls.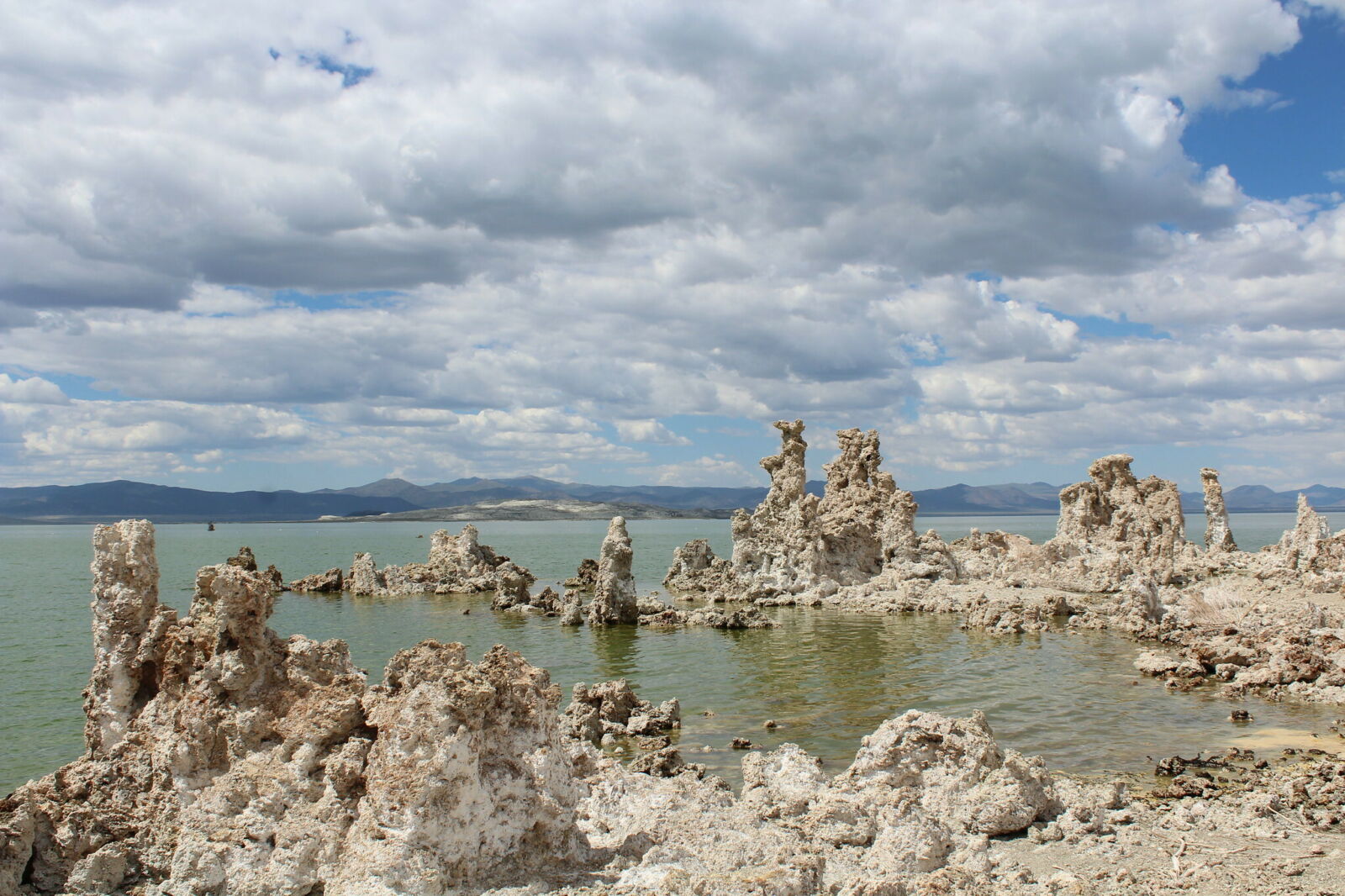 Thirty minutes south of Mono is Mammoth Lakes, the best-known hub for outdoor recreation of the Eastern Sierra. In late summer, wildflower hikes, like Sky Meadows, lead to an array of alpine lakes. Waterfall hikes abound as well, including Minaret Falls, Rainbow Falls, and Lower Falls. The area has plenty of backpacking and camping options.
Poleta Canyon OHV Open Area
Poleta Canyon, just five miles east of Bishop, is a 2,500-acre OHV area managed in partnership with the Inyo National Forest and BLM. It features short trails, longer single-track trails, and an open bowl for the more adventurous.
Bishop to Big Pine OHV Trail
Those with 4x4 vehicles may want to swing off Highway 395 just north of Bishop onto Silver Canyon Road, a lightly trafficked, rough road with beautiful mountain views. Silver Canyon meets up with the slightly more established White Mountain Road, which runs into Highway 168 and brings drivers back to Highway 395 at Big Pine on this 39.2-mile point-to-point.
Whitney Portal Road
From Lone Pine, the Whitney Portal Road takes visitors halfway up Mount Whitney—at 14,496 feet, the highest peak in the Lower 48. The paved, 13-mile road, narrow and steep, leads to Whitney Portal, secluded in a wooded canyon of soaring granite cliffs.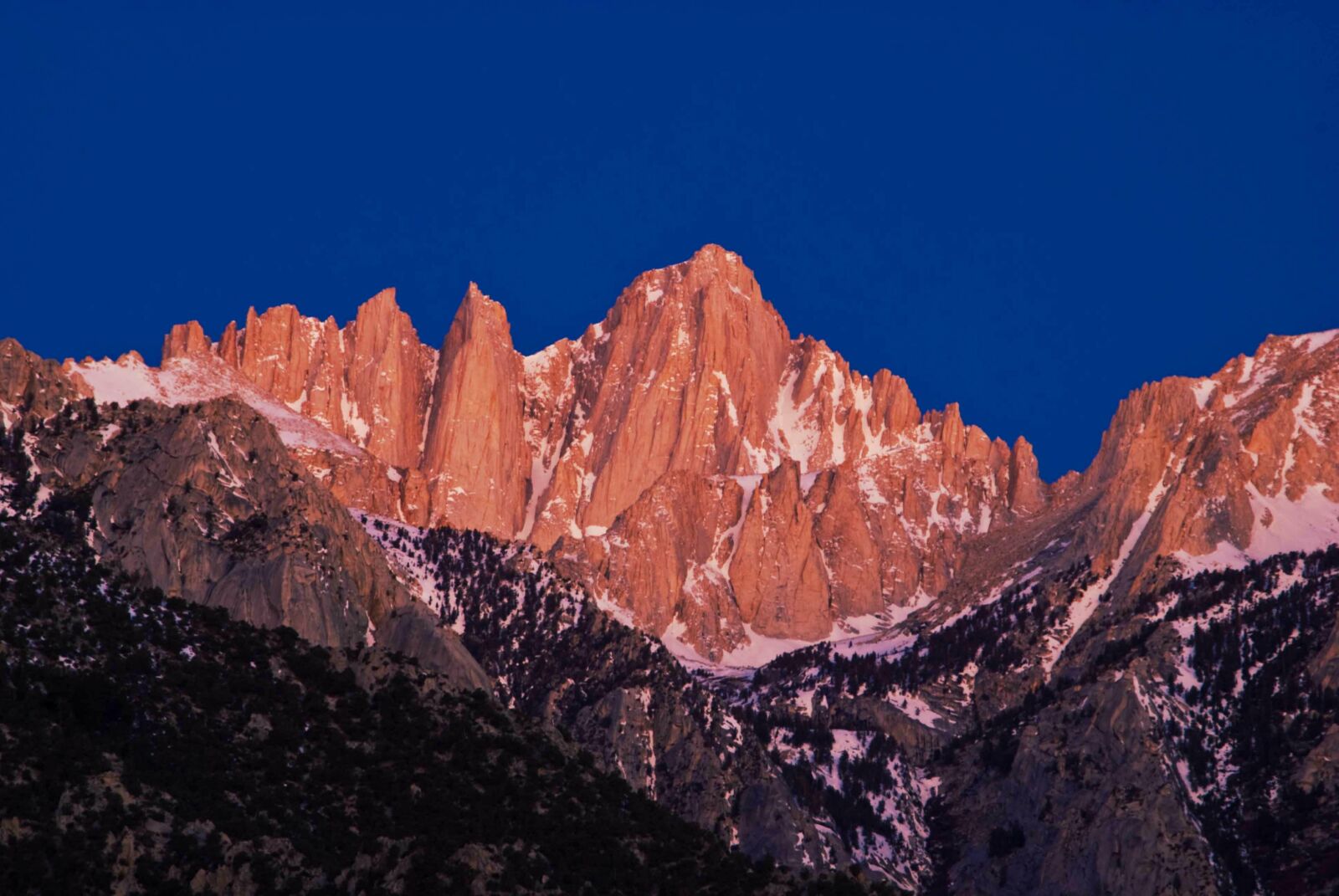 From Lone Pine, drivers can choose to continue along Highway 395 alongside the Sequoia National Forest down toward San Bernardino or Los Angeles; or turn off for nearby Death Valley, the country's largest National Park south of Alaska. It's also the hottest place ever recorded on earth, with the mercury rising to a whopping 134 degrees in 1913. At Dante's View in Death Valley, travelers can see back to the highest point of Mount Whitney, and to the lowest point in North America, Badwater Basin, at 282 feet below sea level.