The mountain ranges of Northern California are home to some of the most biodiverse temperate forests in the world. The Klamath Mountains, North Coast Range, and Southern Cascades all come together to form complex, rugged terrain which, over the millennia, has allowed biodiversity to flourish among rich and unique habitat types.
Alpine meadows are an often overlooked habitat within this varied landscape. Nestled between the mountains' peaks and forests, these grassy oases act as sponges, holding water and rich vegetation throughout the year. Justin Garwood, an environmental scientist at the California Department of Fish and Wildlife, refers to them as "green glaciers," referring to their ability to store and slowly mete out cold water, much like a glacier does.
Meadows have an almost too-good-to-be-true list of ecosystem services and benefits. They are incredible carbon storage basins, holding as much as six times the amount of carbon in their soil as an equal area of forest. They're integral year-round habitat for the region's immense biodiversity, providing shelter and forage to the region's many endemic species throughout the seasons. Their ability to slowly dispense cold water is especially important for downstream salmonids, which are suffering from increasing water temperatures and climate-induced drought. Further, scientists believe that these meadows will be one of the most stable habitats in the face of impending extreme climate shifts, acting as key refugia for biodiversity.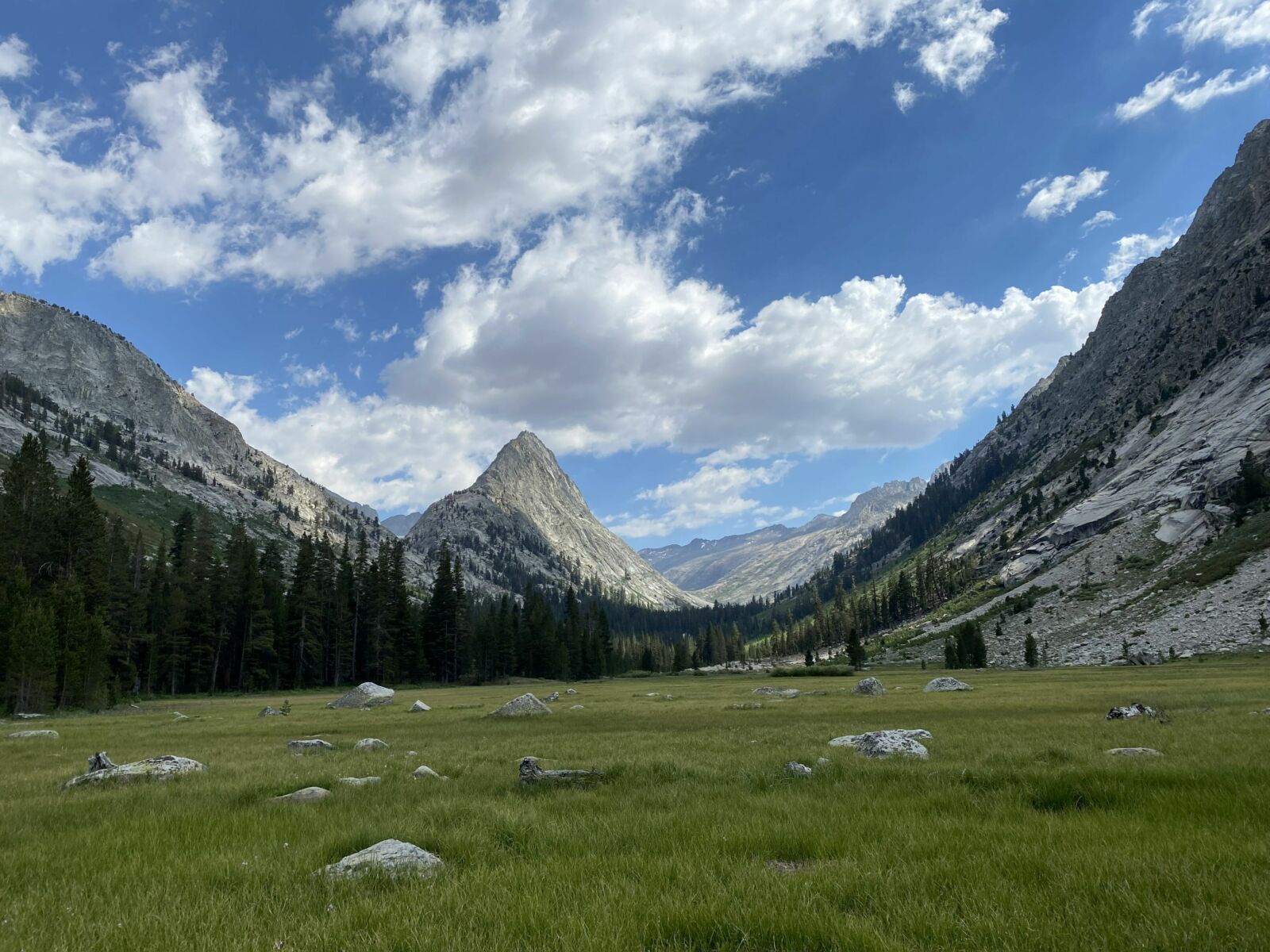 As northern California faces its driest year on record and continues to recover from the most severe fire season in the state's history, protecting alpine meadows is becoming all the more pressing. Safeguarding these "green glaciers" builds resilience within the northern California landscape, allowing its biodiversity and human communities to continue to thrive. The Klamath Meadows Partnership, a burgeoning collaborative, aims to lead this work.
The Klamath Meadows Partnership was formed in 2020 to bring attention and resources to the alpine meadows of northern California. It is a network of over 30 government agencies, non-profit organizations, and scientists engaged in the research, education, and conservation of alpine meadows, which hold a key place in California's climate future.
The collaborative is nascent, and this summer I had the privilege of working with its members to develop their 15-year strategic plan. A key priority for the collaborative is to acquire funding to hire a full-time coordinator, pointing to the need for conservation dollars to go toward planning grants that allow for sustained and strategic restoration projects. Planning grants allow for organizations undertaking complex, large-scale work to direct funding where most needed, avoiding the dreaded pattern of "random acts of restoration." Of equal importance to the partnership is the creation of a meadows inventory and prioritization tool. In order to protect these habitats, we first must know where they are. This information can then be layered with climate projections, land use history, and species data to decide which are the highest priority for restoration.
The Klamath Meadows Partnership is full of passionate, talented conservationists, each of whom bring a unique set of skills and knowledge toward protecting this vital habitat. Through their work, I believe that in 15 years more people will recognize the value of northern California's green glaciers and join the growing movement to save them.
Annie Miller is a 2022 Conservation Connect fellow currently pursuing her Masters of Environmental Management at Yale School of the Environment, where she is focusing on Ecosystems Management and Land Conservation. She is particularly interested in collaborative conservation efforts as a means to build social, cultural, and ecological resiliency in Western lands.