On its 25th anniversary, America's first National Tallgrass Prairie is a picturesque portrait of human resolve and environmental resilience.
On a mild Friday in March, 50 degrees feels more like 70 at Midewin National Tallgrass Prairie in Wilmington, Illinois.
Two weeks ago, the ground was shrouded in a thick carpet of impassable snow. Now, just a few ice patches and slush puddles remain. Instead of a stark and sterile ivory, the landscape glows a warm, buttery yellow.
Although it's only an hour from Chicago, Midewin—a Potawatomi word that means "place of healing"—feels both miles and years away.
Not five minutes down the road from this expanse of native grasses and wildlife is historic Route 66, which somehow feels fitting. After all, the bygone days of that iconic road are long past, and so are the original contours of the land on which Wilmington sits. Centuries ago, prairie blanketed 22 million acres of Illinois, now nicknamed the "Prairie State." Today, however, less than 0.01 percent of that original acreage remains, according to the U.S. Forest Service, which in 1996 acquired 20,283 acres on which to restore at least some of what's been lost. And so was born Midewin, America's first and only National Tallgrass Prairie and the largest tallgrass prairie restoration project east of the Mississippi River, which in February 2021 celebrated its 25th anniversary.
In summer, Midewin is busy with birds, bees, butterflies, and wildflowers, vibrant colors punctuating an undulating plane of verdant grass that in some spots grows as tall as nine feet. On a late winter day like today, however, the naked trees and barren meadows seem tranquil. That is, until a meandering hike near the Iron Bridge Trailhead brings you face-to-face with a handful of hulking bison who have strayed from their herd to drink from a morass of melted snow. Like Route 66, they're an artifact from another epoch. Along with their hunched backs, beady eyes, and upturned horns, their giant, heaving breaths are otherworldly. That they exist at this time and in this place is a small miracle for which visitors can thank the National Forest Foundation and a patchwork of diverse partners that spent the last 25 years transforming postwar pastureland into restored native prairie.
An 'Explosive' Effort
What happened to the prairie is a story in three acts: agriculture, urbanization, and ammunition.
First came agriculture. When settlers moved west into Illinois, they plowed the prairie for farmland and installed drain tiles to remove excess moisture, said ecologist Bill Glass, who led Midewin's restoration prior to his retirement from the Forest Service in 2018.
"When the earliest settlers came here, they planted their crops near big trees because they thought that's where the most fertile soils were," Glass said. "They eventually realized, though, that the really fertile soils were out under the prairie ... The only pieces that are left were saved mostly because they were too rocky, steep, or wet to be plowed."
Acreage not consumed by agriculture was engulfed by Chicago and its sprawling suburbs—or in the case of Midewin, by the Joliet Army Ammunition Plant, a U.S. Army arsenal built in 1940 to manufacture and ship World War II munitions. Although its output decreased post-war, the plant remained active until 1978. When the Army declared it "excess" property in 1993, conservationists made a plan to restore it.
Subsequently, Congress transferred the land to the Forest Service so they could do exactly that, said Gary Sullivan, senior ecologist at the Wetlands Initiative, one of the organizations that participates in the Midewin Stakeholders. The NFF convenes and facilitates this group of nonprofit organizations, government agencies, and community groups that work together to raise funds, engage volunteers, and promote and advocate for this special landscape. Collectively, many partners have restored Midewin in chunks of a few hundred acres at a time.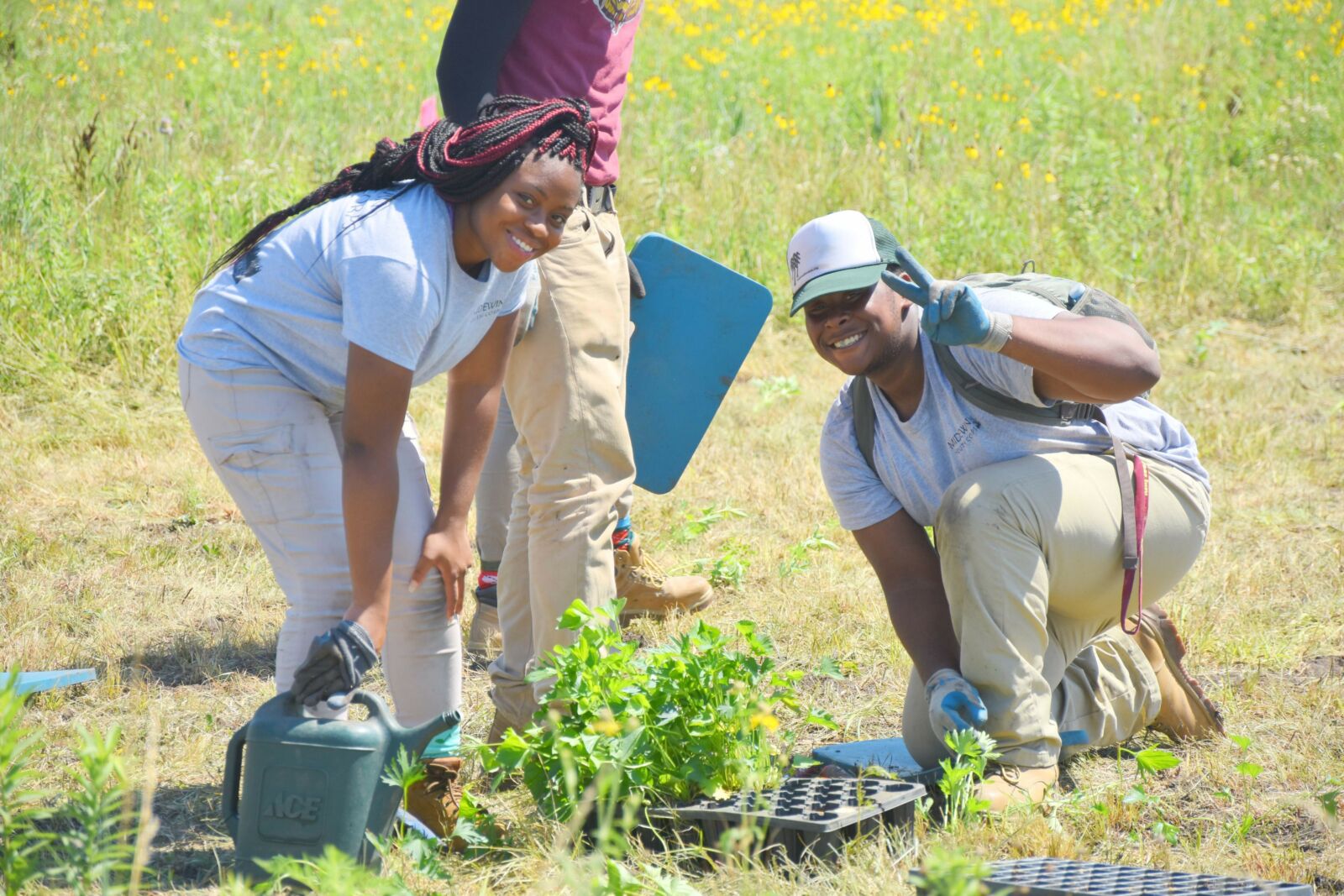 The process starts with hydrological restoration, which means removing agricultural drain tiles and reinstating natural topography so the Prairie can retain water and support native seeds. Then, mowing, herbicide application, and controlled burns remove invasive and non-native species.
"One of the most important things you can do to maintain a prairie is to burn it periodically," said Glass, explaining that when aboveground biomass burns, organic matter returns to the soil and enriches it, fertilizing surviving root structures. Historically, lightning strikes and Native Americans started prairie fires, without which invasive trees can easily overtake native prairie plants.
And then there's old Army infrastructure that has to be removed, including roads, rails, and concrete storage bunkers, which the Army built into the landscape to conceal them from enemy surveillance. Of approximately 400 such bunkers, some 300 still remain.
Once the infrastructure is gone, the next step is planting native species. Midewin acquires native seeds from nurseries, but also grows and harvests its own in onsite native seedbeds. "The hope is that those native seeds will establish themselves and eventually become self-sustaining," Sullivan said.
Connection to Nature
Because it's an arduous process, just one-fifth of Midewin has been fully restored as of its 25th anniversary, Sullivan said. Even so, the outcomes are enormous: Midewin today is home to 34 miles of trails and myriad native species, including more than 600 different plant species, 108 species of breeding birds, 23 species of reptiles and amphibians, 27 mammal species, and 53 species of fish.
King of them all are the bison. These prairie natives hadn't lived at Midewin for more than 200 years until they were introduced in 2015 with funding help from the National Forest Foundation and technical support from The Nature Conservancy. The herd began with 27 bison but now stands at approximately 50, with room on the land for up to 100.
The animals currently occupy 1,200 acres of unrestored pasture on Midewin's east side, where they'll graze for 20 years as part of an experiment to see whether their presence attracts or otherwise facilitates other native species, inducing a more natural prairie restoration.
"There's all kinds of animals that react to the bison," said longtime Midewin Stakeholder member Fran Harty, a conservationist at The Nature Conservancy. "So their role in the prairie is very significant."
Along with ecology, the bison drive awareness. "People come from all over to see the bison, but while they're here they get exposed to the prairie," Harty said. "Seeing these animals in their natural habitat helps them form a positive attitude about nature and why it's important."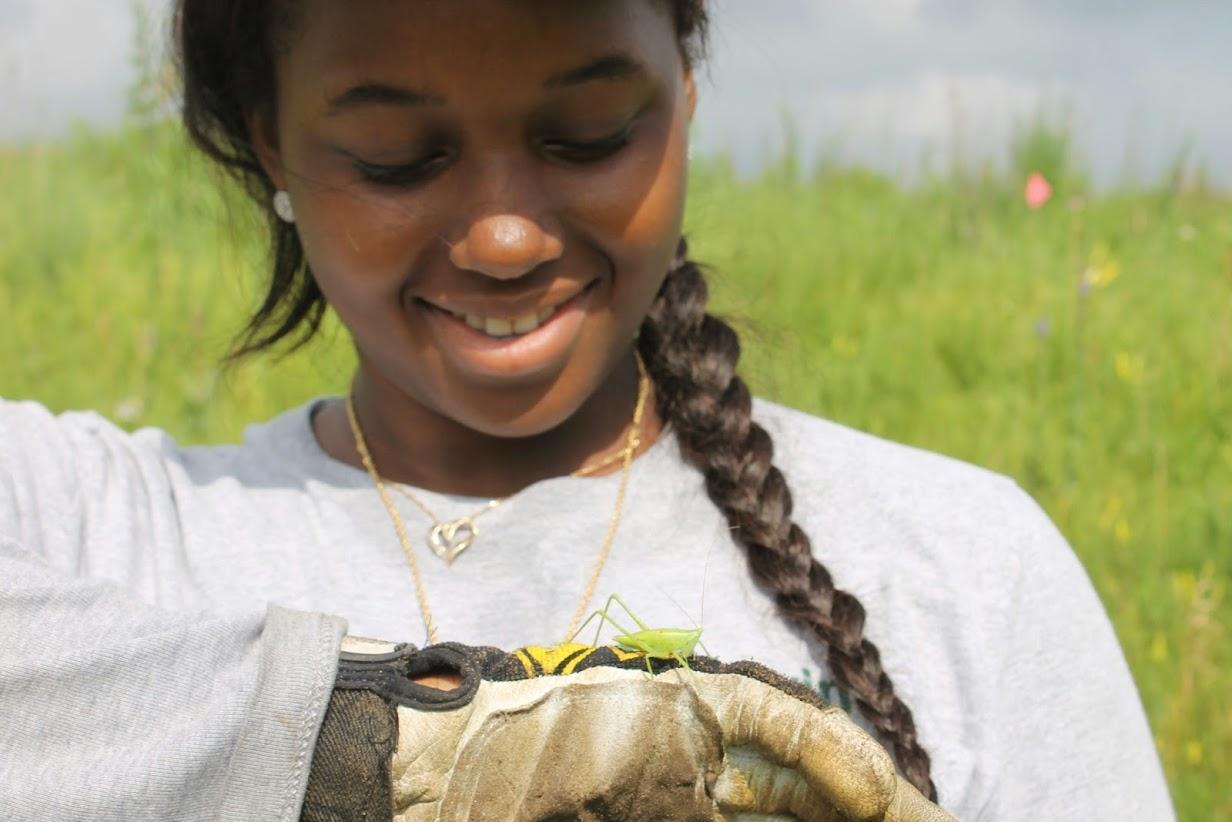 Nature's allure also attracts volunteers, who help plant native species, remove invasive vegetation, maintain trails, and cultivate Midewin's native seedbeds. They include everyone from corporate groups to disadvantaged youth. Through the NFF's Midewin Youth Corps and in partnership with the Forest Service, 16 students from North Lawndale College Prep High School—a Chicago school whose student body is 100 percent minority and 97 percent low-income—spend six weeks every summer engaged in hands-on restoration work. The program helps students develop career skills while instilling in them a lifelong connection with nature. The pandemic put a pause on the Youth Corps in 2020, but it will resume this summer.
"All of our projects are volunteer driven," said Midewin public affairs officer Veronica Hinke. "It's how things get done at Midewin."
With some 16,000 acres left to restore, there's a lot left to "get done." But also, a lot to enjoy in the meantime.
Click here to learn more about the NFF's work at Midewin.
About the Author
Matt Alderton is a freelance journalist who writes regularly about travel, science, and the environment. A writer and reporter for nearly two decades, he has written about subjects as varied as salmon restoration, sea level rise, and smart cities, and places as diverse as Colombia, Colorado, and the Florida Everglades. Originally from Denver, which boasts 300 days of sunshine a year, he now resides in Chicago, which boasts three.