Somewhere, right now, a red-cockaded woodpecker just landed on a loblolly pine tree in northern Georgia's Chattahoochee-Oconee National Forests. It's no larger than a cardinal.
The bird is hungry, so it scans for food among the loblolly's dying bark and branches. It finds little on the tree, a type of pine that's historically less common to the red-cockaded woodpecker's native environment, or in the dense forest canopy underneath it. Still, the bird knows to continue the nesting process it will need shelter, so it searches for the safest place to build a nest in the loblolly. It pecks for weeks and months on end, but the loblolly's dense core is impenetrable.
Historically, the red-cockaded woodpecker would continue this process for up to 12 years, its longest recorded lifespan. These days, the species would be lucky to live so long—the red-cockaded woodpecker has been on the endangered species list since October 1970. Its decline is in large part due to habitat loss, wildlife biologists say. There are estimates that prior to European arrival in North America, there were roughly 1.5 million groups of the species—bird families, so to speak—across the red-cockaded woodpecker's expansive native range, which spanned from Florida to Virginia and west to southeast Oklahoma and eastern Texas. Today, only about 5,600 family units—about 14,000 birds—remain.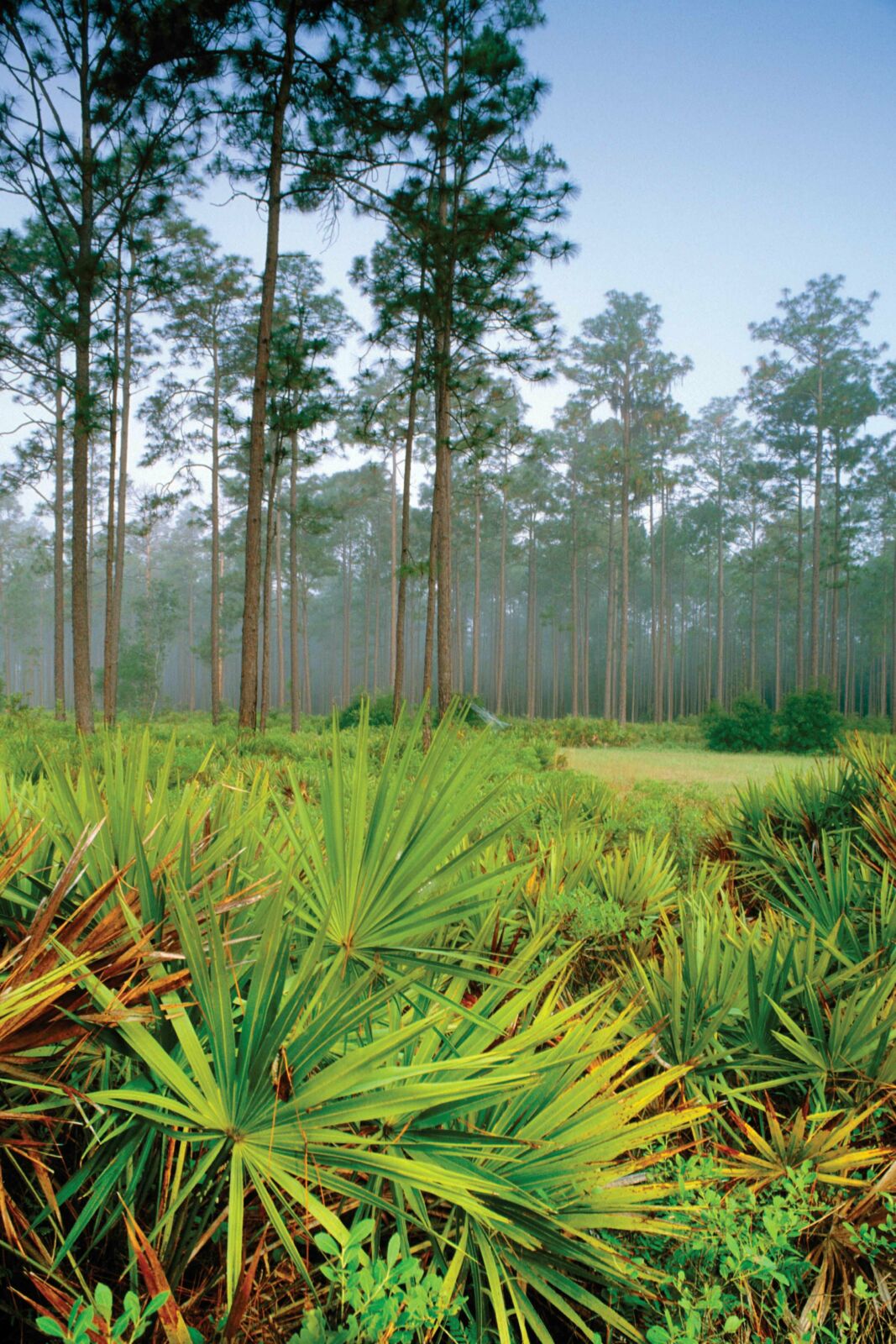 The red-cockaded woodpecker's overall health is directly connected to that of the longleaf and shortleaf pines, native tree species that once accounted for more than 141,000 square miles of the same far-ranging region where the woodpeckers once thrived.
"If you look at a 20-year-old loblolly plantation, there's a biological desert underneath," says Mike Hennigan, a silviculturist at the U.S. Forest Service who's helping lead the Chattahoochee-Oconee restoration effort. "If you look at a 20-year-old longleaf stand, it provides so much habitat for so many different critters in the world. That's part of what we're looking at here."
Now, with support from the National Forest Foundation, forestry officials in the Chattahoochee- Oconee National Forests are working to protect these valuable woodlands to better conserve the species that depend upon them.
Through corporate and small business partners, fundraisers, and individual donors, the NFF has raised the funds to cover the costs of the project's seedlings. Since 2018, professional contractors have planted nearly 700,000 longleaf and shortleaf pine seedlings across three ranger districts spanning almost 1,100 acres.
Red-cockaded woodpeckers are referred to as a "keystone" species, meaning many other types of wildlife depend on them for survival. The red-headed woodpecker and eastern bluebird, for example, both nest in cavities bored by red-cockaded woodpeckers.
If you look at a 20-year-old longleaf stand, it provides so much habitat for so many different critters in the world.
Without the longleaf, these and many other species would fail to thrive in their native environment. Starting more than 12,000 years ago, and lasting for centuries until European arrival, Indigenous peoples across the longleaf's original North American range intentionally lit fires to remove forest undergrowth. These fires promoted both plant and animal biodiversity, from grasses, wildflowers, and legumes, to wild turkey, bobwhite quail, and white-tailed deer.
"With longleaf and the ability to burn it every three to five years, you maintain a grassy component, and you also keep the foreign tolerant species out," Hennigan said, pointing to the southern pine beetle that appears in loblolly roughly every 10 years as one example.
In comparison, loblolly aren't as fire tolerant, so prescribed burns don't work in the same way. Because of this, loblolly stands develop thick understory growth that pushes out native species.
"You keep the canopy from closing," Hennigan added, referring to the difference in prescription fire management for the different pine species. That's the difference between longleaf and a loblolly stand, "hence the biological desert of a 20- to 30-year-old loblolly stand."
For more than a century, though, the longleaf has had its own test of survival.
Following the American Civil War, hardwood pine from the lush longleaf forests of the southern U.S. became the material of choice for not just the region, but a nation rebuilding itself after war devastated the homes of millions.
The longleaf logging heyday wouldn't last, however, as excessive logging combined with The Great Depression shook the industry to its core.
But President Franklin D. Roosevelt's 1933 New Deal offered a lifeline to the timber industry as the legislation sought to put the nation back to work through programs such as the Civilian Conservation Corps, which built national and state parks and replanted pine populations. But instead of replanting longleaf pines, which grew slowly, forestry officials opted for the loblolly and other similar varieties, which grow quickly and provide profit for landowners. By the 1980s, just 5,300 square miles of the original longleaf forest remained.
In the last 50 years, longleaf pine forests have expanded and now cover just over 7,300 square miles, according to America's Longleaf Restoration Initiative's 2020 accomplishment report. The growth is partially due to a recognition of the tree as a symbol of southern heritage. Nonprofit groups have planted about a quarter of the current population since 2010.
Among the main drivers for longleaf restoration is concern for other species endangered by habitat loss, said Dale Brockway, a fire and restoration ecologist at the U.S. Department of Agriculture.
But the single greatest thing that we can do as foresters, as land managers, and as stewards of the land, particularly if we're looking out into the future, is to maintain a healthy habitat.
"That's really been the catalyst behind it, because everyone who's scientifically informed knows that without the appropriate habitat, no species can survive and complete its life cycle," Brockway said.
The Chattahoochee-Oconee project aims to further the overall restoration efforts, such as returning these sites back to their native habitat by planting longleaf and shortleaf pine seedlings and providing support for recovery from insect and disease outbreaks, while helping shoulder the effort financially.
However, Hennigan notes that this type of project will not consist of a quick turnaround. More accurately, he says with a light laugh, the majestic stands of restored longleaf that once populated the southern U.S. will be something that "our great-great-grandchildren will see."
That's Hennigan's wish as a conservationist, both by trade and passion. He also understands the heightened need for ecological restoration during the climate crisis.
"We've got predictions, we've got models," Hennigan says. "But the single greatest thing that we can do as foresters, as land managers, and as stewards of the land, particularly if we're looking out into the future, is to maintain a healthy habitat."
Hennigan likes to envision what that future might look like for the Chattahoochee-Oconee National Forests. He imagines one day his grandchildren might drive cross country in a Jeep, the top rolled down. If they're trained to understand the forest around them, he hopes they'll be gazing upon a habitat recreated by their grandparents. He wants them to understand something important: "[that someone] took the thought and the plans—and implemented it over time."
About the Author
Xander Peters is a freelance writer living in New Orleans. His work has appeared in the Christian Science Monitor, Rolling Stone, Reason, and The Bitter Southerner, among others.