On any given day, several thousand people could be enjoying all the recreational opportunities the Angeles National Forest has to offer. From camping to fishing to mountain biking, the forest- and chaparral covered slopes, shady canyons, and high peaks offer a refreshing alternative to the theme parks and malls of the LA basin.
One of the many thousands who enjoy the Angeles National Forest on a regular basis is Dick Sailors, a retired Pasadena middle school math and science teacher of 30 years. Sailors is most likely to be found on his favorite stretch of trail that traverses a ridge from Dawson's Saddle to Throop Peak. The rocky outcrops and pine trees shaped by the wind and weather enhance the meditative beauty of the place.
"Being out in nature, I am not so encumbered by immediate worries. It's liberating," says Sailors.
After leaving the Pacific Northwest, Dick Sailors began walking the hills of the Angeles in 1970 while recovering from a motorcycle accident. He soon found himself scampering all over the forest with the help of John W. Robinson's "Trails of the Angeles: 100 hikes in the San Gabriels." As someone who had grown up camping with his family and hunting and fishing with his father, Sailors found solace in the mountains rising above Los Angeles. However, the millions of annual visitors were taking a toll on the nation's most urban forest, and as Sailors' appreciation for the rugged landscape of the Angeles grew, so did his desire to help care for it.
Sailors began his informal volunteer work by carrying around an extra 30 gallon trash bag whenever he went hiking or camping in the Angeles. By the end of the day, the trash bag would usually be full. "One day I picked up a small lawn mower motor," he says with a chuckle. Sometimes he would even carry a shovel while hiking to clear debris that had fallen across the trail.
In the 1990s, Sailors volunteered with a local hiking and trail maintenance group, JPL Trailbuilders, led by employees of Pasadena's NASA Jet Propulsion Laboratory. Picking up trash and maintaining trails was Sailors' way of giving a little something back to a place where he had spent so many enjoyable hours. Recently, a Spanish broom removal project led by Katie VinZant, a botanist on the Angeles National Forest, has captured his interest. For the past two years—spring, summer, and fall—Sailors has spent his Sundays up on the Angeles National Forest's Santa Clara Divide Road, removing Spanish broom.
Spanish broom (Spartium junceum) is an invasive, non-native weed that has thrived in the burned and disturbed soils after the 2009 Station Fire. A dense perennial shrub that can grow to heights of 10 to 15 feet, Spanish broom can quickly colonize an area and deprive native plants of water, nutrients, and light. Unfortunately for the Angeles National Forest, Spanish broom is also extremely difficult to eradicate once it has become established. With a 5- to 6-foot long taproot sometimes wider than an average person's thigh, a single Spanish broom plant can take an hour and a half to extricate from the soil. "There's a lot of digging with picks and shovels," Sailors says of the work. "You have to dig 2 to 3 feet around the plant and trim all the side roots until you get to the taproot. We use a big lever to pull the taproot out and it takes two, maybe three people working this lever to finally pull the root out."
How does he stay motivated to return to the dust, heat, and strenuous digging weekend after weekend? Sailors mulls the question over thoughtfully. Part of his motivation is seeing the native plants around the Spanish broom, like yucca and chamise, and knowing that they will be able to thrive once the Spanish broom is removed. However, probably the most rewarding aspect of volunteering on the project is working alongside other volunteers, ranging from teenagers to retirees.

"Everyone contributes something," says Sailors, "even the people who come out for one weekend and don't come back. By volunteering, they turn their enthusiasm to get outside and do something useful into something real."
Volunteers are essential to the Spanish broom removal effort. Not only do they allow the Forest Service to tackle essential work that might not get done without their help, but, says Andrea Nick, an Angeles National Forest air quality and GIS technician, "Volunteers encourage us and we encourage them in a reinforcing cycle of enthusiasm."
Of Sailors, Nick says, "He's got an upbeat personality, interesting stories to tell, and he's an incredibly hard worker."
Katie VinZant, the Angeles National Forest botanist in charge of the project, considers Sailors one of her "super volunteers." "He's just great," says VinZant. "He's out there every Sunday with a great attitude. He even helps clean and sharpen our tools when we're not in the field."
Because of the long hours, sweat, and gritty effort that Sailors, his fellow volunteers, and Forest Service employees contribute to the project, they can look down a stretch of the Santa Clara Divide Road at the end of the day and see visible progress towards their goal.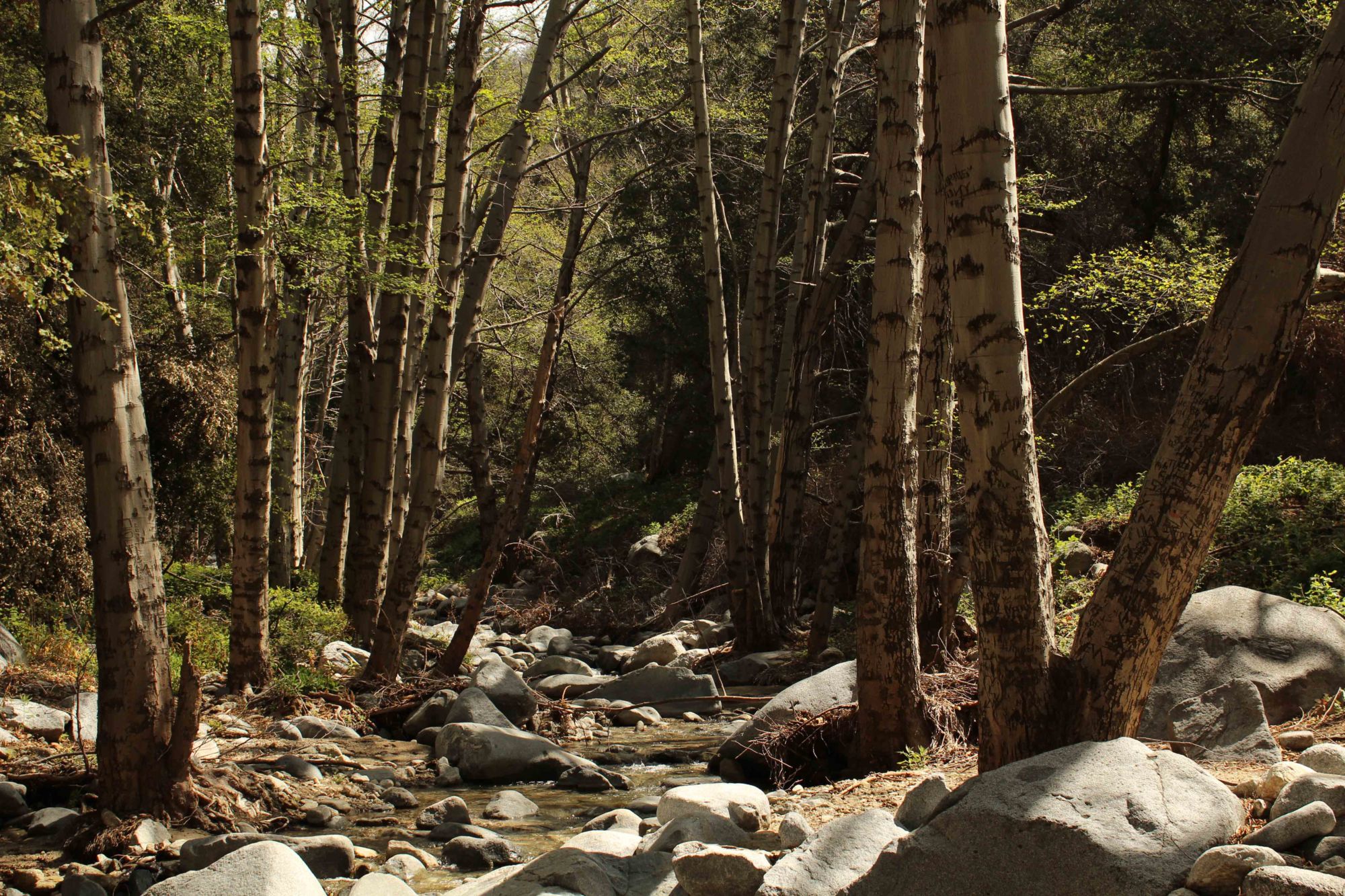 On a recent trip to Los Angeles, a childhood friend, her dog, and I met up for an afternoon hike in the Angeles National Forest. At the recommendation of a ranger, we drove down to the Switzer Picnic Area to pick up a trail that led into Arroyo Seco Canyon. We were slightly taken aback at how full the parking lot was, but the reason soon became apparent.
When we reached the picnic area and trailhead, it was like we had entered a hidden oasis. Tall trees shaded a gurgling creek and a cool breeze rustled leaves. Every picnic table was stacked high with sandwiches, chips, and other lunch fixings and surrounded by groups of families and friends.
As we wandered down the trail, we passed people of all ages hiking in groups and on their own. Small dogs yapped at us from their owners' arms and bigger dogs splashed in the creek. As we hiked deeper into the canyon, the crowds thinned and the quiet of the canyon made us feel like we had it all to ourselves. We reached Lower Switzer Falls and stopped to enjoy the falls before heading back. Water splashed down a rock face worn smooth and tiny toadlets hopped around the pool at the waterfall's base.
"What an amazing place," my friend said. I agreed. My thoughts wandered back to all
the people we had seen along the trail and I began to fully appreciate how important this canyon—and the entire Angeles National Forest—is for Los Angeles' urban residents who just want to get outside and leave the city behind for a few hours. I could only imagine how much would be accomplished if all of these people came out and volunteered on the forest for one day.
And without a doubt, several canyons in the Angeles National Forest do need the help of dedicated volunteers like Dick Sailors.
In 2012, the National Forest Foundation will be working to remove invasive weeds from the riparian areas of Big Tujunga Canyon as part of the Treasured Landscapes, Unforgettable Experiences campaign in partnership with the Angeles National Forest and Rancho Santa Ana Botanic Gardens. A key component to the NFF's season-long weed removal effort will be three community Friends of the Forest Days volunteer events, as well as weekly volunteer days for diehard invasive weed warriors. The NFF staff and partners hope that the Los Angeles community will be inspired to participate, even for just one day.
By naming this section of the Angeles National Forest a Treasured Landscapes restoration site, the NFF's goals are twofold. We aim to accomplish largescale restoration of areas damaged by the
Station Fire, combat invasive species and revitalize critical watersheds. But more than any other site, the Angeles also presents a critical opportunity to connect a big urban population with nature.
Time and time again, Americans discover the important role that wild places can play in their lives. In our National Forests and Grasslands we forge connections with family, friends, and even strangers. We learn new skills and learn about ourselves. If we all took a few hours or a few days to volunteer for a project that we are passionate about— like repairing trails, picking up trash, or removing Spanish broom—and give something back to these special places, our public lands will be healthier and so will we.
---
Like this article? For a $25 donation, you'll get two issues of Your National Forests delivered right to your door.
Share this article