If you were able to create a new National Forest that could host diverse species of wildlife, provide drinking water for a million people and offer amazing recreational experiences, you'd do well to use the Mt. Hood National Forest as a template.
The Forest's namesake, Mt. Hood, is a 12,240-foot tall dormant volcano that serves as the centerpiece of this unique Oregon forest. On one side of the mountain, a moist, temperate rainforest grows, complete with moss that hangs off the branches of thick Douglas-fir trees. On the other side is a dry, fire-adapted forest with stately Ponderosa pine trees that receives little rainfall. The Mt. Hood, as the Forest is known locally, is home to northern spotted owls, cougars, elk and, recently rumored, wolves. It boasts over 200 miles of Wild and Scenic rivers that provide habitat to migrating Chinook and Coho salmon and steelhead trout.
In addition to its diverse ecosystems, the Mt. Hood provides over one million people with high-quality drinking water filtered through its lush forests. Portland, Oregon, only 20 minutes away, sends a steady flow of outdoor enthusiasts who enjoy hiking, skiing, kayaking, rafting, fishing, horseback riding, mountain biking and more. The Pacific Crest Trail goes through the heart of the Forest, and Mt. Hood is one of the most climbed mountains in the country. Every year, more than four million people visit the Mt. Hood, making it one of the most visited National Forests in the country.
History
Multiple Native American tribes lived within the shadow of Mt. Hood, and many of them called the mountain Wy'East. Members of the Confederated Tribes of the Grand Ronde and the Confederated Tribes of Warm Springs have traditional hunting and gathering grounds across the Forest where their ancestors collected plants and berries, caught salmon, and hunted deer and elk. Lewis and Clark spotted the mountain on October 18, 1805 as they passed down the Columbia River. Their storied expedition marked a turning point for the entire West, and over the next half-century, settlers built communities near the Forest.
The Mt. Hood National Forest was originally established as the Cascade Range Forest Reserve in 1893, shortly before local water districts harnessed the abundant water flowing from Mt. Hood's west flank to quench the thirst of the growing city of Portland. The Forest was renamed twice after its establishment as the Cascade Range Forest Reserve. First in 1908, it was changed to the Oregon National Forest and then in 1924, it became the Mt. Hood National Forest.
Over the next half century, the region's natural resources supported these growing communities and the rest of the nation. Timber companies, with support and direction from the U.S. Forest Service, built roads to access the Forest's old-growth timber, and dams sprouted on many of the Forest's rivers, providing hydropower and flood control. These activities had a large and negative impact on terrestrial wildlife and salmon populations and a cascading effect on communities who relied on the Forest for subsistence hunting, fishing and gathering, including Native Americans. Meanwhile the population of Portland and surrounding communities grew. Recreation increased as roads provided more access to the Mt. Hood's valleys, ridges, lakes and rivers.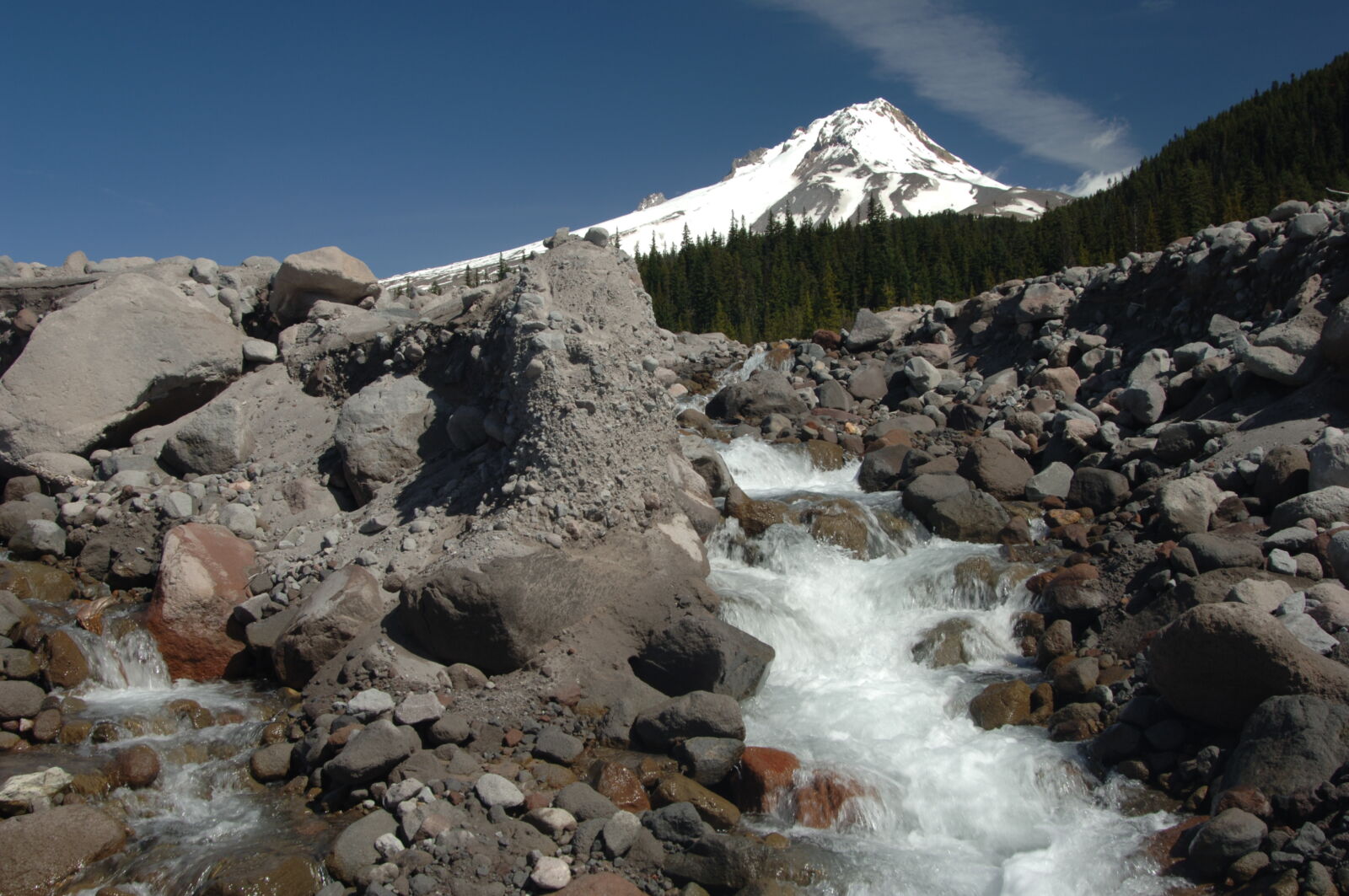 Now the Forest Service is tasked with balancing the needs of healthy ecosystems for wildlife with providing drinking water and recreation opportunities for people. So, how does the Forest Service do it?
"It is a challenge," says Lisa Northrup, Forest Supervisor on the Mt. Hood. "Since time immemorial, the area of the Pacific Northwest that is currently designated as the Mt. Hood National Forest has served as a crossroads where people and natural resources intertwine and intersect. Managing towards sustainability and balanced use helps the Forest Service redeem our responsibility and commitment to the American people. We all need to continue to engage in community forums to determine places where we have common purpose."
At the NFF, we see this challenge as an opportunity to help develop new approaches to managing the Mt. Hood. Our goal is to help balance both wildlife habitat protection and the ecosystem services the Forest provides with ever-increasing recreational demands. To help achieve this, we designated the Mt. Hood as a Treasured Landscapes site in 2017. Through our campaign, we are increasing the number and diversity of people who can help steward the Mt. Hood, with an emphasis on increasing river flows that improve salmon and steelhead habitat while also serving people downstream.
Maintaining Sustainable Recreation Opportunities
Easy access to Mt. Hood is one factor in Portland's growth, and there is little sign that such growth is slowing. This rising demand on hiking trails and recreation sites perversely has been met with decreasing Forest Service recreation budgets. So how does the agency seek to balance these competing forces? Through partnerships.
Our goal is to help balance both wildlife habitat protection and the ecosystem services the Forest provides with ever increasing recreational demands.
The Forest Service works with organizations comprised of hikers, backpackers, mountain bikers, horseback riders and others. Volunteers at these organizations plug away at the maintenance needs in their favorite recreation areas. However, the Mt. Hood, like every other National Forest, can use more volunteers.
Through our Treasured Landscapes work, we are increasing the number of volunteers who can steward hiking trails and other recreation assets, and we're casting a wide net. As the ethnic and racial diversity in our country increases, we need to engage all people in appreciating and stewarding our National Forests.
Healthy Watersheds for Salmon and People
The Mt. Hood's rivers provide water year-round, but the majority of the water flows when the area's abundant snow melts during the spring and summer. Since rainfall averages only three inches in the summer, this snow melt is crucial for salmon swimming upstream to spawn and for thirsty residents (and lawns) downstream. In some areas, low water flows are becoming a concern. Will there be enough water for both salmon and people? With a changing climate, some projections show that ensuring enough water for all may be increasingly difficult.
In response, the NFF is restoring the historic way rivers and streams functioned on the Forest. This relatively simple concept involves first studying how an ecosystem functioned before human intervention and then exploring what can be done to restore those natural functions. On the Mt. Hood, the NFF is identifying areas where water can be naturally stored until the summer when it is needed most.
One example of this work is to "re-wet" meadows that have become drier due to past management practices, including the removal of beavers. Meadows that used to be wet across their entire surface are now only wet where a stream runs through. By installing check dams or reintroducing beavers (who build their own dams), water is pushed out of the stream channel and across the meadow, where it soaks into the ground. As the summer progresses, this stored water naturally makes its way back to the stream.
We're also addressing other legacies of the past. Decades-old logging practices, like "cleaning up a river" by pulling out logs, proved detrimental to the habitat that salmon and steelhead need to spawn and that their offspring need to survive. The logs slow rivers down and create pools and other beneficial habitats that fish prefer. The NFF is working with the Forest Service and local partners to strategically place large logs in the rivers to recreate this needed habitat. This supports our efforts to rebound populations of threatened salmon and steelhead.
From Salmon to Sweat
Like all National Forests, the Mt. Hood is a special place that provides countless benefits for both wildlife and people. Our long-term success rests on recruiting and connecting the next generations of diverse volunteer stewards who will invest sweat and hard work into a place that provides so much to so many. Click here to learn more about our campaign on the Mt. Hood National Forest.