Find Your Fourteener - Launching a Path Forward on Colorado's Iconic Peaks
---
Working closely with the Forest Service, Colorado's premier nonprofit stewardship organizations, youth corps and community organizations, we are increasing the pace and scale of improvements to sustainable recreation opportunities on Colorado's Fourteeners.
Colorado's 14,000-foot peaks, known as "Fourteeners," are legendary among hiking aficionados and some of the most popular hikes in the country. However, surging visitation is threatening fragile alpine biodiversity and critical water sources atop these peaks. The problem is particularly acute on the 48 Fourteeners that lie on Colorado's National Forests.
In 2015, the Colorado Fourteeners Initiative released a statewide Fourteeners Report Card noting that more than $24 million in baseline investments are needed to create sustainable routes to the summits of all of Colorado's Fourteeners. Through the Find Your Fourteener campaign, the NFF and its partners are tackling these projects in a tiered and strategic effort.
Collaboration is necessary to improve the future for Fourteeners. The NFF is proud to partner with dedicated outdoor stewardship groups in Colorado to implement this important campaign.
The Find Your Fourteener campaign is a long-term effort to ensure that these enduring peaks remain healthy, accessible and inviting for decades to come.

As Gifford Pinchot, the first Chief of the U.S. Forest Service said, "The vast possibilities of our great future will become realities only if we make ourselves responsible for that future." That future is now and the responsibility is ours.
How can you help?
Recreate Responsibly and practice the principles of Leave No Trace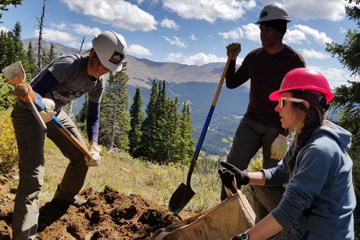 Find Your Fourteener Priority Peaks & Projects
QUANDARY PEAK
The three-year reconstruction project wrapped up in 2018, successfully moving Quandary Peak's Report Card grade from a C+ to an A. As hiking use numbers continue to surge, partners will continue working together on annual maintenance to ensure Quandary can sustain year-round recreation.
With the Dillon District of the White River National Forest, Colorado Fourteeners Initiative, Friends of the Dillon Ranger District, Rocky Mountain Youth Corps, Volunteers for Outdoor Colorado
Mount Elbert
Work will continue on the South Mt. Elbert Trail and North Mt. Elbert Trail, focusing on restoration and construction above 11,000 feet. Elbert suffers from braided trails, destructive erosion, and degraded wildlife habitat. The new trail will be friendlier to hikers, runners, mountain bikers and equestrians and ensure sustainable access for years to come.
With the Leadville District of the Pike & San Isabel National Forests, Colorado Fourteeners Initiative, Rocky Mountain Youth Corps, Volunteers for Outdoor Colorado, Wildland Restoration Volunteers, Colorado Mountain Club, Get Outdoors Leadville and Lake County
Pikes Peak
In 2019, partners and youth corps will begin major realignment and construction of a new Devil's Playground Trail, expected to take 4-5 years to complete. The popularity of this trail is growing, but gullies, erosion and loose rock are creating safety hazards for hikers and jeopardizing the habitat of rare alpine plants and wildlife.
With the Pikes Peak District of the Pike & San Isabel National Forests, Rocky Mountain Field Institute, Colorado Mountain Club, Mile High Youth Corps, Friends of the Peak

Kit Carson Peak & Challenger Point
Deep in the Sangre de Cristo Wilderness, the user-created social trail leading to Challenger Point and Kit Carson Peak is gullied, unsafe, and unpleasant for hikers. Partners are working to complete a new trail to protect the fragile environment and enhance the recreational experience for climbers. The partners will test creative new approaches to engage volunteers in a wilderness setting.
With the Rio Grande National Forest, Rocky Mountain Field Institute, Southwest Conservation Corps
Grays Peak & Torreys Peak
Just West of Denver outside of Idaho Springs, partners are launching a new trail maintenance and reconstruction project to address major trail erosion and soil loss in the fragile alpine. Look for this concerted effort to involve trail crews, youth corps, and hundreds of volunteers each year.
With the Arapaho & Roosevelt National Forests, Pawnee National Grassland, Colorado Fourteeners Initiative, Rocky Mountain Youth Corps, Wildland Restoration Volunteers and Volunteers for Outdoor Colorado.
Uncompahgre Peak & Wetterhorn Peak
In the gorgeous San Juan Mountains, this pair of scenic peaks may receive less use - but the impacts are growing. We're attempting to get ahead of the impacts. Partners are launching a 3-year maintenance effort focused on Uncompahgre, Wetterhorn, Red Cloud and Handies Peaks.
With the Grand Mesa, Uncompahgre & Gunnison National Forest, Colorado Fourteeners Initiative, Southwest Conservation Corps, Bureau of Land Management and other partners
Featured News
JUNE 18, 2020: MT. COLUMBIA: THE FINAL YEAR OF A HISTORIC PROJECT

FEBRUARY 25, 2019: NEW DEVIL'S PLAYGROUND TRAIL UP PIKES PEAK COMING THIS SUMMER
August 20, 2018: Coming Soon: BETTER TRAILS TO SOME OF COLORADO'S MOST POPULAR FOURTEENERs
February 16, 2018: USDA Secretary Announces Infrastructure Improvements for Forest System Trails
January 22, 2018: NEW FOURTEENERS CAMPAIGN IMPROVES TRAIL CONDITIONS THROUGH COLLABORATION AND INNOVATION
September 6, 2017: Pikes Peak a Priority in Campaign to Fund Work on Colorado Fourteeners
September 6, 2017: Find Your Fourteener: Putting up a Big Tent to Support Trail Restoration
August 15, 2017: Finding Creative Solutions to Ramp Up Work on Colorado's Fourteeners
July 24, 2017: Appreciating Trail Maintenance on the White River's Quandary Peak First-Hand
May 4, 2017: Sustainable Access for Quandary Peak
April 17, 2017: Find Your Fourteener: Creating a New Path for Collaborative Stewardship