---
Are you planning that once-in-a-lifetime trip to Alaska? We've got the insider scoop on the best places to experience the wilderness of Alaska. Our largest National Forest in the country, the Tongass, includes more than 100 cabins available to rent. At 17 million acres, you'll truly feel secluded.
Our local experts at the U.S. Forest Service in Alaska gave us their favorite and top recommendations for cabins on the Tongass. Be sure to visit the cabin listing on Recreation.gov for more information such as directions, facility details and how to book. Prior to your visit, contact the local ranger district for any current conditions and extra information.
Dan Moller Cabin
Juneau Ranger District
Hike or snowshoe three miles to this beautiful cedar cabin year-round. Originally built in the 1930s by the Civilian Conservation Corps, the cabin was rebuilt in 2010 to withstand heavy snow loads. Grab seven of your closest friends to take in the alpine landscape and cross-country or teleski in the ski bowl above the cabin.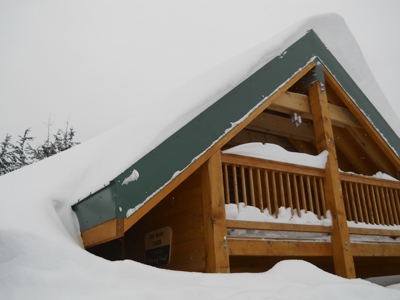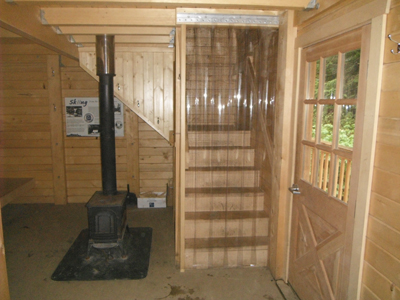 Situk Lake Cabin
Yakutat Ranger District
Explore the Russell Riord Wilderness from the Situk Lake Cabin year-round. The cabin sits on flat terrain surrounded by old-growth Sitka spruce. On a clear day, you may catch a view of Mount St. Elias. Take a stroll on the Situk Lake Trail to take in views of the Brabazon Mountains. The pan-abode style cabin sleeps four and includes a picnic table.

Winstanley Island Cabin
Misty Fjords Ranger District

Winstanley Island Cabin is approximately 30 miles from Ketchikan in the heart of Misty Fjords National Monument Wilderness. It is accessible by boat or floatplane and is a popular cabin for Sea Kayakers to use as a base for trips in Misty Fjords. Punchbowl Cove is only a few miles away and is one of the most scenic locations in Misty Fjords. Be sure to check out tide tables before you head out on a watery adventure!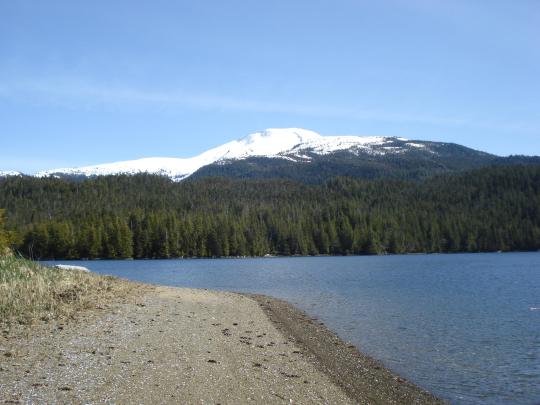 Middle Dangerous River Cabin
Yakutat Ranger District
Open year-round, this remote retreat offers scenic views, wildlife watching and hunting opportunities. The cabin sits on the Dangerous River, a large glacier river with numerous logjams, sandbars and floating ice. Visitors can access the cabin by jetboat or a four-mile trail from the Dangerous River Bridge.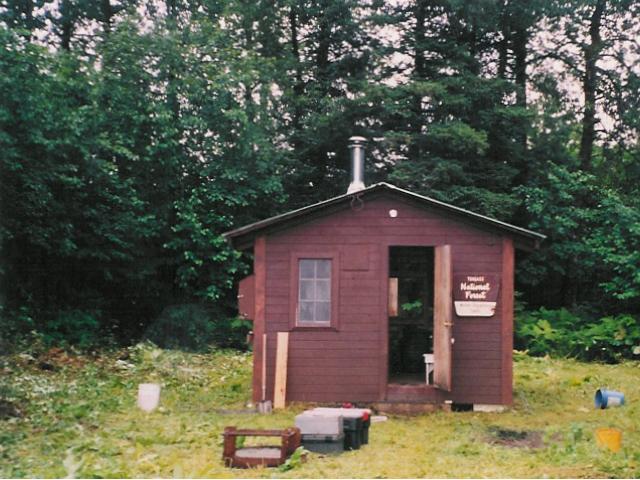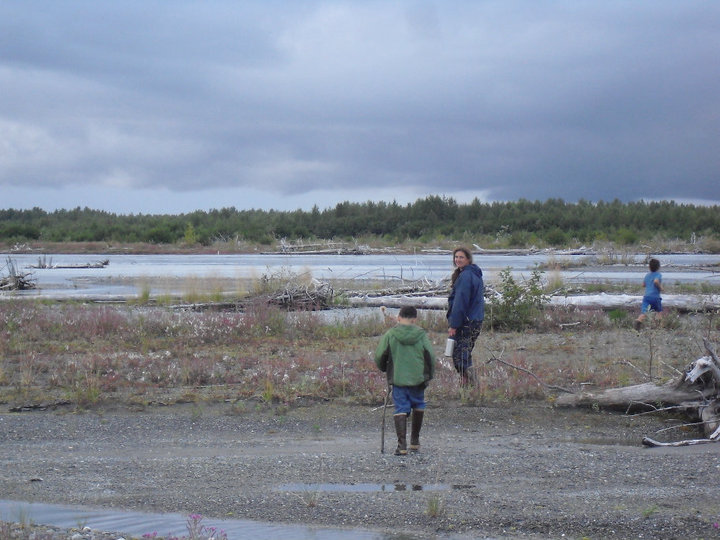 Plotnikof Lake Cabin
Sitka Ranger District
The cabin overlooks 4 mile long Plotnikof Lake and sits at the edge of an old-growth stand of large spruce and hemlock near the lake's principal inlet stream. Visitors will experience wilderness solitude and beauty with a magnificent view of steep granite slopes and abundant cascading waterfalls. Fishing for Coho salmon and both resident and sea-run (steelhead) rainbow trout can be productive for the astute angler. A small skiff with oars is provided; bring your own long shaft outboard if desired.

Mallard Slough Cabin
Wrangell Ranger District
The Mallard Slough Cabin sits in a prime location in the Stikine-LeConte Wilderness. A trail leads right from the cabin to LeConte Bay, where visitors can spot floating icebergs that have broken off from LeConte Glacier. This area is also one of the best spots for watching the annual spring shorebird migration on the Stikine River Delta, where as many as one to three million birds stop to rest and feed.

More information on Recreation.gov.
Kah Sheets Lake Cabin
Petersburg Ranger District
The Kah Sheets Lake Cabin, a modified A-frame, offers seclusion and abundant fishing. Access the cabin via float plane or boating and hiking. The cabin also features a wonderful partially covered deck and various short trails for day trips.

Greentop Cabin
Hoonah Ranger District
This remote cabin, built by a fisherman in the 1940s, sits on relatively flat terrain near the rugged, rocky coastline of Yakobi Island. It is protected from the Pacific Ocean by Greentop Harbor and the surrounding area offers abundant seashore life and the beautiful scenery of West Chichagof-Yakobi Wilderness Area. Deer and brown bear frequent the area, and sea otters are sometimes seen. There are excellent opportunities for sea kayaking and boating in the numerous coves and protected bays.

Kegan Cove Cabin
Craig Ranger District
Kegan Cove Cabin was replaced in 2010, and is a beautiful structure, with a nice view of Kegan Cove, .5 mile below Kegan Lake, on the SE corner of Prince of Wales Island. The cabin is accessible by boat or float plane at higher tides, and offers good crabbing out in the cove, as well as good salmon fishing on the adjacent stream (sockeye, coho, pink, and chum salmon run up the creek in season). Hikers might also enjoy the easy half-mile trail along Kegan Creek that connects Kegan Cove to the cabin and Kegan Lake. Beachcombing is another popular pastime, searching the cove for sea-borne treasures.

Shipley Bay Cabin
Craig Ranger District
Shipley Bay Cabin is an older cabin that has been well maintained by the folks who visit it. It's almost a local secret, as the location, on the NW coast of Kosciusko Island, off the NW corner of Prince of Wales Island, offers stunning (yet somewhat protected) views of saltwater and Mount Francis, several miles away across the bay. Sea otters are present year round, and it is often visited by humpback whales as well as the occasional orca, while sockeye, coho, pink, and chum salmon spawn upstream from the cabin.