Northwest Pennsylvania holds a secret; it is a firefly wonderland. The deciduous woodlands and watersheds on the Allegheny National Forest (ANF) offer some of the best locations to experience the magical showing of bioluminescence that defines summer evenings in the Appalachians.
For many of us who grew up east of the Mississippi, no summer evening was complete without going out and catching "lightning bugs." Their fanciful golden glow was mysterious, wonderful, and oh so beautiful. While commonly thought of as a fly these beloved insects are actually a type of beetle.
More than 2,000 species of fireflies are thought to exist worldwide with 125 found in North America. Over 15 make their home in the ANF. There's the Photuris versicolor, or the Chinese lantern, which as its evocative name suggests, hypnotically "floats" near the Forest's Tionesta Creek. Imagine tiny galaxies wafting in the night breeze. Then there's the orange flicker of Pyractomena angulate as well as the recognizable Photinus pyralis, the most widespread of the eastern fireflies. Additionally five species found in the Forest are diurnal and do not glow at all. However, one species is particularly special and was only confirmed in the Forest in 2012.
"Late one night in the summer of 2011, a group of campers in the Kellettville area of the Allegheny National Forest had let their campfire burn low when they noticed unusual flashing fireflies near their campsite," says Bruce Parkhurst, who serves on the board of the nonprofit Pennsylvania Firefly Festival. The display of these fireflies was unusual, as it was a complex pattern of pulsed flashes that occurred over multiple intervals, similar to the famous synchronous fireflies found in the Smoky Mountains.
A year later the Firefly International Research & Education (FIRE) team visited the ANF where they could conduct extensive field research. "Fortuitously, they chose to stay at the Black Caddis Ranch Bed and Breakfast whose three-bay garage became the site of an improvised entomology lab," explains Parkhurst. The follow up report, authored by noted naturalist Lynn Faust, confirmed that there were "abundant and widespread" synchronous firefly populations in the ANF.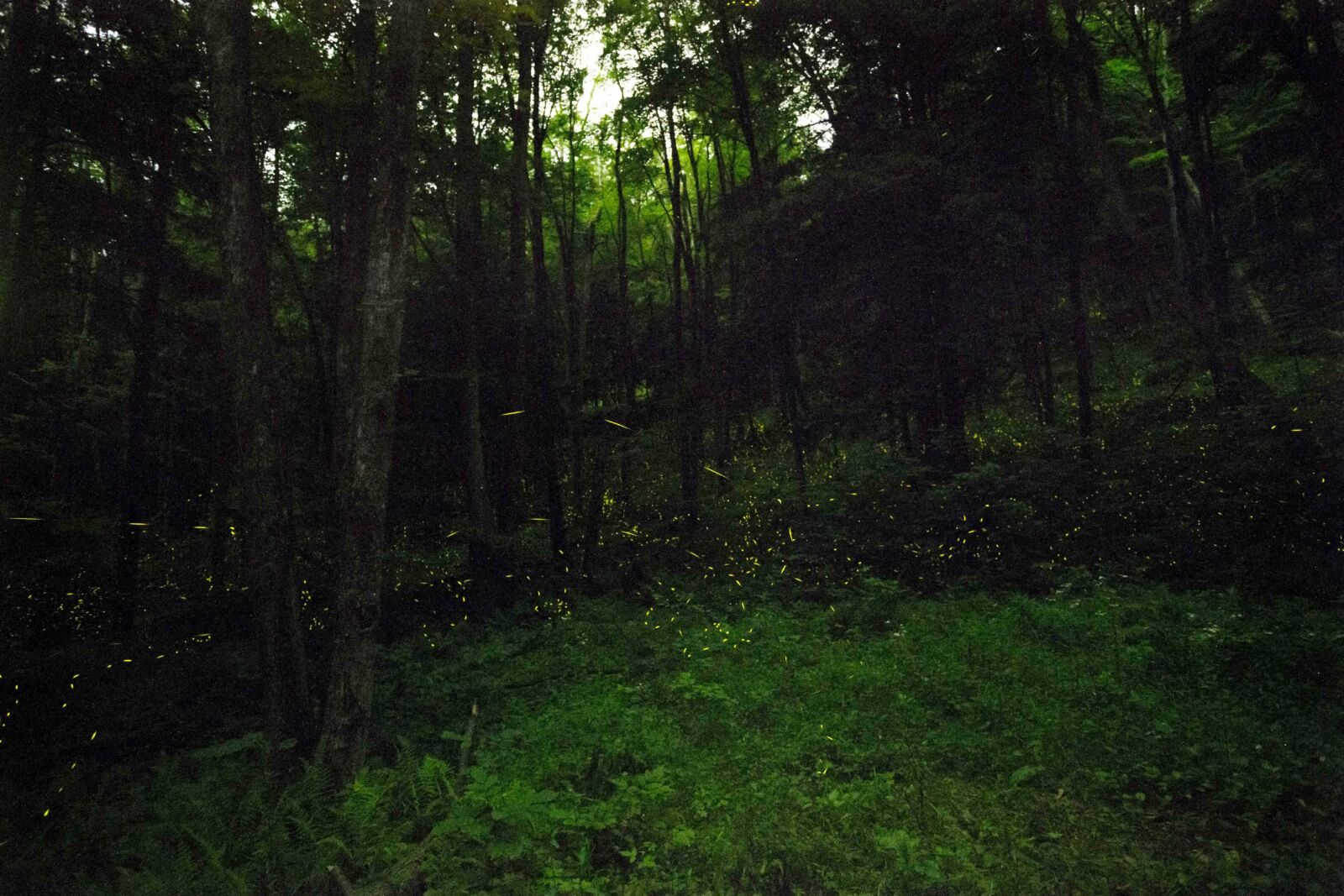 More specifically, the team verified that the Allegheny hosted populations of Photinus carolinus, which is responsible for one of nature's most incredible light shows. While their famous cousins in Asia light up the environment with continuously synchronous flashes while perched on trees, the display of Photinus carolinus is a much more complex showing of patterns while in flight.
What appears to the untrained eye as whimsical bursts of light is actually a well-crafted communication tool used in search of a mate. Males of the species display what researchers dub a "flash train." Thousands of males will produce these flash trains of, on average, six flashes followed by six to eight seconds of darkness. This continues for several hours into the darkness of night. For the synchronous firefly, it is akin to a Christmas light display deep in a forest full of towering hemlock and beech. It is stunning and mesmerizing to observe, and be forewarned, it may change how you feel about nighttime in the forest forever.
After all, this is the same rhythmic flicker that attracts thousands upon thousands of tourists to Great Smoky Mountains National Park. Firefly tourism has become so popular that the
Park has implemented a lottery system for parking passes in recent years. In the ANF, managers are following suit: a reservation system has been put in place by festival organizers for the past two summers to keep attendance within sustainable limits.
While eye witnessing the display of synchronous fireflies may be an uncommon natural phenomenon, fireflies are not designated as a species of special concern federally or within the commonwealth.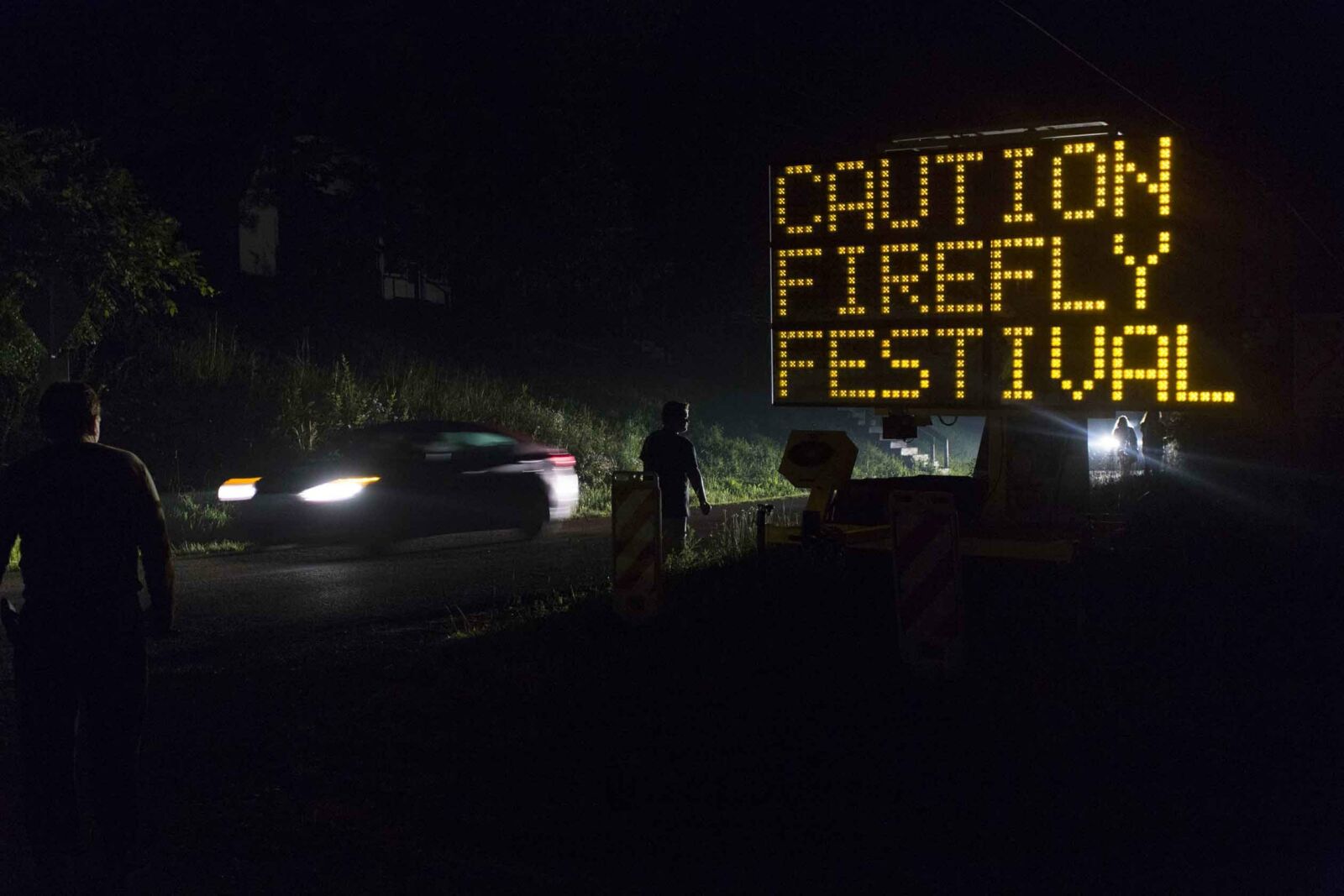 "The Forest Service does not actively manage specifically for the synchronous firefly, but does provide a diversity of habitats inclusive of those suitable for fireflies in general and the synchronous firefly in particular," says Collin Shephard, Forest Ecologist, Allegheny National Forest. "One of the goals of the Forest Plan [the 2007 management plan that outlines how the Forest is managed] is to maintain and enhance the distribution and diversity of plant and animal species by providing a diversity of high-quality habitats across the landscape."

To better raise awareness to the synchronous firefly, as well as other species found within the ANF, a small group of local residents, spearheaded by the owners of the Black Caddis Ranch, celebrated the discovery by forming the PA Firefly Festival, which held its first annual event in 2013. It features firefly exhibits, live music, food, and, you guessed it, guided firefly walks to see the synchronous fireflies and other species along Tionesta Creek. The Forest Service has been an annual exhibitor at the Festival since its inception.
With firefly fever reaching ever-increasing heights, public education is key to protecting the synchronous firefly and their habitat because the ANF is currently the only location within the National Forests with confirmed populations of this fascinating beetle.
"Keeping recreationists in general, and firefly viewers specifically, to established trails and footpaths is key to limiting impacts to synchronous fireflies as well as other resources."
"The Forest Service has coordinated with Great Smoky Mountains National Park staff to learn from the National Park Service's experience with managing their firefly event and resource concerns," says Shephard. One concern is the increased likelihood of off-trail foot traffic.
"Given female synchronous fireflies are much more stationary than the males and spend much of their time on the ground, they are at risk of getting stepped on. Also prone to this fate are the pupae that haven't yet emerged as adults given the transition from pupae to adult doesn't all happen at the same time during the display period," says Shephard. "Keeping recreationists in general, and firefly viewers specifically, to established trails and footpaths is key to limiting impacts to synchronous fireflies as well as other resources."
Additionally, certain species of fireflies are vulnerable to light pollution and other forms of artificial light, especially the synchronous. Worldwide there is evidence that some firefly species are on the decline due to habitat loss and outdoor light pollution. Because they evolved to communicate in total darkness, this artificial light hurts their ability to find a mate.
"Increasingly we make long term plans shaped by a wish to conserve the habitat where fireflies thrive and build awareness of the ways people can make a difference in improving their local environment. This includes minimizing over-used night lighting, reducing pesticide and herbicide use, and other measures," Parkhurst explains.
Since receiving nonprofit status in 2014, the Pennsylvania Firefly Festival continues to work with the Forest Service to raise awareness of the fireflies. Additionally, the group was recently awarded the "Champions of Conservation" award from the Pennsylvania Wilds Cooperative Center. In the coming year they hope to unveil a firefly app for mobile devices. Initial funding for this project came through the Forest Service. "It has sections on firefly basics, life cycle, habitat, characteristics of different life stages, but is largely focused on local fireflies of Western PA," adds Parkhurst.
Now that the secret is out, firefly tourism will undoubtedly continue to grow as well as opportunities for scientific research such as the PA Firefly Festival's summer internship program, which just completed its fourth year. For the firefly (and forest) enthusiast, it's a great way to observe fireflies with far less commotion than in the Great Smoky Mountains. Firefly tourism also helps support the local community surrounding the ANF. Finding such incredible displays of bioluminescence, especially those of the synchronous firefly, is becoming rare in an increasingly developing world. The fireflies found in the ANF provide an indelible link to nature that is lost with increasing urbanization, something not lost to Bruce Parkhurst:
"In 2018 we held more firefly events in the Allegheny National Forest than ever before in our history."