July 13th - 19th, 2020
Join us in celebrating the importance of our forests and grasslands. Through a growing movement of passionate voices, we are highlighting how special and vital these lands are for our freedom and quality of life during National Forest Week.SM
In the midst of the pandemic, we recognize not everyone can access to their National Forests for outdoor recreation. We look forward to celebrating National Forests virtually and encouraging Americans to connect with their forests online and in the future.
While we may not have large in-person events this year, we are excited to hold our annual photo contest, livestream events, and other fun ways to celebrate from home. We'll be sharing new content about some incredible experiences you can only find on your National Forests and can't wait to hear from you about your favorite National Forest memories.
Stay tuned for more information by signing up for Tree-mail.
#NationalForestWeek
We want to hear your National Forest story. Share #NationalForestWeek on your social media channels and follow the National Forest Foundation on Facebook, Twitter and Instagram to come alongside our celebrations during National Forest Week!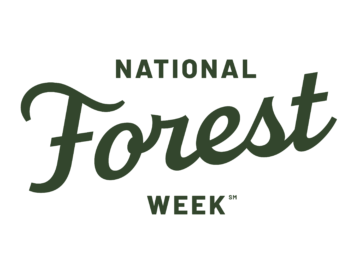 Get Involved
Learn More
Contact
Interested in partnering or connecting for National Forest Week? Reach out to Zoe Bommarito at zbommarito@nationalforests.org.
About National Forests
National Forests and Grasslands provide Americans with 193 million spectacular acres of wildlands.
More than 9,000 miles of scenic byways to drive
Almost 150,000 miles of trails to hike
More than 4,400 miles of wild and scenic rivers to float
At least 5,100 campgrounds in which to pitch our tents
And 328 natural pools to swim in
Managed by the USDA Forest Service, our National Forests and Grasslands host more than 170 million visits each year. Visitor spending pumps $13.5 billion into our economy annually, sustaining nearly 223,000 jobs in gateway communities.
These lands are the foundation of America's outdoor recreation heritage and sustain our way of life. They provide water to millions Americans in thousands of communities, clean our air, store carbon, and provide timber, minerals, oil and gas and other resources for industry and communities.