Cooking in the backcountry doesn't have to mean pre-packaged freeze-dried meals full of sodium and preservatives. I have camped for years protesting the often, not so enjoyable prepackaged "backpacking meals." Don't get me wrong, there is a time and a place for these quick and weight saving meals-in-a-pouch, but it doesn't have to be your go to.
Many times when we get to our final destination we are just relaxing, building camp, and have nothing but time; so why are we in such a hurry to make our meals?
Below are some meal ideas and tricks for prepping and packing. I have shown many friends that going into the woods doesn't mean sacrificing eating well.
Planning and Prepping
Veggies • • •
I don't want to waste time chopping veggies, either before or during the trip. I go to my local health food store with their amazing salad bar and use their prepped food for my trip. Quantities depend on how many people you are planning for. Don't go overboard as you will be the one(s) carrying in the food (and carrying out any leftovers).
How to get your protein into the woods • • •
Utilize leftovers. For example, make chicken or beef for dinner a night or two before your trip with a little extra. Cut the cooked chicken or beef into bite-sized pieces. Put it in a freezer bag and place in the freezer. Make sure it is the last thing you pack so that it can stay frozen as long as possible. By the time you make camp it will be thawed, if not mostly thawed. It also serves as an ice pack for any other perishables you are bringing.

I have also frozen leftover Chinese food, pulled pork, or other freezer safe proteins. The other benefit is if your stove doesn't work or you can't build a fire, the protein is already cooked and you can eat it cold. It won't be as enjoyable, but you won't starve.
Other tricks • • •
I try to utilize other items from the salad bar area.
Usually they will have salsa, sour cream, shredded cheese, guacamole, mini cream cheese packets, and more… I use the small plastic containers and go to town. I bring a small insulated lunch box and use a super small ice pack (or use the frozen protein) to keep it chilled until that night's meal. It is usually just me and a friend or my husband so I don't need much of the perishables.

I also save other condiments from takeout. Bring those parmesan and red pepper flake packets from your pizza, soy sauce packets from your Chinese food, or ketchup packets from your fast food; waste not want not, just put them in a bag in the fridge and bring them along when needed. Your friends will think you're a genius!
How to package your meals • • •
Ditch the heavy jars and cardboard boxes. Repackage into plastic bags and smaller plastic containers. At most gear shops you will find a variety of small containers like these, which can be used for oils, syrups, condiments, spices, etc. Also think outside the box; save containers from your everyday items and repurpose them for your backcountry travels.
Pack it in – pack it out • • •
You will ineviatably have some trash to carry out so don't forget to bring a trash bag. I usually bring an extra stuff sack and line it with the trash bag. It is a little more durable and can be hung up in the trees as is.
Sample menu for a two night trip
Day 1
Lunch: sandwich, chips, fruit
Dinner: Fajitas – chicken or beef, peppers, onions, shredded cheese, salsa, sour cream, guacamole, flour tortillas.

Day 2
Breakfast: Breakfast crepes – cream cheese, apples, peanut butter, brown sugar, cinnamon, leftover tortillas. Put whatever sounds good to you and heat-up on the skillet.
Lunch: crackers, sausage, cheese, apples
Dinner: pasta, veggies of choice and pesto. Freeze the pesto in advance to avoid transporting a super oily substance. Double bag to prevent accidental leaks.

Day 3
Breakfast: Pancakes. Don't forget to add those delicious huckleberries if they are in season, you won't regret it.
Lunch: Bagel and cream cheese
A recent trip • • •
My dear friend and co-worker Hannah and I ventured into Montana's beautiful Jewel Basin for her first backpacking trip ever! We had a blast and cooked up some tastey meals in the process!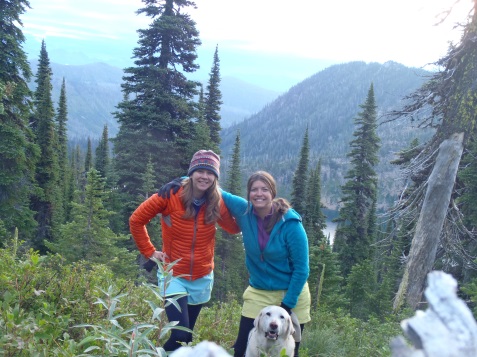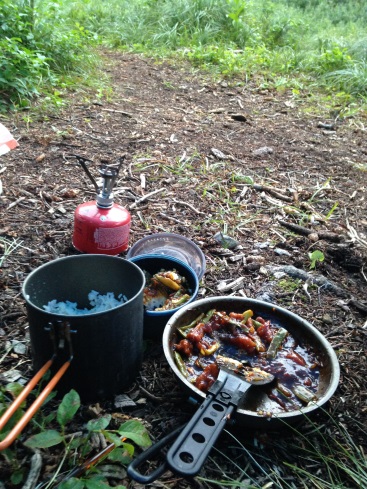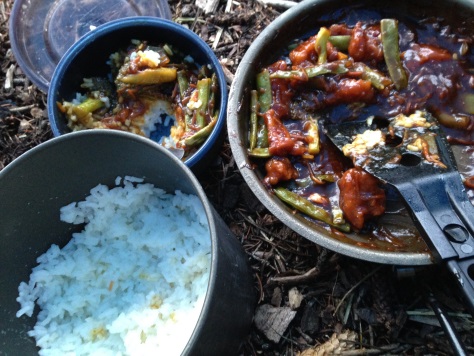 Do you have any tips or recommendations for cooking in the backcountry? Let us know in the comments below or on Facebook.