This past October, a group of student and community volunteers gathered to plant more than 1000 trees on Bald Mountain, home of the Sun Valley Ski Resort. Their efforts are part of the Bald Mountain Stewardship Project.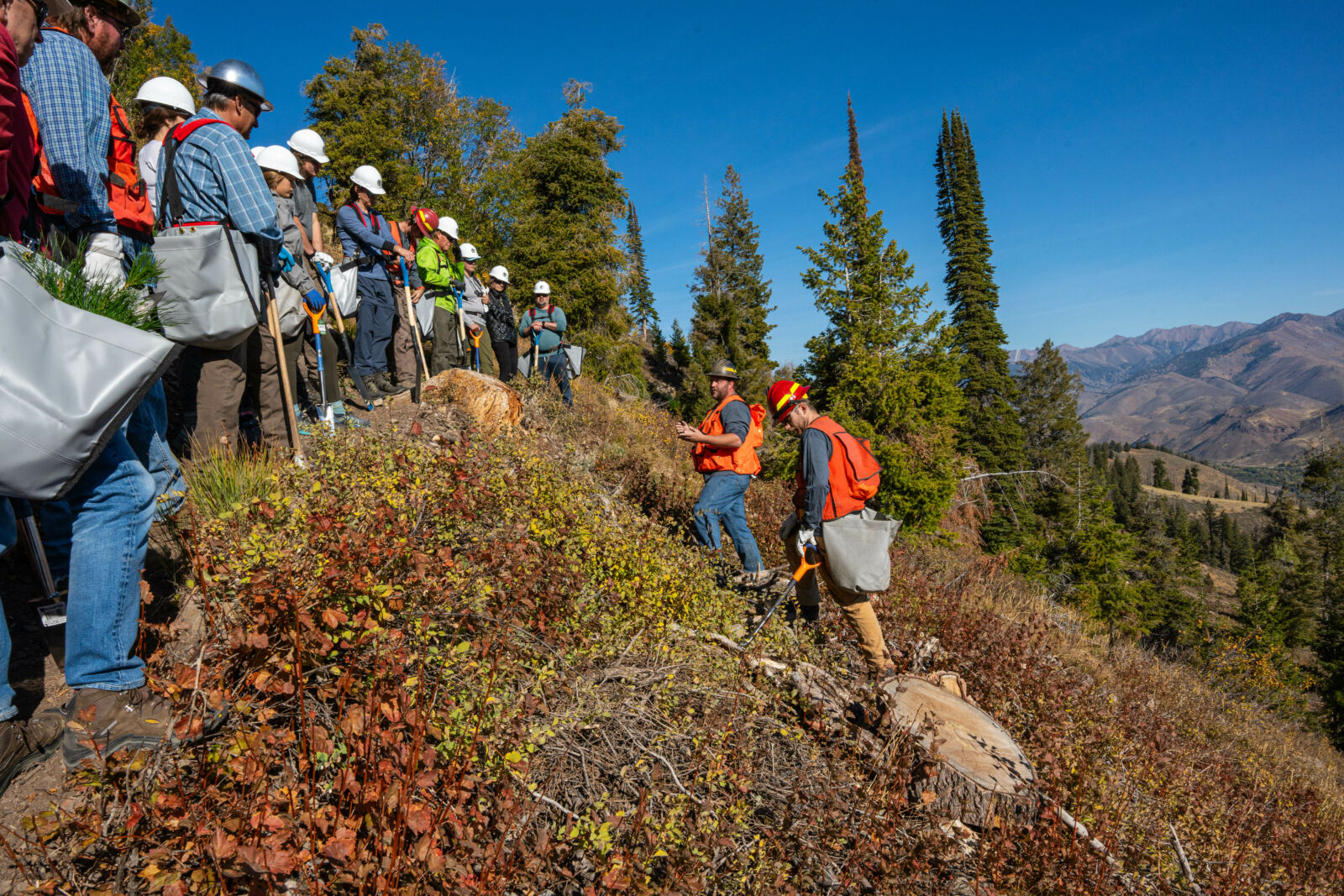 This innovative and collaborative forest health project involves a unique partnership between local community members, Sun Valley Company, the National Forest Foundation (NFF), U.S. Forest Service (USFS), and the Bureau of Land Management (BLM). This landscape-scale project aims to improve forest health, reduce fuels and associated fire risk, and preserve the recreational experience on and around Bald Mountain.

Following the 2007 Castle Rock Fire and the 2013 Beaver Creek Fire, many trees on the mountain succumbed to insects and disease issues, creating large swaths of dead and dying trees. NFF and the project partners spent more than two years planning and raising funds to implement the Bald Mountain Stewardship Project. In 2020 the project was awarded $2.3M in funding from the nationally competitive Joint Chiefs Landscape Restoration Program.

In addition to targeted reforestation activities, the Bald Mountain Stewardship Project includes the removal of dead and dying trees using an innovative system capable of maneuvering on steep slopes, wide-scale MCH bubble cap application that serves to deter future bark beetle attacks, mastication treatments, invasive weed treatments, sagebrush and bitterbrush planting, and native seeding.
Dead trees from the Bald Mountain Project are being used to fuel the Southern Idaho Wood for Life Program. The National Forest Foundation's Wood For Life program utilizes wood from forest restoration efforts. It provides transportation of the logs to local Tribal communities, who then split and distribute the wood to elders and those in need within the community for home heating.
This year, the Bald Mountain Stewardship Project supplied 700 cords of firewood to the Shoshone Paiute Tribe and Shoshone Bannock Tribe, where many Tribal members rely on the wood as their primary home heating source. In addition, excess wood not going to the Wood for Life Program is sold at a minimal price to support local markets, and proceeds from firewood sales are reinvested into the Bald Mountain Stewardship Project in 2023.