Rising tall from dark, murky waters, the bald cypress tree is a stately symbol of the swamp. Associated with the bayou, Spanish moss, pelicans, egrets and alligators, the bald cypress (Taxodium distichum) is the state tree of Louisiana. Its feathery foliage, wide and buttressed base and irregular crown dominate many southeastern wetlands, and its range extends throughout the southeastern U.S. from southern Delaware to eastern Texas.
Bald cypress prefer saturated or seasonally inundated wetland soils, low elevations, flat topography and humid climates; although ornamental species can be cultivated in a variety of climates. While it is a cone bearing member of the coniferous redwood family, it is in fact deciduous, losing its flat, one to two centimeter long needles in the winter, a characteristic that led to it being dubbed the "bald" cypress. "Cypress knees," or protrusions that grow from the trees' roots and stick out above the water are thought to help stabilize the tree against hurricane force winds and may aid in respiration for trees that are consistently standing in water.
While the trees are prized for both their construction and ornamental values, they also play a vital role in wetland ecology.
Bald cypress can grow for thousands of years and reach heights of 100-150 feet. The largest pond cypress (considered by some botanists as a variety of bald cypress and by others as a distinct species), called "the Senator" was estimated to be 3,500 years old, making it the ­fifth oldest tree in the world. The largest tree of any species east of the Mississippi River, with a volume of 5,100 cubic feet, and located in Longwood, Florida, the Senator was tragically destroyed by arson on January 16, 2012.
Old-growth bald cypress are sought after for their heartwood—the cypressene oil they contain is a natural preservative, making the wood resistant to both rot and insects. The gray to red-brown, stringy bark is popular for shredded landscaping mulch. While the trees are prized for both their construction and ornamental values, they also play a vital role in wetland ecology. The buttressed trunks and knees of living cypress, as well as the fallen, dead trees, provide habitat for ­sh. Eagles and ospreys nest in the crowns. The seeds are a food source for squirrels, wild turkeys, evening grosbeaks and wood ducks.
Cypress swamps are also important for flood mitigation. Acting like a giant sponge, these wetlands absorb water and trap sediments. The cypress trees' extended, raised root systems help this process by slowing and spreading floodwaters as they flow through a swamp, allowing the water to soak into the soil.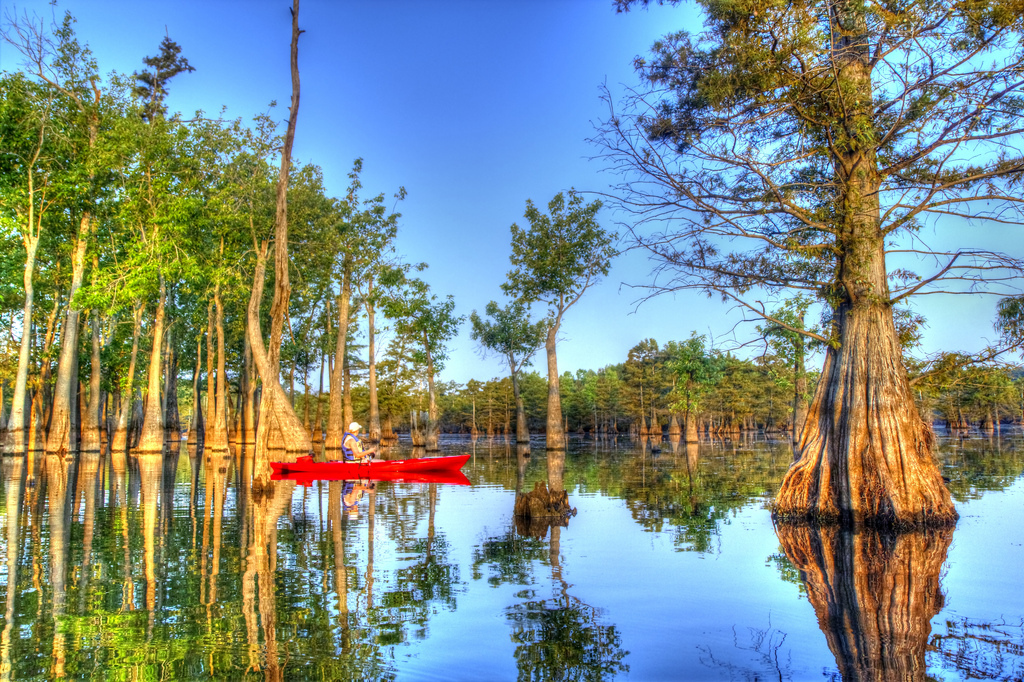 Bald cypress are often found growing with another type of swamp loving tree, the tupelo. Of the Nyssa genus, the tupelo prefers wet soils and seasonal flooding (in Greek mythology, the Nyssa were freshwater nymphs). The name "tupelo," a common name used for several varieties of Nyssa trees, literally means "swamp tree" in the language of the Muscogee (Creek) Nation (ito 'tree' + opilwa 'swamp'). In North America, there are several species of tupelo: black, black gum or swamp tupelo (N. sylvatica, swamp tupelo var. bi­ora); water tupelo, (N. aquatic); and Ogeechee tupelo (N. ogeche).
Black gum, black or swamp tupelo is the most far ranging tupelo tree, extending throughout the eastern and southcentral U.S. The water tupelo has a range nearly identical to the bald cypress tree. Specialized roots allow it to live in consistently inundated environments, and its swollen base, tapering up a long trunk, provides stability in heavy winds and ‑oods. Black and water tupelo wood is used extensively by artistic woodcarvers, especially for carving ducks and other wildfowl. The Ogeechee tupelo's range is limited to northern Florida and the southern portions of Alabama, Georgia and South Carolina.
But the tree is most valued for its role in creating the champagne of honeys, a mild, vanilla flavored nectar, prized by chefs and foodies and even memorialized in song.
Tupelo fruit, high in crude fat, fi­ber, phosphorous and calcium, is an important wildlife food source, and because of its many cavities, black tupelo is an important den tree species. The tree's shiny, green, elliptical leaves vary from two to ­five inches in length and turn purple, then scarlet or yellow in autumn, making it a popular ornamental.
The fruit of the Ogeechee tupelo, referred to as "ogeechee lime," is sometimes used in drinks, marmalades and sauces. But the tree is most valued for its role in creating the champagne of honeys, a mild, vanilla flavored nectar, prized by chefs and foodies and even memorialized in song.
The center of the commercial tupelo honey industry is the Apalachicola River in the Florida Panhandle, near the Apalachicola National Forest. There, beekeepers transport their beehives by boat and float them along the river swamps during the tupelo blossom in late April and early May to collect the tupelo honey. Once certified through a pollen analysis, the mono‑oral Ogeechee tupelo honey brings a high price.
Want to see these fascinating trees for yourself, but don't own a boat that can get you through the swamp? No problem: the Bear Swamp Interpretive Trail, in the Salt Springs Recreation Area on the Ocala National Forest, provides a boardwalk through an old-growth cypress swamp. On the Kisatchie National Forest, you can bike or hike the easy Glenn Emery Trail, where a boardwalk gets you across the swampy portions.
Did you learn something new in this blog post? We hope so. Every day, the NFF educates and inspires Americans about that most familiar and fundamental component of forests…trees! All our work on trees – from communications to field programs to carbon and more – depends on unrestricted gifts from people like you. Will you join us to ensure this critical work continues? Simply click here to join thousands of others who care about trees and much more.