Trails are part of the human experience and history in New Mexico. Some trails have a rich history, like the ancient trade route the Camino Real de Tierra Adentro that connected Mexico City to villages around Santa Fe. The Carson National Forest encompasses a landscape etched by at least a thousand years of permanent human settlements, and every trail is part of that history and has a story. We can still hike on trails radiating out from thousand-year-old Taos Pueblo, Picuris Pueblo and Puebloan ruins. We are blessed by a stunning and open natural landscape, but also by an absolutely unique and distinctive cultural landscape. Trails help us discover that landscape and connect to our culture.
Lost Lake Loop (East Fork FS #56, Lost Lake FS # 91, West Fork FS #58)
Users: hikers, equestrians, mountain bikers
14 miles; 2,300 ft of climbing; 2,300 ft of descending
Moderate to Difficult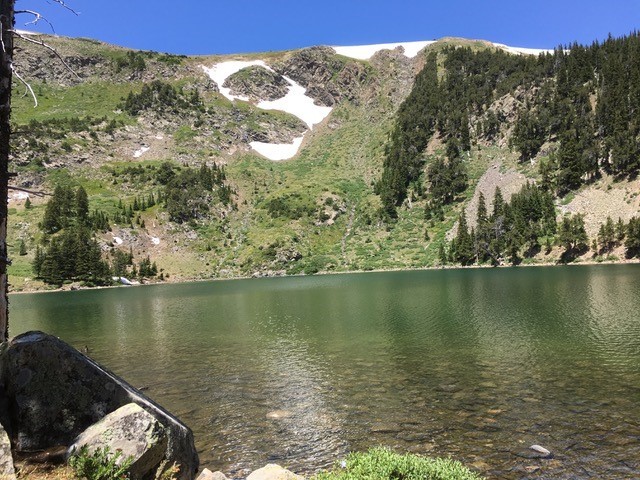 The route shows you both the East Fork and the Middle Fork of the Red River. Accessed from the Town of Red River, head east to on NM 38, going right on 578 to Upper Red River, to the end of the pavement, the confluence of the two streams. You can choose whether to go clockwise or counter-clockwise. Both routes will show you to the beautiful Lost Lake, snugged up against the northwest slope of Wheeler Peak, the highest point in New Mexico. This is a popular hiking trail, and also one of the best mountain bike loops in the area, a true alpine adventure that has it all: long climbs, talus slopes, alpine lakes, and ripping descents.
Learn more about this trail on USFS and AllTrails.
Bull of the Woods to Wheeler (Bull of the Woods/Wheeler Peak FS #90, Wheeler Summit FS #67, Williams Lake FS #62)
Users: hikers, equestrians, trail runners
7.3 miles; 3,761 ft of climbing
Difficult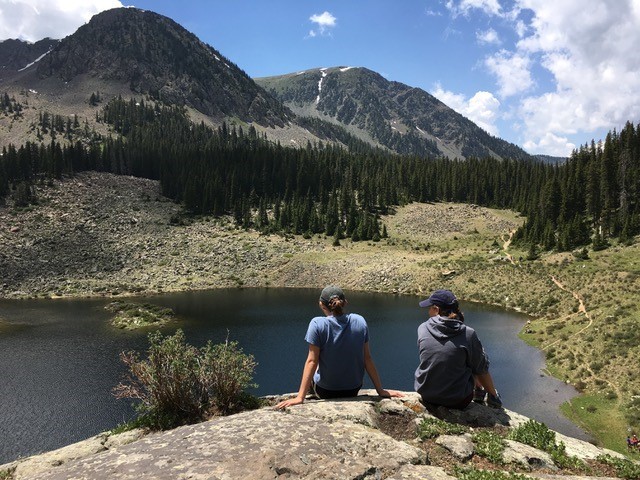 Access from the top parking lot at Taos Ski Valley, heading up Bull of the Woods Trail or Wheeler Peak Trail to the Meadow, then heading south along the ridge above tree line past La Cal Basin and Walter Peak, topping out on Wheeler Peak. It's a very well marked route, and once on the summit, you have 360 degrees view all the way to Colorado. You can return the way you came, or drop down to the west on the switchbacks to Williams Lake in the basin between Wheeler and Lake Fork Peaks. From here, Williams Lake Trail in the valley bottom that takes you back to the Phoenix Lodge trailhead on the backside of Taos ski Valley. You can walk roads back to your vehicle, or easily catch a ride.
Learn more about this trail on USFS and AllTrails.
Columbine Canyon (FS Trail #71)
Users: hikers, equestrians (summer) snowshoe and cross-country skiing (winter)
5.3 miles; 3,300 ft of climbing
Moderate to difficult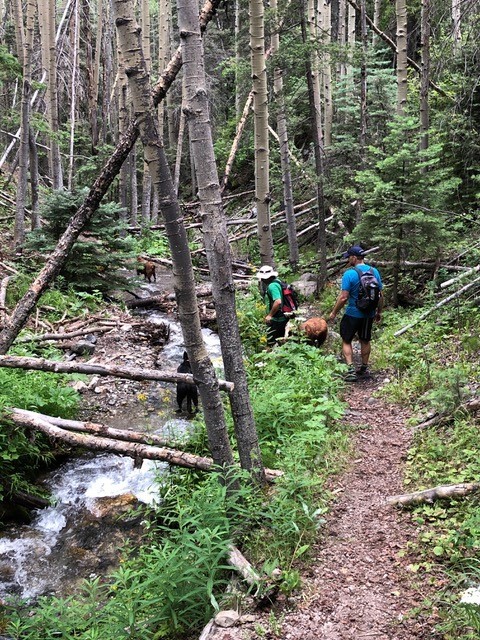 Trailhead is at the Columbine campground on NM 38, between the Town of Red River and the Village of Questa. Horse trailer parking is in a wide pull-out at the entrance to the campground. A beautiful singletrack trail up Columbine Creek through timber and small meadows. There are several connecting trails that lead up to the creek headwaters, or up to Gold Hill and eventually Bull-of-the Woods and Taos Ski Valley. This is an easy trail for the first several miles, and then gets steeper and more rigorous.
Learn more about this trail on USFS and AllTrails.
South Boundary (FS #164)
Users: hikers, equestrians, mountain bikes
21.5 miles point to point; 1,600 Ft. of climbing; 4,400 ft of descending
Moderate to Difficult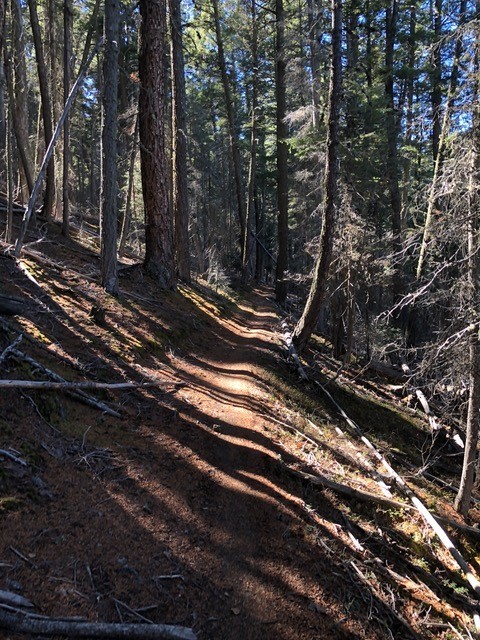 Access for this IMBA Epic trail is traditionally from Angel Fire on the east side of the ridge. You can also access from Mondragon Canyon (FS #660) or in Valle Escondido using Osha Pass Trail (FS # 70) to Elliot Barker (FS #1) to connect to the SBT. Consistently ranked one of the best mountain bike rides in New Mexico, the South Boundary Trail has over twenty miles of classic single-track side-hill wind through lush alpine meadows, cool pine forests and quaking aspen groves. Hire a shuttle to drop you in Angel Fire, returning to the El Nogal trailhead on the west end.
Click here to learn more about the trail on USFS, IMBA and AllTrails.
Elephant Rock Loop Trail (FS #195)
Users: motorcycles
9 miles to Cabresto Rd; 2,400 ft of climbing
Difficult
The access point for this challenging motorcycle loop ride is on the north side of NM 38 between Fawn Lakes Campground and Junebug Campground, both on the south side of NM 38. This is a mixed use trail, but is primarily used by serious moto riders. There are three inner loops, and a very challenging connector to Cabresto Canyon to the north. From Cabresto (FR #134), riders and reconnect to Red River or Questa, or return to Eagle Rock Loop Trail.
Learn more about the trail on USFS.
About Enchanted Circle Trails Association
The ECTA develops, maintains and promotes trails in the Enchanted Circle region of Northern New Mexico. It is dedicated to the creation of a trail system to positively affect community health, increase economic development through recreational tourism, and improve the quality of life in the region. Click here to learn more.