NFF believes in the value of matching cutting-edge knowledge acquired in graduate-level studies with practical, hands-on experiences. The purpose of the Conservation Connect Fellowship is to align NFF's collaboration and conservation work with an experiential education opportunity. NFF is striving to meet each Fellow's learning objectives while also effectively delivering conservation results for National Forests and Grasslands through collaboration. The NFF gives fellows the chance to gain direct experience in a variety of NFF and partner functions, specifically in collaborative processes and on-the-ground science applications. The Conservation Connect Fellowship aims to build experience, knowledge, and skills to guide the next generation of collaborative leaders in the conservation field.
We thank the Dianne Komminsk Revocable Trust, the Exxon Mobil Foundation, the Johnson Foundation of the Rockies, the Watershed Research and Training Center, Wallowa Resources, Alaska Airlines, and Southwest Airlines for their generous support of the 2022 Conservation Connect Fellowship Program.
Let's meet the 2022 cohort of Conservation Connect Fellows:
Amelia Liberatore
Amelia is an observer by nature. As a child, playtime was spent observing the plants and insects sharing her countryside habitat in Southern Oregon. When she moved to Missoula, Montana, to earn a BA in Environmental Studies, she observed the weather across the wide window of the sky. Amelia turned observation into action, working on a demonstration farm, organizing student events, and leading student organizations.
Following her studies, Amelia served two years on the Board of Directors for the Alternative Energy Resources Organization, a nonprofit that supports local food systems through community programs and renewable energy education. It was a fruitful opportunity to deepen her acquaintance with Montana's agricultural communities and nonprofit administration.
Amelia then applied her environmental studies training to field research abroad. She spent eighteen months at the Arava Institute for Environmental Studies in Israel, studying desert ecology and soil remediation. Ultimately, the most valuable benefit of this period was living and working through cross-cultural conflict dialogue and community building.
Amelia returned to Montana in 2021 to pursue a master's degree in Environmental Science and Natural Resource Journalism with a certificate in Natural Resource Conflict Resolution. She strongly believes in the power of listening to one another's stories to solve conflicts; that by changing our habits of communication, we can build relationships that inform and transcend social/political conflicts. Promoting this kind of communication is her fundamental aim as a writer, journalist, and community member.
Annie Miller
Annie is currently pursuing her Masters of Environmental Management at Yale School of the Environment, where she is focusing on Ecosystems Management and Land Conservation. She is particularly interested in collaborative conservation efforts as a means to build social, cultural, and ecological resiliency in Western lands. Annie grew up in Carson City, Nevada, where she developed a love for hiking, skiing, and fishing throughout the forests of the Sierra Nevadas. After receiving her B.S. in biology and environmental science from Tufts University, Annie led environmental education trips throughout the Bay Area. She then worked at the California Academy of Sciences, where she did research on youth learning and community/citizen science and developed partnerships with community-based organizations. At Yale, she is working on projects ranging from researching working lands conservation finance models to evaluating collaborative rangeland conservation efforts. This summer, she is thrilled to work with the Watershed Research and Training Center on forest climate resiliency and fire management in Northern California, a place that has given her many good adventures!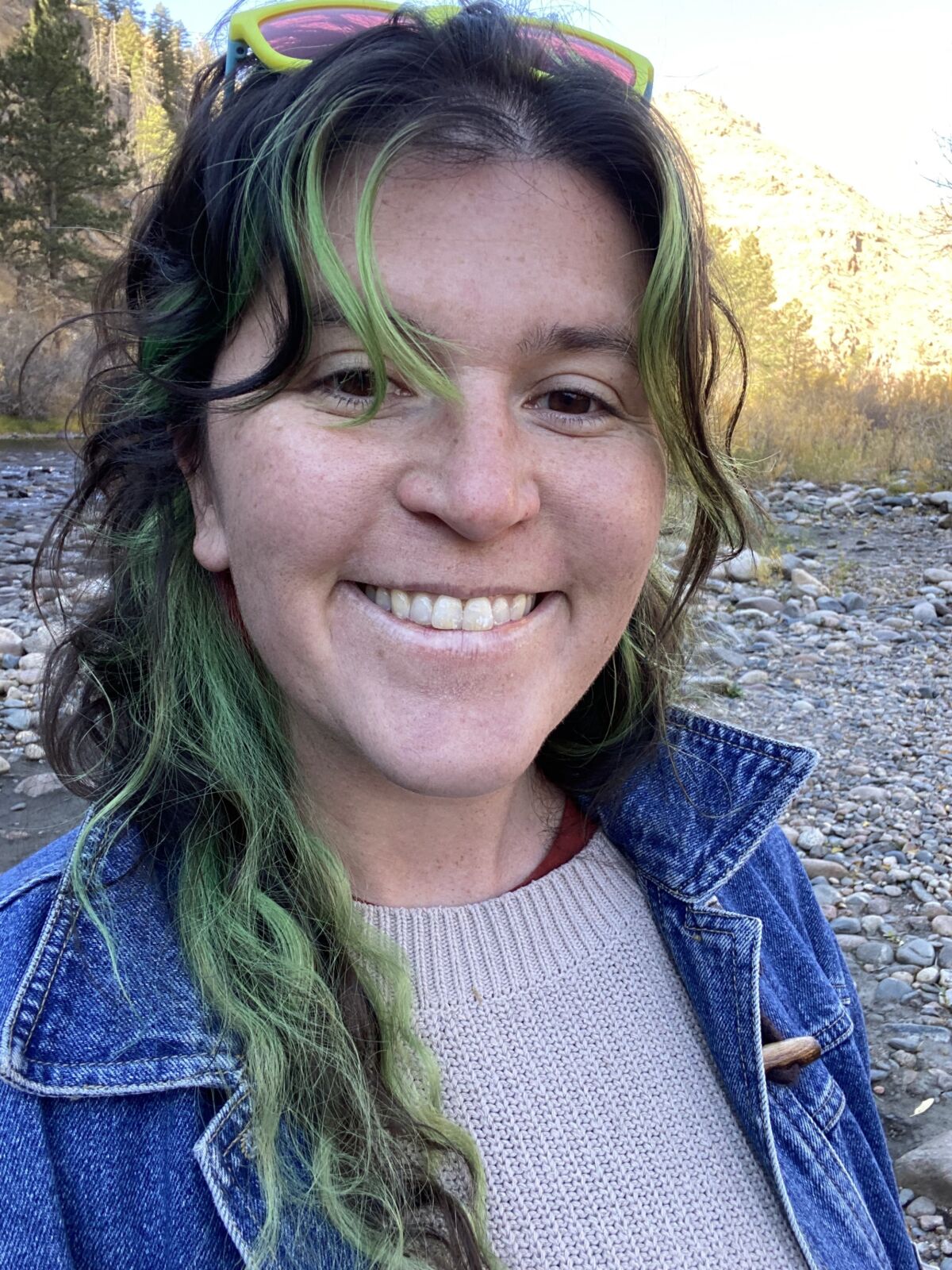 Ashley Quick
Ashley is an artist and community organizer based in Laramie, Wyoming. She received her B.A. in Art with a focus on printmaking in 2014 and is currently pursuing a dual Master's in Public Administration & Environment and Natural Resources at the University of Wyoming. She has been developing and coordinating nonprofit programming in the arts since 2015 and currently works organizing volunteer events on public lands in Southeast Wyoming. Ashley believes community building and interdisciplinary collaboration are important to any movement, and especially to the work of environmental stewardship. She is excited to utilize her creative background to help the National Forest Foundation develop its youth programming to facilitate community and a connection to place. Ashley likes to wander around outside for long periods of time, make art, and spend lots of time with family and friends.
Beth Bannar
Beth grew up on the East Coast, first in New Jersey, then New York, and most recently Vermont. Stemming from a desire to protect northeast deciduous forests, she studied Forestry and Economics at the University of Vermont Rubenstein School for the Environment and Natural Resources. She then worked in the Drinking Water Division for the State of Vermont, assisting with public drinking water system permitting. These experiences taught her that effective land management is much more complicated than successful shelterwood harvests. Effective land management requires careful cultivation of long-lasting and supportive professional and organizational relationships. She is currently a graduate student at the University of Michigan studying Environmental Planning and Justice within the School for Environment and Sustainability. This course of study is preparing Beth to be a constructive leader to help communities create coalitional networks and empower them to effectively and equitably manage their land. As a Conservation Connect fellow, Beth looks forward to engaging with NFF's many partners to enhance and expand their collaborative network. In her free time, Beth enjoys gardening, sewing, knitting, and playing Dungeons & Dragons.
Chloë de Camara
Chloë de Camara was born in Chicago but spent most of her life in western North Carolina. She double majored in French and Religious Studies at the University of North Carolina Asheville with the intention of becoming a translator for the United Nations. She became interested in public lands while drafting her undergraduate thesis, which compared long-distance hikers on the Appalachian Trail (A.T.) to religious practitioners. Her academic interest in the A.T. led to her volunteering with the Appalachian Trail Conservancy (ATC) after graduation. Shortly afterwards, she was hired to coordinate trail-crew volunteers in the Great Smoky Mountains National Park. After completing her own through-hike of the A.T. in 2015, she began working full-time with the ATC. Her role primarily consisted of engaging the public, creating interpretative and educational materials for hikers, and supporting visitor use management projects.
After seven years with the ATC, she wanted to expand her knowledge of public lands management beyond recreation and in different settings. She returned to graduate school to pursue her Master of Public Affairs degree from the O'Neill School of Public and Environmental Affairs at Indiana University concentrating in Environmental Policy and Natural Resources Management.
Chloë is thrilled to work on the "Cross-Boundary Approaches to Forest Management" practicum and engage with a diverse group of expert stakeholders. She recognizes that there are multiple interests concerning the use and preservation of public lands. Chloë is looking forward to learning from the Montana Forest Action Council and observing how conflict and dispute resolution plays out in real time. Her professional interests include federal land management, property rights, cross-boundary issues, realty, and National Environmental Policy Act (NEPA) compliance.
When not working or studying, Chloë can be found in Bloomington, Indiana, hanging out with her partner, Jason, and one-eyed cat named Marty. She enjoys walking anywhere and everywhere and practicing yoga to counteract the aches from prolonged sitting.
Evie Vermeer
Evie is a Master of Environmental Science and Management candidate at UC Santa Barbara's Bren School. Originally from Minneapolis, Evie grew up adventuring about the Northwoods, which inspired his love for the outdoors and forest conservation. After graduating from Whitman College with a degree in Economics-Environmental Studies, he held various finance and ESG jobs before working for a forestry investor in Portland, Oregon. In 2020, Evie left his job to focus on conservation and environmental justice work and pursue his master's degree. He currently serves as a board chair and the treasurer for 350PDX, a Portland-based environmental justice nonprofit. At Bren, Evie is specializing in conservation planning and participating in the program's sustainable forestry fellowship. He also contributes to research work with UCSB's Earth Research Institute. Evie's master's project is analyzing and recommending prioritization areas for habitat connectivity, biodiversity, cultural significance, and forest conservation in southeast Alaska. His NFF fellowship practicum is identifying opportunities and investments to optimize the utilization of forest restoration byproducts across the northern Blue Mountains. In his spare time, Evie enjoys Los Padres National Forest and spends his hours backpacking, skiing, biking, and surfing.
Heidi Goodrich
Heidi is a Master of Environmental Science and Policy candidate at Northern Arizona University, focusing on community and trait-based ecology. Originally from San Jose, California, Heidi was raised with a passion for the natural environment through her experiences on the rugged beaches and oak savanna covered hills. She received her B.S. in Environmental Science from the University of New Mexico with specializations in GIS, climate, and geosurficial processes. Heidi left the desert to serve as an AmeriCorps member and crew leader in Seattle, Washington, teaching others about native plants, trail maintenance, and PNW ecology. She continued working in the fields of environmental education, noxious weed control, and inventory, assessment, and monitoring before returning to the desert to complete her master's degree. While at NAU, Heidi is working on projects related to understory plant community composition after high-severity fire through the lens of traits and microclimates. Heidi's practicum project will be with the Wood For Life Tribal Fuelwood Initiative based in Flagstaff, AZ, where she is excited to work with stakeholders and inform how to replicate this project in other geographies.
Karissa Courtney
Karissa is from the Pacific Northwest, having grown up in Oregon and earned her B.S. in Ecology from Seattle Pacific University in Washington. In her time between undergraduate and graduate school, she spent a lot of time working with Boulder County Parks and Open Space in Colorado as a wildlife monitor, plant steward, and data collector. She is now pursuing her Masters in Ecology under Dr. Jon Salerno and Dr. Tony Cheng at Colorado State University in Fort Collins. Her thesis work focuses on the social-ecological system of wildfire risk disparities, and she has been simultaneously working on a project evaluating Community Wildfire Protection Plans (CWPPs). She is greatly interested in community-based natural resource management and seeks to bring the intersectional topics of human rights and ecology together.
Last summer she was also a team member for the Colorado Node of the NASA DEVELOP National Program where she mapped an invasive riparian species in Wyoming and Montana. When Karissa isn't thinking about wildfire or making maps, she also enjoys writing to communicate scientific topics, cooking with her friends, rock climbing, trail running near her house in Fort Collins, hiking, reading in the sun, and making kombucha to share.
Lucy Portman
Lucy is a graduate student at the University of Montana, where she is pursuing a master's degree in Environmental Studies with a focus on policy, as well as certificates in Natural Resources Conflict Resolution and Public Administration. Lucy is originally from Ohio and received a B.A. in biology from Whitman College. Since undergrad, her work with nonprofit conservation organizations and federal agencies has shifted her academic interests from biological research to the human dimensions of natural resource management. Lucy has worked in Australia, Washington, D.C., Yellowstone, and Seattle in environmental education, communications, and planning. She hopes to build a career working in collaborative conservation, positioned at the intersection of science, action, and policymaking. She spends much of her thinking and free time on trails or on the water with her dog and friends, or in the kitchen making food. As an NFF Conservation Connect fellow, Lucy will assist with the Wildfire Crisis Strategy Roundtables project.
Zachary Hummel
Zac grew up in California but has since lived throughout the Western United States and has spent a substantial amount of time wandering around the Rockies. Although he originally thought of himself as an engineer, some soul-searching trips to South America led him to the environmental sciences and outdoor education.
He is currently pursuing a master's degree in International Conservation and Development and a graduate certificate in the Natural Resource Conflict Resolution program at the University of Montana. His research interests focus on the definitions of conservation in international settings, and he is currently investigating the feasibility of starting a conservation corps in the region of Aysen, Chile. He believes collaboration efforts between interest groups, building meaningful relationships, and expanding outdoor access to marginalized groups are critical components of growing sustainable communities and is still figuring out how he can help make that happen.
Outside of school, he enjoys climbing, cooking, reading, and playing music, and can usually be found lying somewhere in the sun.