Reforestation after a wildfire conjures up images of people carrying bags of seedlings, wearing hard hats, and digging holes to quickly plant thousands of trees in a blackened forest. That is the most common approach and something the NFF supports across millions of acres of National Forest System lands. Keeping up with the latest technological advances, we are excited to announce that we've piloted aerial drone seeding. We do not expect drone seeding to replace other reforestation methods, rather, it can offer an important supplement for hard-to-reach areas.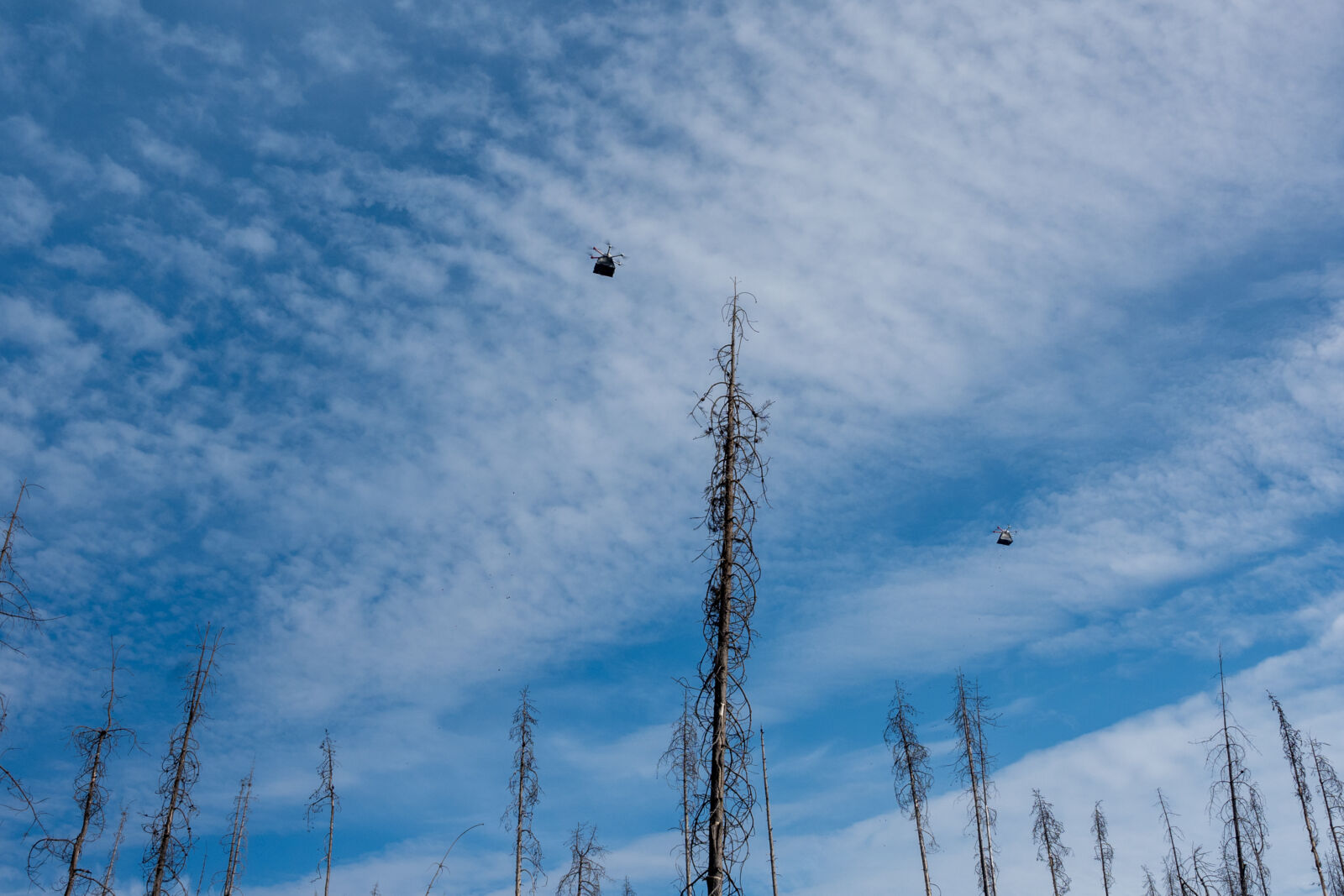 While traditional hand planting is extremely effective, its application is limited to areas accessible to planting crews. Additionally, response time is slow while waiting on nurseries to grow trees and until the area is safe to enter. Therefore, tree planting typically occurs two years after a fire. Alternatively, aerial drone seeding can occur a couple of months after a fire once the seed vessels are ready and the winter rains arrive to water the seeds. This method offers the rapid response our forests need for a swift recovery.
The drones utilize LIDAR technology to map targeted seeding sites and use less seed per site. Additionally, the drones deploy seed in proprietary seed vessels, which provide the nutrients needed to jump-start plant establishment and increase survival rates.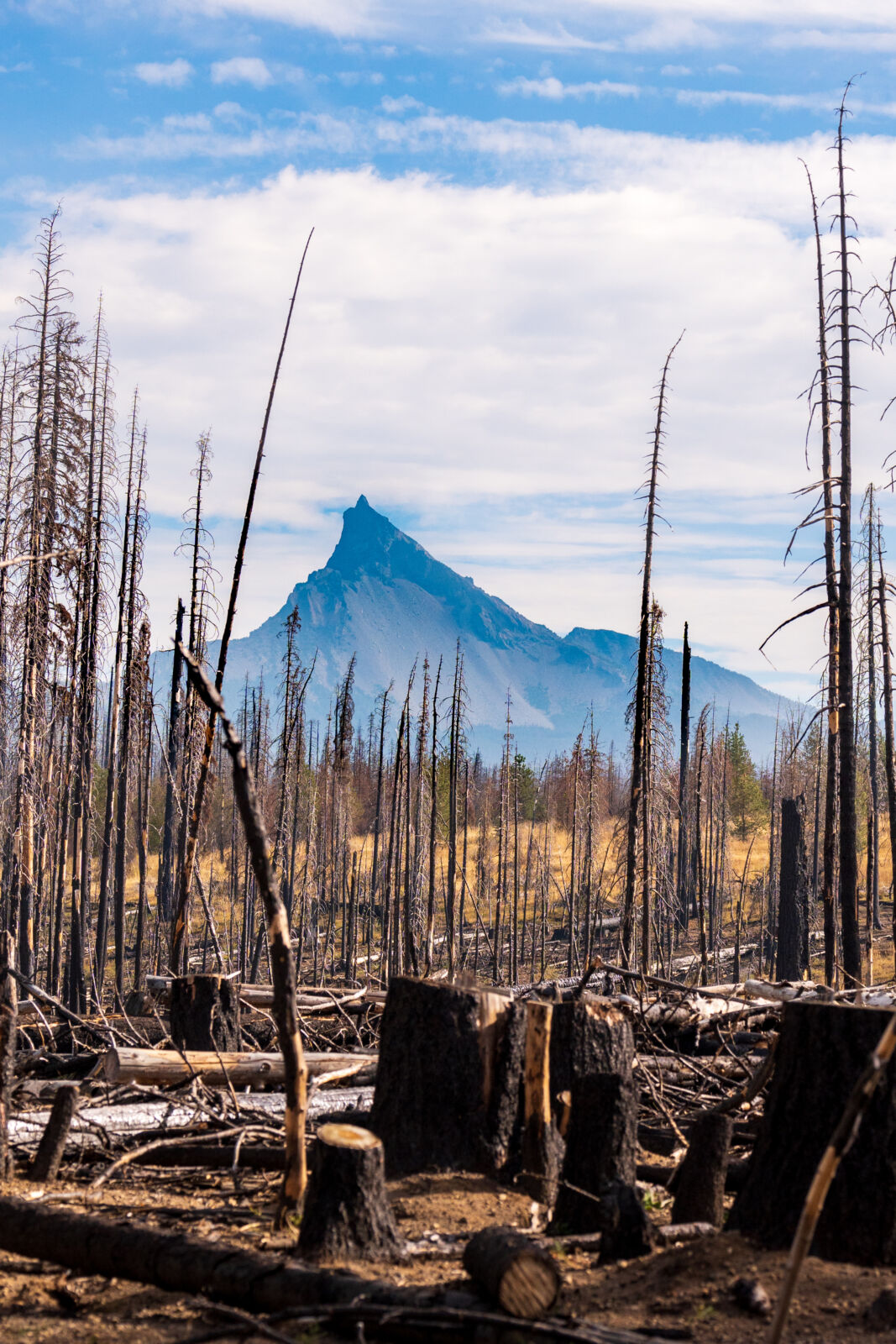 We partnered with the Umpqua National Forest and Mast Reforestation (DroneSeed's newly formed parent company) on a 25-acre drone seeding pilot project in the footprint of the Thielsen Fire. We selected a site that was easily accessible so that monitoring crews could return to assess the seedling establishment and survival rates.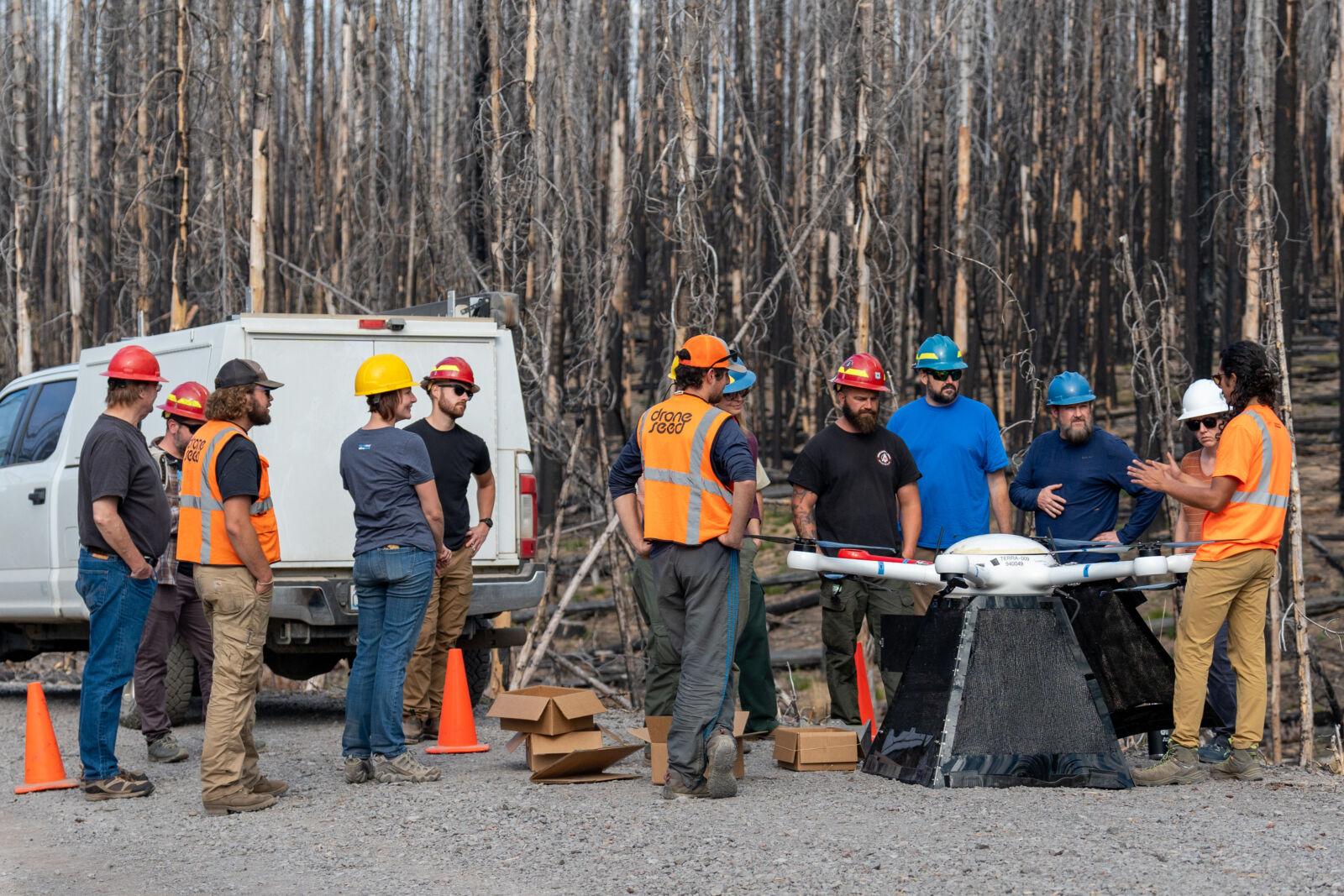 To get this project off the ground, Umpqua National Forest silviculturist Ryan Siebold identified the site and worked with Umpqua National Forest botanist Crystal Shepherd to select desired species. We selected conifer species – including Engelmann spruce, western white pine, and Douglas-fir - based on their seed availability, history at this site, and fit for direct seeding. Big deervetch, a nitrogen-fixing perennial herb native to the site, was also selected to evaluate if the introduction of nitrogen will improve the survival and growth of Douglas-fir through increased soil fertility.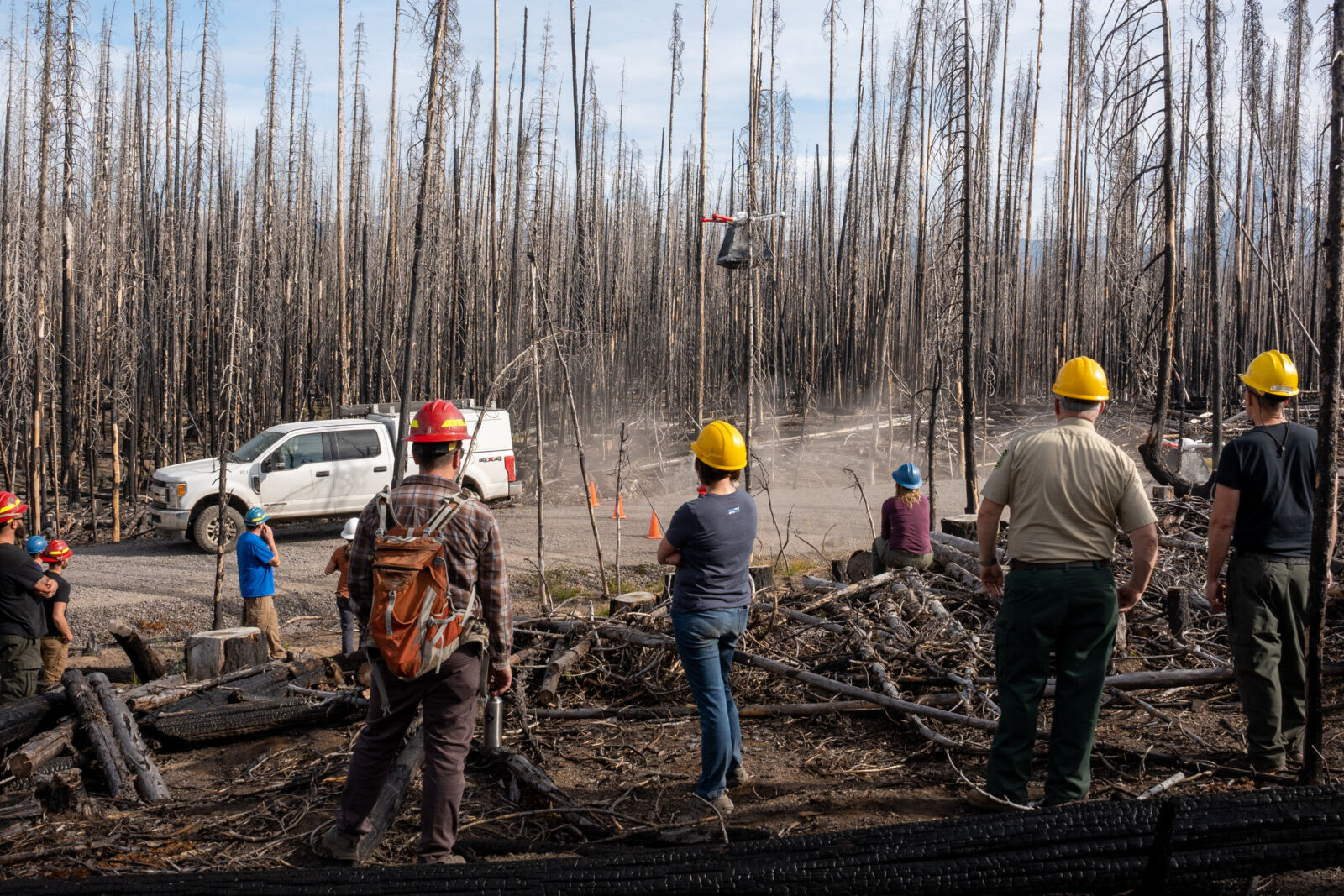 The Umpqua National Forest then collaborated with Mast Reforestation to develop a seeding plan. Mast Reforestation packed the seeds inside their proprietary seed vessels and deployed them via several large drones in mid-October 2022.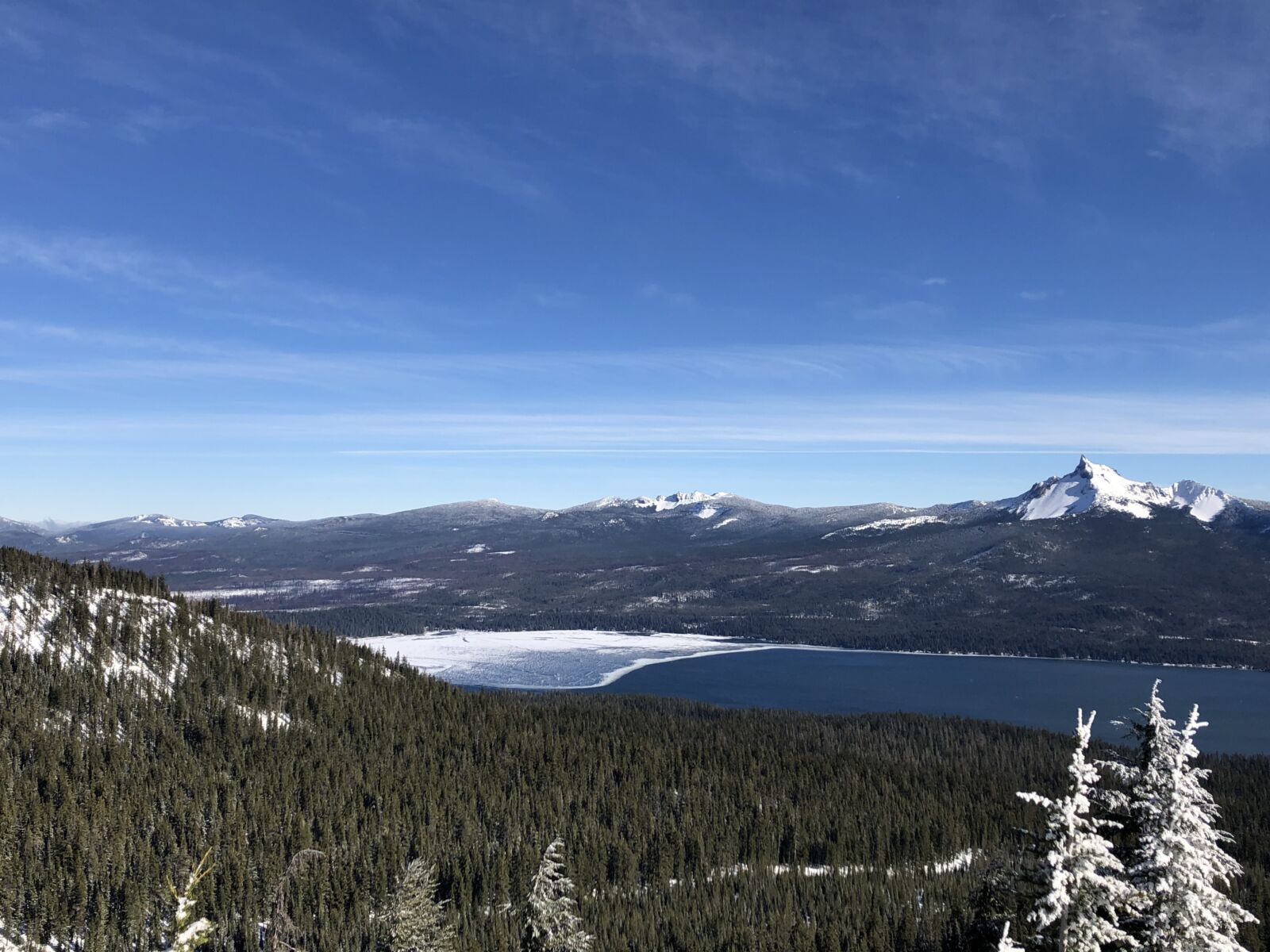 We lucked out with the timing for the project. A snowfall right after deploying the seed vessels provided water for the seeds and a layer of protection from predators! We are excited to revisit the site over the next year to see how many seeds grew into trees!
Cover photo by the U.S. Forest Service.
--------
Every individual and every gift counts in our mission! This blog, and the others like it in this section, give you a glimpse of our impact. We're doing our part; please do yours by becoming an unrestricted NFF donor today. Your gift matters! Just click here to become a valued part of our mission today.