The new infrastructure bill will provide more resources for National Forest reforestation funding, especially for the expensive, but necessary, backend work. The NFF will continue to provide support for seedling costs to meet the rising demand of planting need and to address the many challenges on National Forests.
After months of negotiation, Congress has passed and the President has signed the bipartisan Infrastructure Investment and Jobs Act, HB 3684. The bill includes various items related to updating U.S. infrastructure, but it also includes text that will have a significant effect on National Forests with the inclusion of the REPLANT (Repairing Existing Public Land by Adding Necessary Trees) Act, S. 866.

How will the bill affect the NFF's tree planting program?
First, a little background on the cost of reforestation will provide context for the bill and potential opportunities for our tree planting program. As most readers of this post will know, the NFF partners with the U.S. Forest Service on its reforestation projects. That is because, as an organization with a sole focus on the National Forest System, we only plant on National Forests. Our trees are priced at $1 per seedling, but what most of our donors and corporate partners do not know is that there is a much larger – and growing - cost beyond this.

The Rising Cost of Reforestation
Reforestation is actually very expensive. That is why programs like the NFF's and our 50 Million For Our Forests campaign exist, to help shoulder the cost and plant more trees where they are needed most on National Forests. We receive a significant benefit by partnering with the Forest Service – not only in the scientific rigor of projects and species selected - but much more: For every $1 the NFF provides from donors and partners for seedling costs, the Forest Service provides more than $2 of in-kind support for the necessary backend work that gets a project up and going. That includes site assessment and planning, cone collection, seedling growth and care at nurseries, pre-planting site preparation, seedling transport to project sites, and contracting professional tree planters to properly plant the seedlings. Then, once a project is finished, the Forest Service will go back to the project site and check the planted seedlings for growth and survival.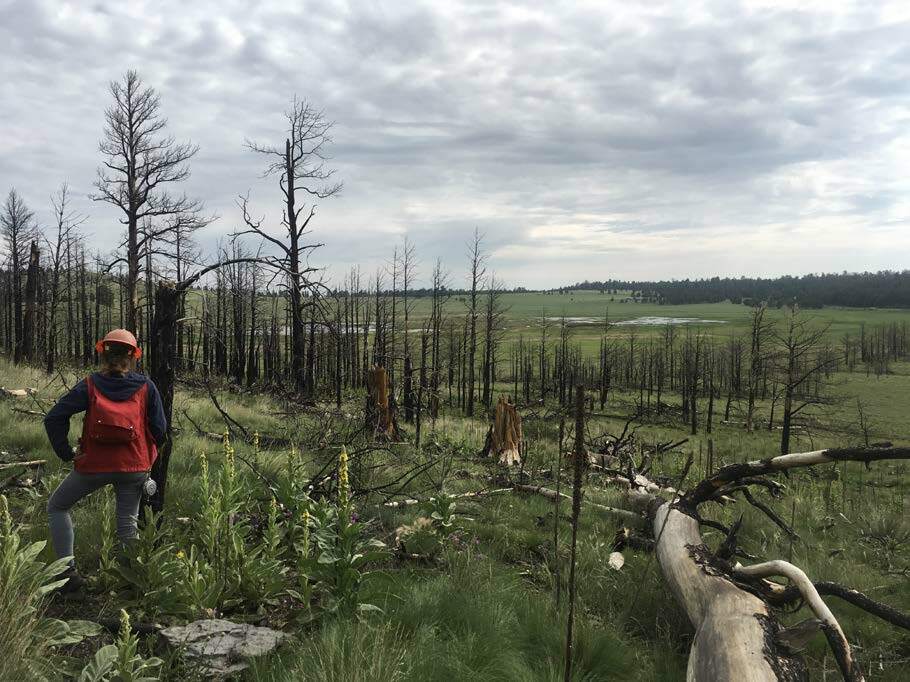 This model worked well when the NFF first started planting trees in the mid-2000s, but the reforestation need on National Forests has soared due to climate change and the resulting more frequent and intense disturbances like wildfire. The rate of deforestation is now beyond the Forest Service's ability to respond and has created a backlog of reforestation need.
Additionally, the agency had an annual reforestation spending cap of $30 million from the Reforestation Trust Fund, implemented by Congress in 1980. This fund's money comes from wood product tariffs. Today, $30 million does not come close to the budget needed for reforestation on National Forests. In fact, the Forest Service estimates that it needs $183 million per year over the next decade for reforestation alone. The contribution from the agency's reforestation partners, like the NFF, provides only about 5 percent of the annual cost of tree planting.
With this background knowledge on the cost of tree planting on National Forests, we can now get back to the infrastructure bill and REPLANT Act. This authorizes the Forest Service to plant over a billion trees over the next decade, and ultimately, begin digging into the reforestation backlog. The bill also removes the Reforestation Trust Fund's annual spending cap, which will significantly increase the annual investment in reforestation from wood product tariffs.

What does this mean for reforestation on National Forests and will the NFF be able to finish its 50 million campaign immediately?
We look forward to the immense opportunity for growth and critical capacity this bill will bring, however, it will take time to implement changes and bolster systems that have been historically underfunded and understaffed. A reforestation backlog has existed for years, and rebuilding capacity will not occur overnight.
The bill will provide more resources for reforestation funding, especially for the expensive backend work mentioned above. The NFF will continue to provide support for seedling costs to meet the rising demand of reforestation need and address the many challenges on National Forests. We expect to see additional projects to support in the coming years, planting 50 million trees and beyond.
In sum, we are entering an exciting time for National Forest reforestation. Stay tuned!
Aside from tree planting, the infrastructure bill will also provide funding for other forest management activities, including hazardous fuels management, fire recovery/restoration, a national revegetation and seed strategy, and more. This restoration work will include lands beyond National Forests and is set to establish collaborative efforts across landscapes that incorporate climate change mitigation and resilience, job creation, advancements in equity, and much more.
Thumbnail seedling photo by Dave Gardner Creative.