Collaboration supports conservation, restoration and tree-planting efforts of the National Forest Foundation
Filson, the rugged outdoor outfitter, and Bronco, Ford's Built Wild™ outdoor brand of only 4x4 SUVs, unveiled today a one-of-a-kind Bronco concept vehicle to celebrate wildland firefighters and to support the National Forest Foundation (NFF) and their outdoor conservation efforts. The collaboration was informed by the brands' shared histories supporting and outfitting the brave men and women of the U.S. Forest Service as they protect America's public lands. With the reveal of the Bronco + Filson Wildland Fire Rig concept during one of the most devastating wildland fire seasons in history, the brands aim to raise awareness of fire prevention and responsible recreation as our public lands continue to see increased numbers of visitors each year.
"Filson and Bronco share a history in the wildest parts of the American landscape and have provided the gear and transportation necessary to protect the country's public lands for decades," said Doug Thielen, director of marketing, Filson. "This collaboration speaks to those shared histories and through it, we honor the hard and dangerous work of wildland firefighters who put their lives on the line every day for our National Forests, public lands and nearby communities."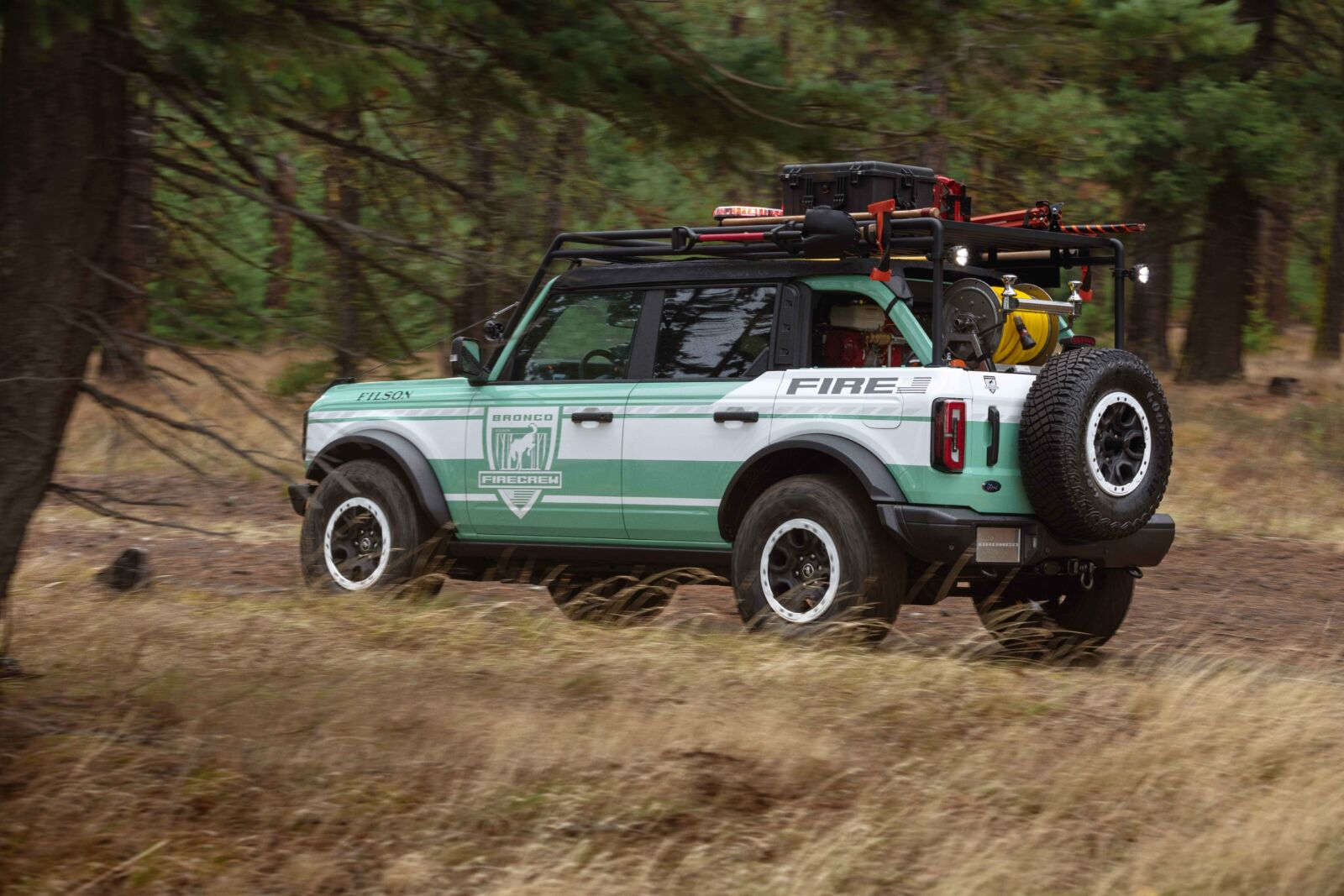 As far back as the 1940s, Filson Cruiser jackets were the official Class A attire of the U.S. Forest Service, and many still see the iconic green retired U.S. Forest Service Broncos out in the wild. That rich history comes through to today's Bronco + Filson Wildland Fire Rig concept. Based on the all-new Bronco Badlands™ four-door SUV with available Sasquatch Package™, the concept vehicle blends advanced off- road capabilities with rugged design details using Filson materials and a full firefighting skid built into the back. The vehicle's exterior color is a nod to authentic forest service green with reflective white striping and Bronco + Filson Wildland Fire Rig crests on the doors.
In the vehicle's interior, the seat trim, made with Filson's signature otter green duck canvas, surrounds black quilted leather seating surfaces inspired by Filson's jacket lining. Matching otter green duck canvas covers door bolsters and armrests, while fireproof ripstop nylon material, similar to that used in Filson backpacks and briefcases, is used for the bimini-style top and rear cargo divider. The vehicle's top can be opened and rolled back and fastened securely with Filson bridle leather straps to provide an open-airexperience. The steering wheel features a bucking Bronco logo plated in Filson brass and an embroidered Filson logo is mounted to the interior's top and center console trim tag.
Combined, Ford and Filson share a unique history of protecting our nation's wildfire crews for more than a century and helping them access rugged areas of forests. Today, we're combining those strengths to support those who protect our natural resources as well as preserve our nation's forests for future generations.
Alongside the concept vehicle, Filson and Bronco also announced a multi-year collaboration with the National Forest Foundation (NFF) that supports planting trees for their "50 Million for Our Forests" initiative. Ford, which launched the Bronco Wild Fundearlier this week, has pledged to plant 1 million trees with the NFF in 2021, with ongoing forest preservation and access programs planned. Filson has also partnered with the NFF to restore four fire lookout towers over the next three years, making them available for the public to reserve and enjoy.
Filson has, for years, been a fantastic partner in our work on National Forests. We are grateful and excited for Filson's expanded support of our 50 Million for Our Forests campaign through the Filson x Bronco product collection, and our new collaboration with the Bronco Wild Fund. This support will help us achieve our goal to plant 50 million trees to restore National Forests disturbed by severe wildfire, pests and disease, and to protect our water supply and air quality, all while sequestering carbon. Together, we will help people access the wild in a responsible manner, encourage public stewardship, and help protect our 193-million-acre National Forest system.
"Filson's heritage is rooted in the outdoors and we are committed to helping preserve America's beautiful backcountry through partnerships with like-minded organizations like the National Forest Foundation," added Thielen. "We look forward to rolling up our sleeves and caring for our country's public lands through this partnership for years to come."
In addition to the Bronco + Filson Wildland Fire Rig concept, the brands are commemorating the collaboration with a limited collection of Filson + Bronco gear. The collection includes a T-shirt, water bottle and Filson's ultra-durable Rugged Twill Small Duffle bag, each with a limited-edition Filson + Bronco logo. The capsule collection is available exclusively on Filson.com beginning today, and a portion of the proceeds will be donated to the NFF. Product images are available here.
Images of the Bronco + Filson Wildland Fire Rig concept available for download here.
For more information on how to recreate responsibly and prevent fires on our public lands, visit https://smokeybear.com/en/prevention-how-tos.
Nothing herein shall, by direct reference or implication, infer an endorsement, recommendation, or favoring by the U.S. Forest Service, U.S. Department of Agriculture, or United States Government of Ford Motor Company's and/or Filson's product or activities.
About Filson
Established in Seattle in 1897 to outfit prospectors headed for the Yukon, the company's 123-year legacy is built upon its reputation for honesty, quality and durability. Filson's long-lasting gear is the choice of explorers, adventurers, ranchers, hunters, anglers, engineers and anyone with a passion for the outdoors. Over a century after its founding, the Filson headquarters remain in Seattle, Washington. For more information, go to Filson.com.
About Ford Motor Company
Ford Motor Company (NYSE: F) is a global company based in Dearborn, Michigan. The company designs, manufactures, markets and services a full line of Ford cars, trucks, SUVs, electrified vehicles and Lincoln luxury vehicles, provides financial services through Ford Motor Credit Company and is pursuing leadership positions in electrification; mobility solutions, including self-driving services; and connected services. Ford employs approximately 188,000 people worldwide. For more information regarding Ford, its products and Ford Motor Credit Company, please visit www.corporate.ford.com.
About the National Forest Foundation
The National Forest Foundation works on behalf of the American public to inspire personal and meaningful connections to our National Forests. By directly engaging Americans and leveraging private and public funding, the NFF leads forest conservation efforts and promotes responsible recreation. Each year the NFF restores fish and wildlife habitat, facilitates common ground, plants trees in areas affected by fires, insects, and disease, and improves recreational opportunities. The NFF believes our National Forests and all they offer are an American treasure and are vital to the health of our communities. Learn more at nationalforests.org.