The location of tree planting projects may be one of the most frequently asked questions our reforestation team receives. The National Forest Foundation's 50 Million For Our Forests campaign plants millions of trees each year, and since we plant based on the conservation needs of National Forests, that means our projects change annually.
The above map shows where we are breaking ground and growing roots in 2021, and below are descriptions for a handful of projects on National Forests across the U.S.
National Forests of North Carolina
North Carolina Restoration Planting
Our 2021 projects on North Carolina National Forests include a variety of conservation objectives, including native species restoration and insect recovery. On Uwharrie and Croatan National Forests, we are planting longleaf pine seedlings to support native species expansion and habitat restoration. Longleaf pine was once found throughout the U.S. South, but today exists on approximately 5 percent of its historic range. On the Nantahala, shortleaf pine seedlings will support pine beetle outbreak recovery efforts and habitat improvement. And on the Pisgah, red spruce seedlings will restore healthy, high-elevation forests. All projects will enhance habitat for wildlife, including endangered species such as the red-cockaded woodpecker, a keystone species whose cavity nests support at least 27 different vertebrates, and the Carolina northern flying squirrel, an important species for its role in dispersing mycorrhizal spores, essential for forest maintenance.
Chequamegon–Nicolet National Forest, Wisconsin
Great Lakes Windstorm Recovery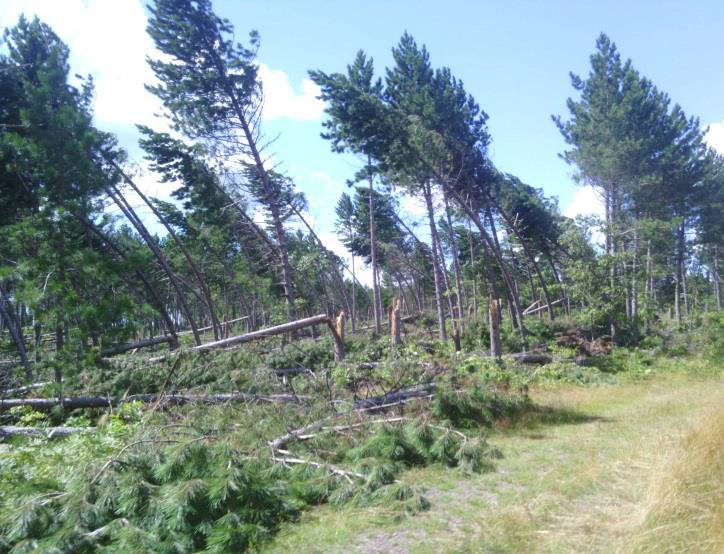 In the Great Lakes region, extreme weather events can lead to significant deforestation. In the summer of 2016, a severe storm caused flash flooding followed by strong winds, affecting more than 3,000 acres of Chequamegon–Nicolet National Forest. To hasten forest recovery and re-establish historic stand diversity, we are planting a mix of red pine, white pine, and jack pine seedlings. This is part of a multi-year reforestation effort on the Forest that will improve forest health and enhance habitat for wildlife like white-tailed deer, turkeys, and black bears.
Lincoln National Forest, New Mexico
Aspen Regeneration
While technically not a tree "planting" project, this aspen regeneration project will yield multiple ecological benefits on Lincoln National Forest. Quaking aspen habitat is declining on the Lincoln due to heavy deer and elk browsing and the lack of periodic fire that stimulates sprouting and renewal. This project will include fence construction to protect young aspen sprouts, and bilingual interpretive signs will be installed to educate the public on the importance of aspen.
Shoshone National Forest, Wyoming
Shoshone Lava Mountain and Burroughs Creek Fire Restoration
This project will support fire recovery following two high-severity fires, the 2016 Lava Fire and 2013 Burroughs Creek Fire. The fires burned thousands of acres in and around Shoshone National Forest, removing entire stands and with them, the seed source that enables natural tree regeneration. The Forest Service estimates that the Forest would take a minimum of 60 to 80 years to regenerate naturally without active replanting. In 2021, this multiyear recovery effort continues with the planting of lodgepole pine and Engelmann spruce seedlings to accelerate reforestation and restore forest health. Reforestation will improve forest cover and habitat connectivity, important for many species of local wildlife, including grizzly bears, gray wolves, elk, and moose.
Lolo National Forest, Montana
Rice Ridge Fire Restoration
The 2017 Rice Ridge Fire was started by lightening and burned more than 160,000 acres in western Montana, with 66 percent of the fire within the boundary of Lolo National Forest. The following spring, the Forest Service began a multi-year recovery effort to restore the Forest. This year's efforts will increase the pace of reforestation, while improving forest resilience by planting fire-adapted species and enhancing species diversity in areas dominated by Douglas-fir. Restoring this area will also re-establish forest cover, critical to grizzly bears, wolves, moose, deer, and elk that call this Forest home.
Fremont-Winema National Forest, Oregon
Watson Creek Fire Restoration
In 2018, the human-caused Watson Creek Fire burned 59,000 acres in south central Oregon, with nearly 80 percent of the blaze on Fremont-Winema National Forest. The Forest Service began planting on the burn scar in 2020, and in 2021, we are planting a mix of ponderosa pine, sugar pine, and western white pine to continue recovery efforts. Within the fire boundary are two Wild and Scenic Rivers, the Sycan and Sprague, which contain designated critical habitat for bull trout. Successful reforestation efforts will contribute to the continued ecological function of these important areas.
Learn more about the NFF's tree planting program and campaign to plant 50 million trees on National Forests.
You can help support reforestation efforts like these with a tree planting donation today.