The Santa Catalina Mountains of Coronado National Forest in Southern Arizona are a unique and remarkable landscape.

The smooth photosynthetic bark of palo verde trees twists below blood-orange outcroppings while granite ridges contrast with a cloudless topaz sky. Countless columnar saguaro cacti loom over the landscape, providing forage and shelter to many desert animals over their 200-year lifespan.
Harris's hawks effortlessly perch on saguaro's razor-sharp spines to scope out its next meal- maybe a horned lizard. Desert tortoises quietly meander through a thorny maze of hillsides covered with cholla and prickly pear cacti.
Above the desert, a mixed conifer forest made up of spruce, Douglas fir, ponderosa pine, and quaking aspen tower over an understory of bracken fern and columbine; a landscape you'd expect to find in the Pacific Northwest or Canada, not 60 minutes from the US-Mexico Border. It feels a world away from the sun-soaked foothills below.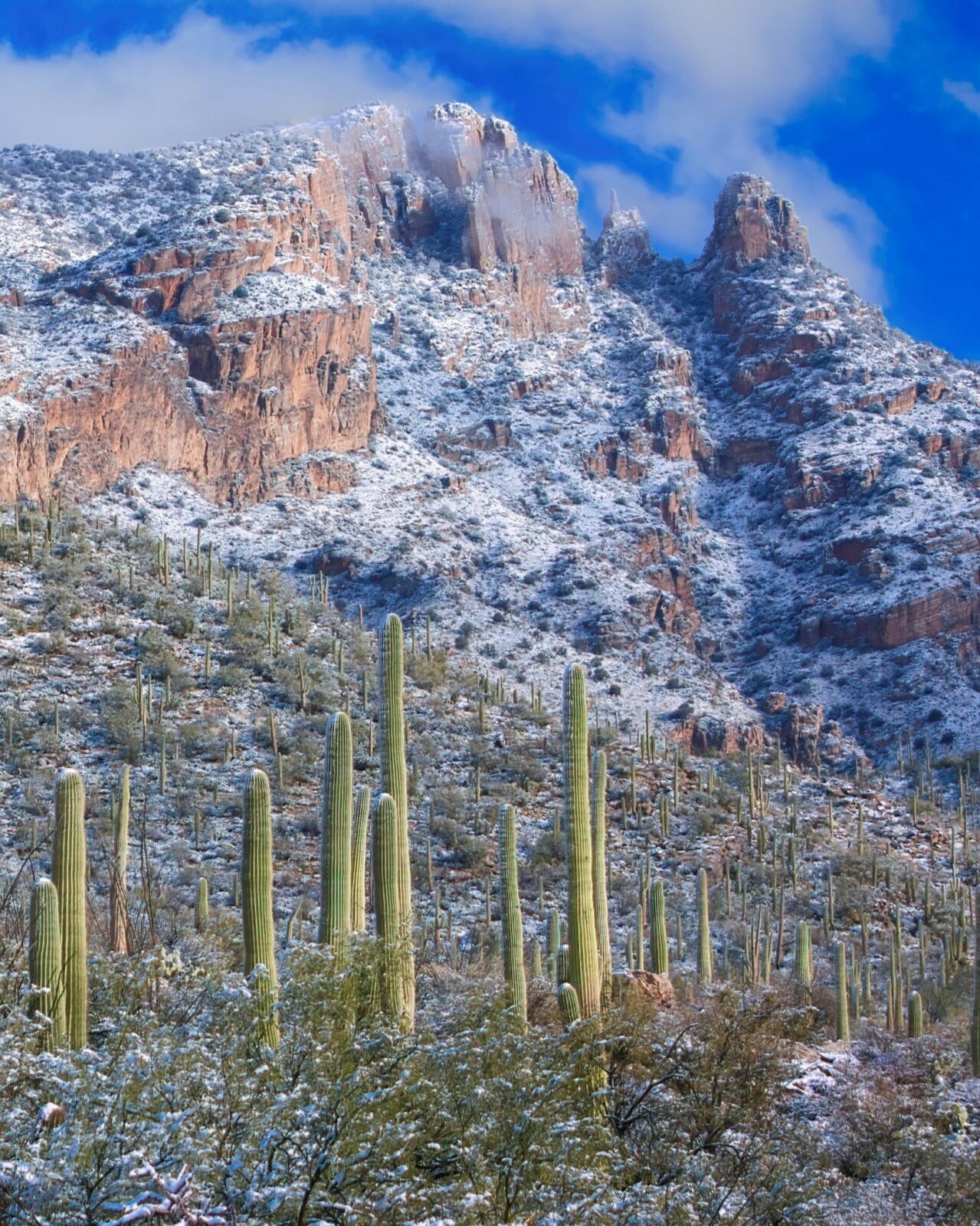 This incredible landscape is under threat from an invasive species called buffelgrass. Buffelgrass is a perennial bunchgrass native to South Africa, brought to southern Arizona 100 years ago for cattle forage and soil erosion control. Slow spreading at first, it now occupies thousands of acres in these mountains.
Buffelgrass displaces native plant communities, decreases wildlife habitat, and presents serious fire risks. In 2020, the Bighorn Fire ravaged this landscape and burned almost 120,000 acres of National Forest lands. Flames swooped down into the lower desert, which is not fire-adapted, causing saguaro mortality, biodiversity loss, and evacuations from properties near the forest. Researchers and land managers from the U.S. Forest Service and Saguaro National Park confirmed that buffelgrass helped fuel this fire and contributed to its severity.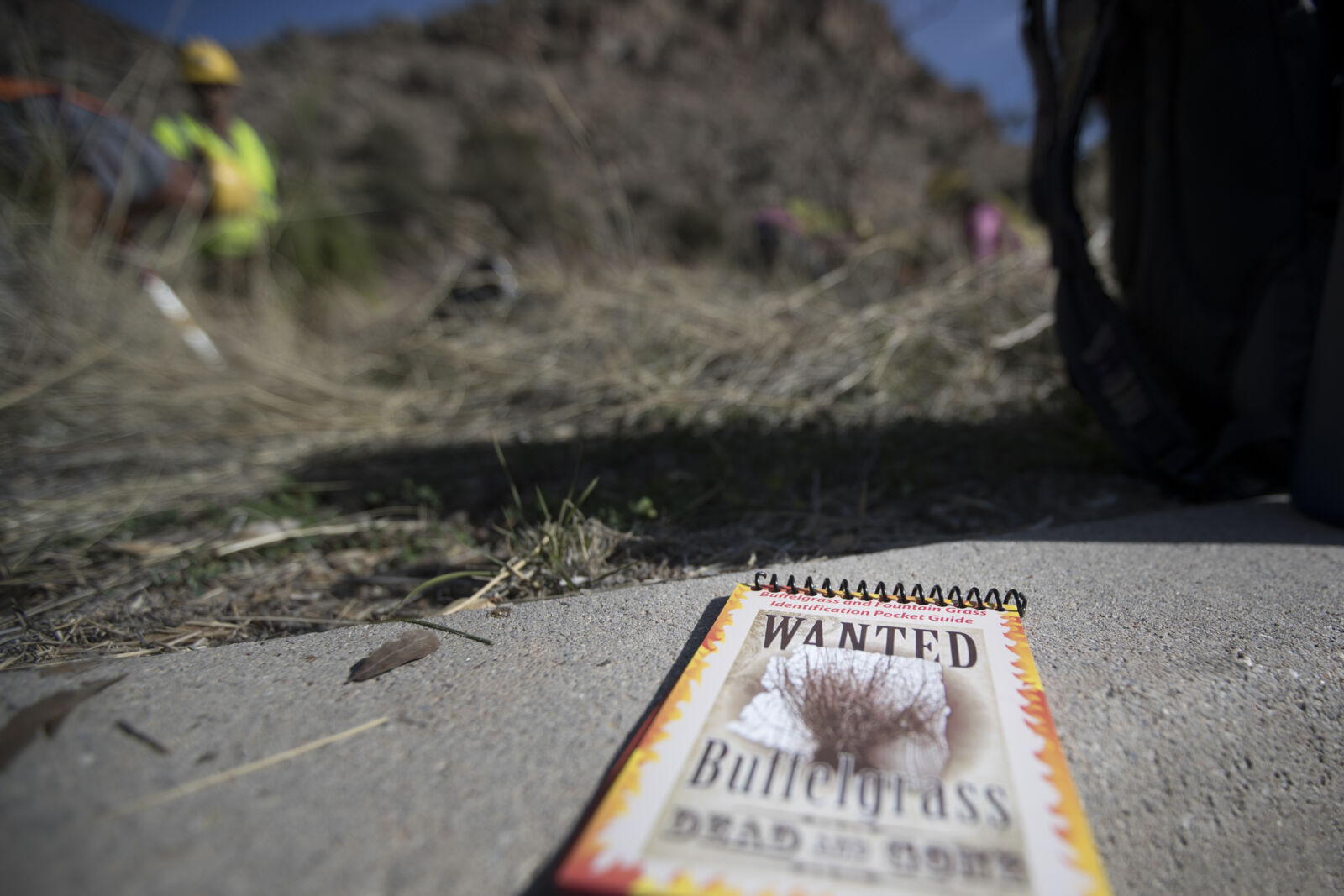 In 2020, the NFF partnered with the U.S. Forest Service to continue working towards eliminating this destructive species through mapping and chemical treatment. Large patches of buffelgrass are best treated with a specific herbicide, glyphosate.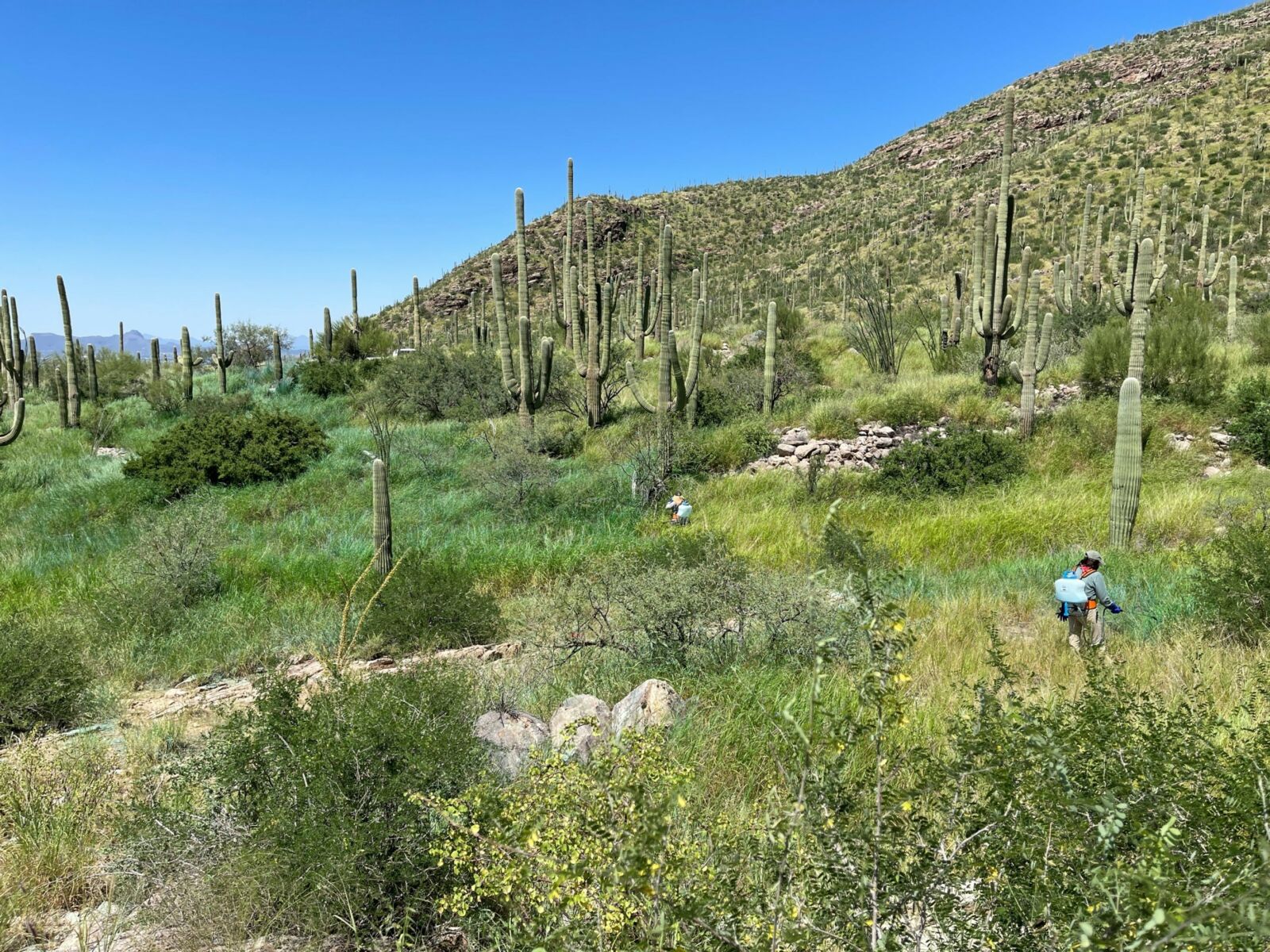 The work is arduous and takes place in remote, rugged areas. Invasive strike crews work on the south-facing slopes of the mountains where buffelgrass thrives. The best time to treat buffelgrass is after summer rains, as the grass needs to reach 50% green-up for treatments to be effective. Unfortunately, this timeline often means work occurs when temperatures climb to over 100°F. To make matters worse, repeat treatments are usually required, as the seedbeds can persist for up to five years in the soil.
Over the past three years, NFF's collaboration with the U.S. Forest Service has resulted in over 1000 acres of treated buffelgrass with support from local partners, including the Arizona-Sonora Desert Museum, Tucson Audubon Society, and Friends of Sabino Canyon.
For the upcoming season, we have over 1100 acres of treatments scheduled on the Coronado National Forest. The U.S. Forest Service and NFF are working to develop a multi-year strategic plan which will continue to fund this work and meet objectives through consistent mapping, treatment, and monitoring of buffelgrass. The NFF and partners are also continuously seeking new treatment methods, including aerial spraying and drone mapping.
We risk these mountains and forests becoming a fuel-loaded grassland if we do nothing. But, on the other hand, this remarkable landscape might have a fighting chance by finding ways to continue this work.

Cover photo by Rick Williams.
--------
Did you learn something new in this blog post? We hope so! The ecology that binds together everything on our National Forests is a fragile web, and we at the NFF are committed to doing all we can to ensure the healthiest forest ecology we can. To do so requires the support of caring individuals like you. Will you join us to ensure this critical work continues? Simply click here to join with thousands in this important work. Thank you!