Highway 87 in Arizona runs through parts of the Tonto National Forest and passes by an iconic saguaro forest at the base of Four Peaks (Wikopa) Wilderness Area and the Fort McDowell Yavapai Nation. On June 13, 2020, a vehicle pulled off on the shoulder of Highway 87 and started what would become the 5th largest wildfire in Arizona's history. The Bush Fire consumed over 193,000 acres in a little over three weeks.
The fire burned large areas of Sonoran Desert, an ecosystem that has not historically experienced wildfire and is not built to withstand it. What was once a magnificent saguaro forest became a scene straight out of a scary movie. Blackened earth, charred saguaros, and singed plants stretched as far as the eye could see. The fire killed an estimated 80,000 saguaro cacti and an untold number of other native plants. Saguaros are keystone species, providing food and shelter for numerous desert-dwelling animals and insects, and are treasured icons in Arizona and beyond.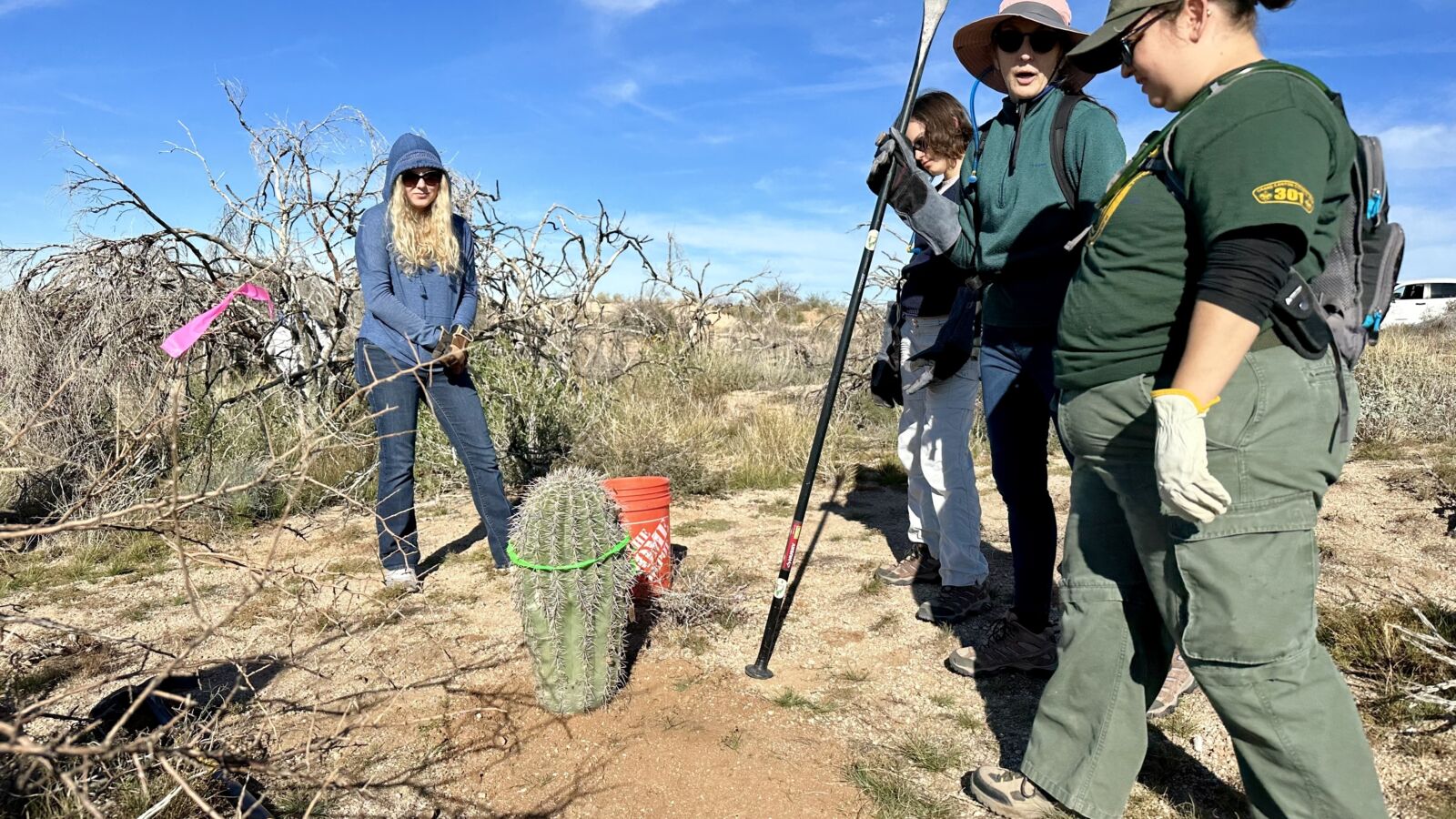 With an upwelling of desire from the local community to help, an initiative to revegetate portions of the Bush Fire burn scar over the next 5-10 years was born. The National Forest Foundation (NFF), Four Peaks Brewing Co., Natural Restorations, and the U.S. Forest Service Tonto National Forest - Mesa Ranger District have teamed up to restore life on the Tonto.
The 3rd annual Four Peaks Cleanup & Save Our Saguaros Replanting Event happened on November 5, 2022. Over 200 volunteers cleaned up the area and helped plant cacti and other native plants to help with erosion and restore the burned area. Volunteers also removed invasive plants that compete with native plants and readily fuel high-intensity wildfires.
The following weekend on November 12, NFF, the Forest Service, and Four Peaks Brewing Company partnered for a seed-ball-making workshop and shared breakfast, beers, and tips on how to participate in desert restoration. Attendees made seed balls filled with native plant and grass seeds and learned about mitigating the risk of wildfire across the Tonto National Forest through activities to improve forest and desert health and resilience, such as fuels reduction, invasive species management, and ecological restoration. The seed balls from the workshop will be used for replanting in the Bush Fire burn scar.
Restoration is a long-term effort, and the NFF is dedicated to continuing this important work with partners. The number of volunteers and plants to plant keeps growing every year, and we're excited to see the long-term impact of this work in such a treasured area.
Cover photo courtesy of Natural Restorations.
--------
As you can see, planting trees is a vital and cherished part of our work on National Forests nationwide. Planting trees is a team effort at NFF from field managers to finance officers to our communicators and more. Your unrestricted gift helps ensure the entire NFF team is strong, focused, and ready to get trees in the ground. Please give today by simply clicking here. Thank you!