In the Purcell Mountain Range of the Rocky Mountains you'll find a mountain called Big Creek Baldy, and on top of it sits a fire lookout of the same name. Built in 1966 and then retired in the 1980s, this lookout is now available to the general public to rent for $40 a night from the Libby Ranger District in the Kootenai National Forest.

The lookout has a few amenities like propane powered lights and two heaters, plus a two-burner cook stove. At just over 225 square feet, it was surprisingly well stocked with pots and pans, dishes, cups and eating utensils. A large empty cooler was also available. Three windows can be opened to allow a breeze to flow through, and each window had a screen. There's also a screen door. A nice touch since it can get pretty hot up there in the summer.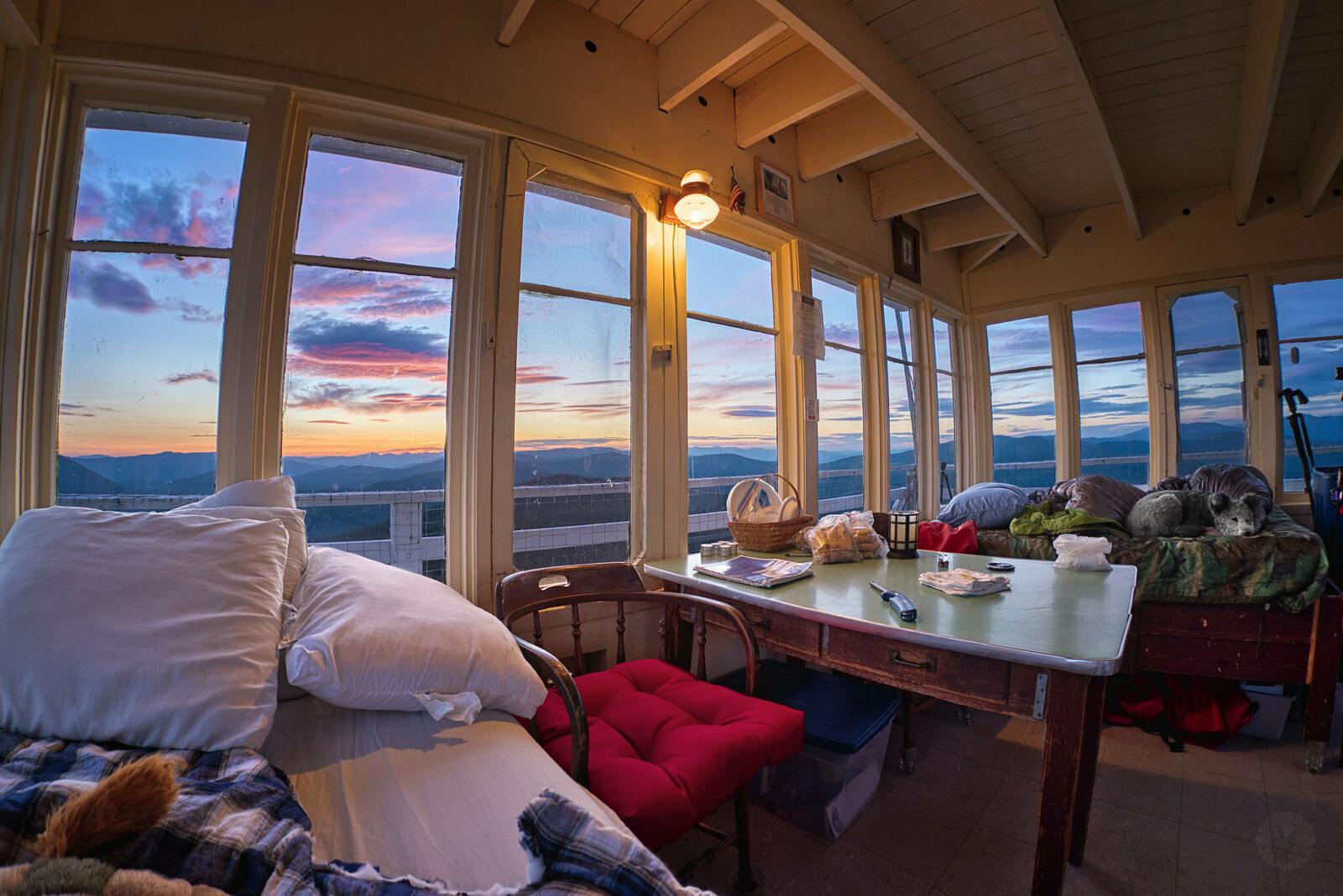 There's four flights of stairs leading to the cab giving visitors a good work out every time they go up or down. A pulley system is rigged with a bucket to bring up small items.
Down below is a picnic table and a nice campfire area. A small outhouse is also available. The log cabin that sits next to the lookout was once used as a bunkhouse for fire detection crews. It was not actually built on the site but moved there in the 1950s to replace another cabin that had fallen into disrepair. Now the same thing is happening to this cabin. The ranger district has caved in the roof to keep it from falling on someone. Watch out for nails.
Two trails lead away from the lookout and into the forested sections of the mountain, but they have nowhere to go but down. The bald sections of the trails are marked by rock cairns. We spotted lots of deer roaming the mountain top and two in particular visited the base of the lookout every morning and evening.

There is no water available at the site. The nearest water we could find was at Pipe Creek, about six miles downhill. If you need extra water, it might be a good idea to stop and pick some up before heading up the mountain.
Woody the dog and I spent five nights at Big Creek Baldy Lookout in August, 2017.
See more photos on Flickr here.
Learn more and reserve the lookout tower here.
About the Author
Terry Musgrove lives in Oregon City, Oregon, with his wife and two Hungarian Pumi dogs. After retiring from his job, as a government TV video producer, he set out to create a photographic record of U.S. Forest Service rentals in the Pacific Northwest.