Love the thrill and adventure of camping and backpacking but want something different; perhaps more structural? Well look no further.
Did you know that the Forest Service rents unmanned lookout towers during the summer? For on average $40 a night you can stay on a mountain top in a rustic and charming fire lookout tower - a truly unforgettable experience any way you slice it.
Read on to gain a few tips from the NFF's resident lookout tower expert Emily who has visited several lookout towers.

What's the point of a lookout tower?
Fire towers started gaining popularity in the early 1900s as the primary way for spotting wildfires. Perched high on the mountain top, these manned towers provided an excellent view point for smoke columns and flames. Today we still have manned towers with hardworking men and women spending countless hours watching for fires.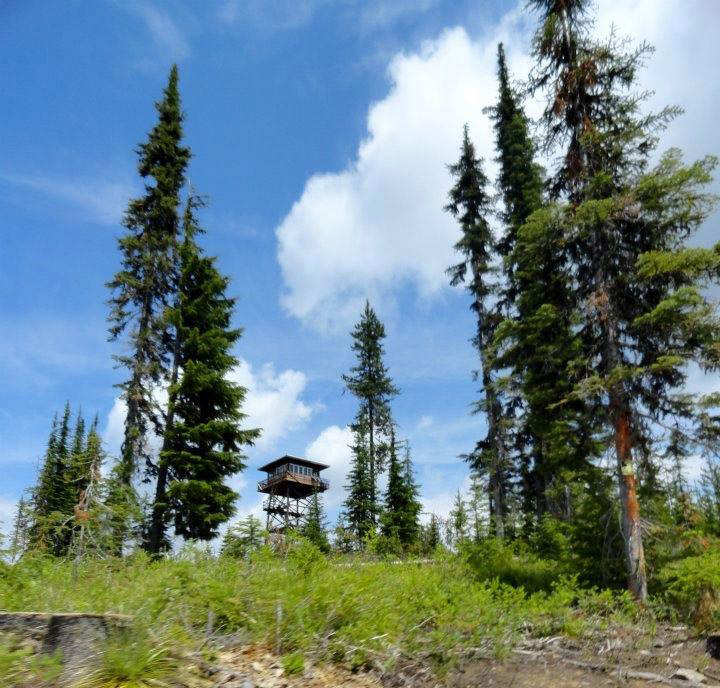 What's with the copper wires everywhere?
The Forest Service has many lookouts and other facilities that are subject to lightning strikes. Since these towers are perched high on mountain tops they become a natural lighting conductor. To help minimize injury to employees, structures and to prevent fires, these towers are grounded using copper wires. The wires fastened on the tower purposely attract lighting strikes. Then once hit, the wires shoot the electrical charge deep into the ground to disperse naturally and safely.
Were men the only ones "manning" towers?
In 1913, Hallie Daggett became the first female fire lookout in the Forest Service. She spent 15 years on the job, working at the Eddy Gulch fire tower on the Klamath National Forest. (Information and image provided by www.foresthistory.org)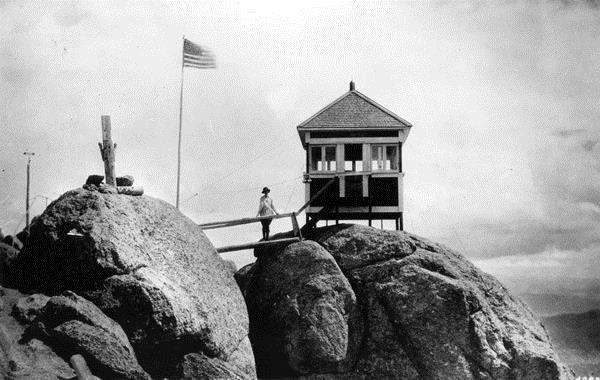 What happens when they see a fire?
Using mapping tools such as the Osborne Firefinder, or variations of it, the first objective is to pinpoint the exact geographic location of the fire. Once the location is identified they report to their local dispatch with the location, relative size and any other crucial details. Then it is decided how to combat and investigate the fire: by air, ground or both.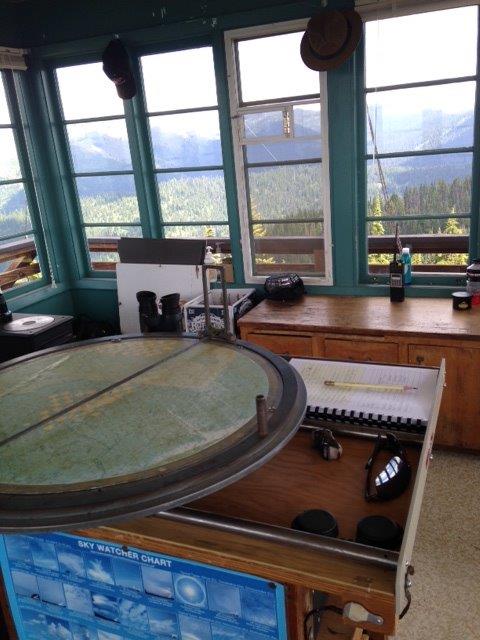 So you want to check one out, how do you begin?
Among the many resources to reserve a Forest Service lookout tower, I have found recreation.gov to be the best. The site will provide availability options and tower details and the ability to reserve a tower.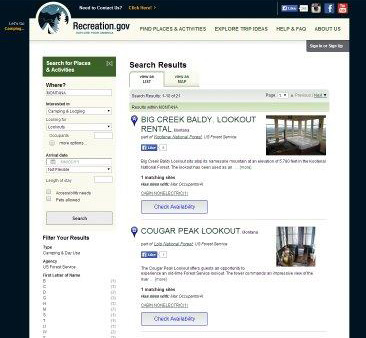 How do you get to the tower?
Depending on the tower you will drive or hike in. Make sure you read the 'Know before you go', and 'Getting there' sections on recreation.gov for important information regarding your stay, including if you can drive there or not. Also calling the local Ranger District for the most up to date information is advised.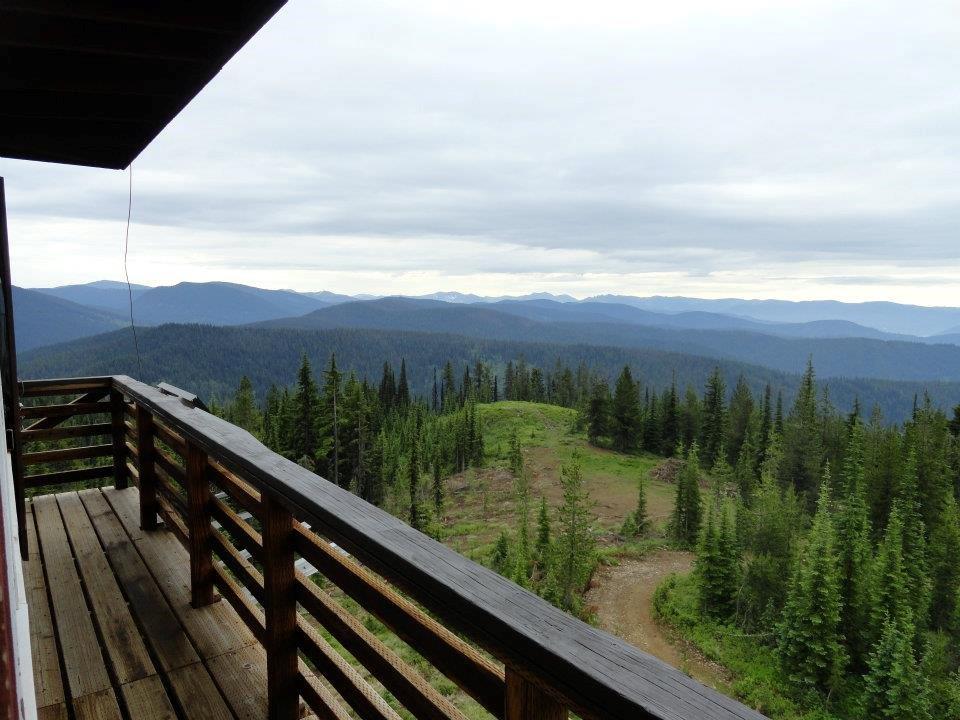 Scared of heights?
Although routinely monitered to make sure they are safe, some people cannot find solice sleeping so high above the ground. Look in the description and at photos; there are a number of towers that aren't as high if not on the ground. I have stayed at a couple and it is a nice alternative for those who may be scared of heights (or if you have childeren/pets with you).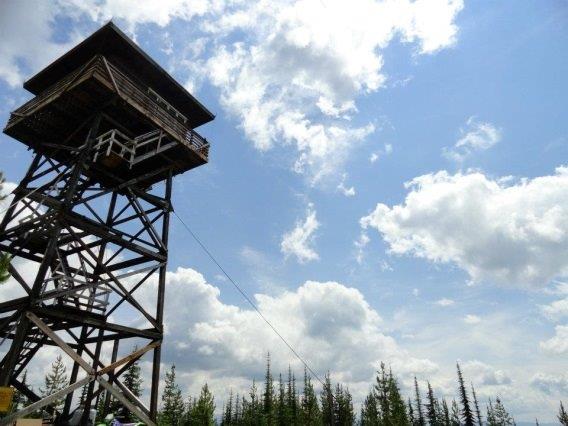 Are dogs allowed?
Depending on the tower, you are allowed to bring pets. When filling in your search parameters on Recreation.gov simply check "pets allowed" to find pet friendly tower options.
Personal Note: My pups have not loved climbing the tower; it's a little scary for them. The first time my husband had to carry them up and down every time. Over the years our dogs and friend's dogs have gotten used to it but now as they get older we try to find towers that aren't as high up.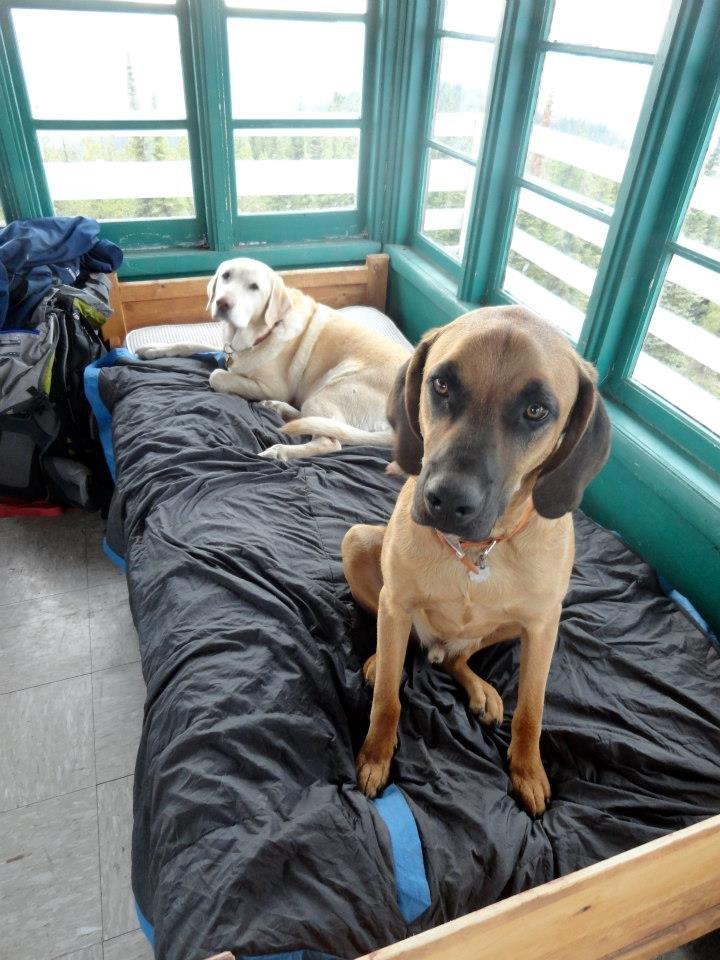 Words of Advice
Since this isnt your typical camping trip, here are a few words of wisdom on what to bring or do in preparation for your trip:
Water - This may seem obvious, but because you are on a mountain top, there are very limited water options. Chances are that if you need to refill water you will have to drive or hike to a lower elevation.Bringing more than you think you will need; you will often find it's the right amount.
Warm Clothes - You don't need to pull out your winter parkas, but up high on the montains will be cold even during the hottest summer days. Make sure to bring a warm layer.
Call Ahead - Check with the local Ranger District office for updates on wildlife in the area, road conditions and more. They are the best resource, since they manage and check-in on the towers regularaly.
Combination Code - Another good reason to check in prior to your visit is to find out if the tower is locked and what the combination code is. Not all of them are locked but in my experience most of them have been, including the ones you hike to.
Forgot Something? - Although you cannot depend on backups of everything, many towers have a small reserve of supplies like fuel, matches, pans, etc.
The Bed - Although the description lists a bed, this isnt your matress at home. I have seen everything from a simple mat on top of elevated plywood, to what I can compare to as a summer camp matress. Bring a sleeping bag and if prefferred, a pad and pillow.
Pack it in/Pack it out - As requested with all backcountry hide-aways, whatever you bring in please bring it out. The future generations of backcountry lovers thank you.
Don't forget your camera – with beautiful views like this you'll never forget your lookout tower retreat!