The diversity of New Mexico's landscape is reflected in a wide range of recreational opportunities and camping experiences one can find in the state. The level of development at these Campgrounds ranges from a near wilderness camping experience to recreational vehicle (RV) friendly Campground. Here are some of the "best" National Forest Campgrounds in New Mexico as experienced by Fred and Suzi Dow, authors and publishers of the U.S. National Forest Campground Guide website and eBooks. Visit forestcamping.com to learn more.
Cimarron Campground
Carson National Forest
Cimarron Campground, in the Carson National Forest, is an equestrian dream. Located in the Valle Vidal Management Unit, Cimarron Campground is surrounded by more than 100,000 acres of pristine high desert wilderness.
The Management Unit has one dirt road through it and no developed trails for any specific users. Take your orientation skills and discover what a southwest landscape looked like when buffalo roamed the area. There is a lot of open space where stands of Ponderosa pine dot the grassy plains. The Cimarron Campground may be rustic but provides equestrian and non-equestrian campers one of the most memorable experiences found in few places in the United States.
More info at ForestCamping.com here.
Jacks Creek Campground
Santa Fe National Forest
Jacks Creek Campground in the Santa Fe National Forest is a long drive from civilization but the rewards available once you get there are well worth the effort. The Pecos Wilderness surrounds the Campground and offers breathtaking views from almost every campsite.
The trails into and around the Pecos Wilderness, both on foot or horseback, are extensive. A 350-mile network of trails cross the Pecos Wilderness and attract hikers and equestrians from far and near. Although there is no fishing, the hiking and views from this Campground are outstanding.
More info at ForestCamping.com here.
Rio Chama Campground
Santa Fe National Forest
Rio Chama Campground in the Santa Fe National Forest, is in beautiful "Georgia O'Keefe" country on the banks of Rio Chama Wild and Scenic River with the Rio Chama Wilderness on two sides of the Campground. This is a "rustic" Campground by anyone's standards, and if it rains, the route in/out becomes traitorous. However, for anyone looking for solitude, Rio Chama Campground is a prime choice.
Don't be surprised to see a raft full of "happy campers" float by the Campground anytime of the day. Nor is it unusual to see an artist, with easel and paints, working alongside the road, attempting to capture the area's magic on their canvas. A unique feature of Rio Chama Campground is, is the nearby Christ in the Desert Monastery. Campers are welcome to drop by to enjoy the meditative atmosphere.
Learn more at ForestCamping.com here.
Holy Ghost Campground
Santa Fe National Forest
Holy Ghost Campground, also in Santa Fe National Forest, is a sweet little Campground with a scary history. It may be the only Forest Service Campground with a resident ghostly spirit. The story goes, when the Pueblo Indian revolted against the Spanish some 300 years ago, all the white people left except one priest. When the Spanish returned to the area and asked about the priest, they were told the priest had been killed and that his spirit haunted the creek. This is a great Campground for campers who enjoy spooky campfire stories.
Learn more at ForestCamping.com here.
Juniper Campground
Gila National Forest
Juniper Campground in the Gila National Forest, is along the banks of the 130-acre Quemado Lake. This little lake is a dot of sapphire blue in a desert landscape. Juniper Campground has one loop dedicated to RV campers with electric and water hook-ups. The whole Campground is tucked into a stand of Juniper and Pinon trees with many of the campsites overlook the lake which has a healthy population of Rainbow trout and Tiger muskie. These fish are ready to challenge anglers young and old.
Along with fishing, birdwatching is a popular activity at Juniper Campground. You might spy a glimpse of eagles and osprey as they occasionally visit Quemado Lake. But to spot herons is likely as these long legged bird have a "nursery" located across the lake from Campground and are year-round residents.
Learn more at ForestCamping.com here.
Mesa Campground
Gila National Forest
Mesa Campground in Gila National Forest, is north of Silver City, NM is on the way to the Gila Cliff Dwelling National Monument. Mesa Campground overlooks the 72-acre Lake Roberts. At the edge of Gila Wilderness, with its mother-lode of archeological wonders, Mesa Campground is a super basecamp for exploring the whole area.
With half the campsites having electric and water hookups, an RV dump station, and flush toilets, this Campground is well-suited for longer stays. And the fishing for Brown and Rainbow trout in adjacent Lake Roberts is pretty good too.
Learn more about ForestCamping.com here.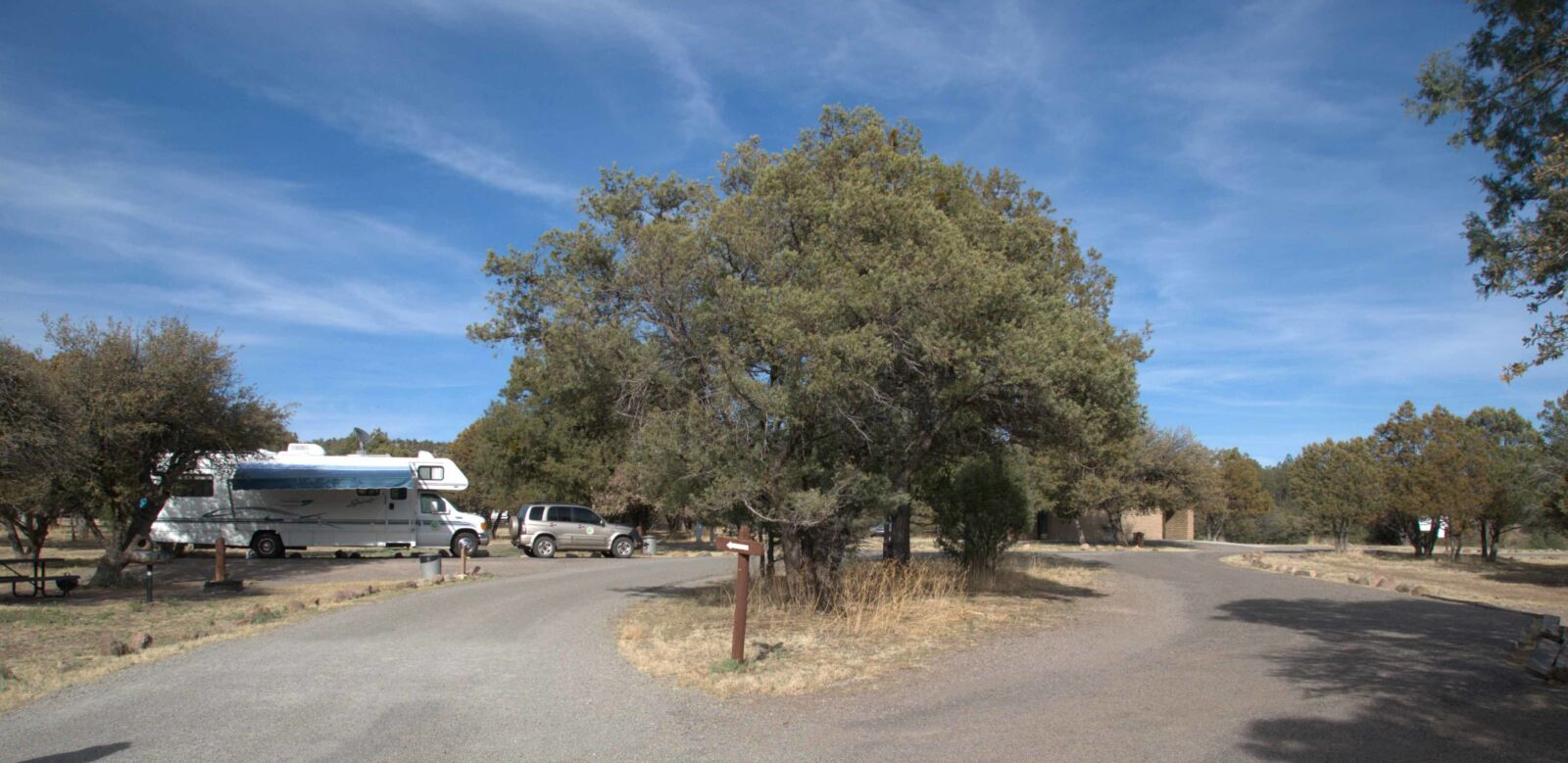 Pines Campground
Lincoln National Forest
Pines Campground in the Lincoln National Forest illustrates the interdependent aspects of nature. This Campground has two loops called Butterfly and Chipmunk. In the middle of Butterfly Loop is a fenced area where New Mexico Penstemon and Orange Sneezewood grow. The endangered Checkerspot Butterfly is dependent on both of these plants. The fenced area in Pines Campground is one of only a handful of places in the Lincoln National Forest where these plants and the Checkerspot Butterfly thrive.
Learn more at ForestCamping.com here.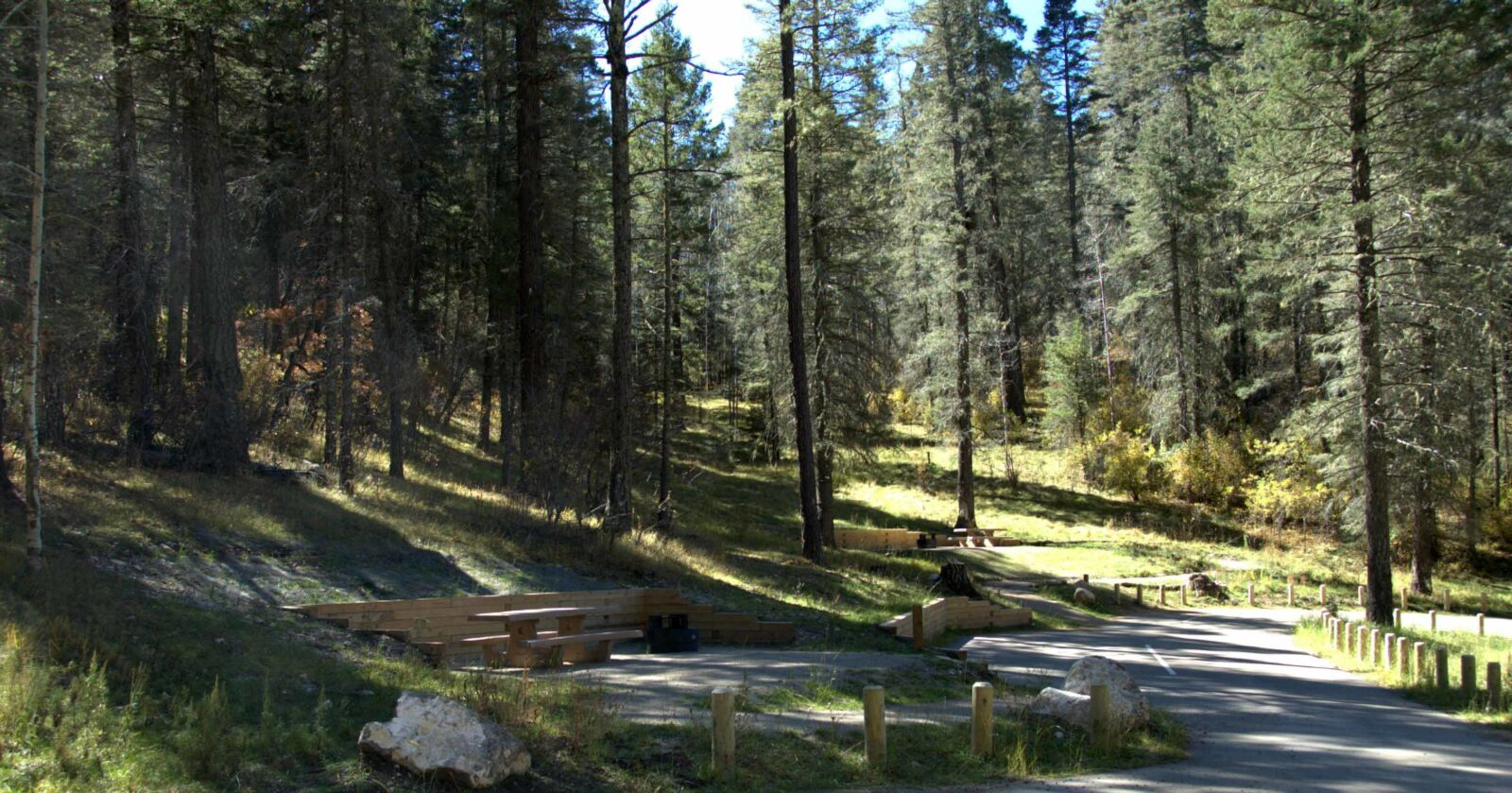 Written by Suzanne Dow, co-author, U.S. National Forest Campground Guide | forestcamping.com