While we are all #stayinghome, it's a great time to enjoy virtual travel adventures. Learn about places that may be close to our homes or further afield where history, adventure, and nature are at the forefront with our Virtual Field Trip video series. We picked out four great places from the East Coast to the West Coast that are timely to experience this summer. We captured our footage of these special destinations while creating the Emmy Award-nominated PBS series, "Travels with Darley" on PBS.
From New York to Chicago to LA and the Southwest, check out these four great escapes for all ages with these special virtual field trip videos.
Spot Bison in Illinois

July is National Bison Month, but you can still celebrate anytime with our Virtual Field Trip to Midewin National Tallgrass Prairie outside of Chicago, along iconic Route 66. In 2016, the American bison was pronounced the United States' national mammal. At Midewin National Tallgrass Prairie, travelers can visit and observe a herd of bison that's part of a larger conservation effort at this unique tallgrass prairie.
Bison are believed to have roamed Illinois for over 4000 years up until the early 19th century, when they disappeared from the landscape due to overhunting and the loss of prairie habitat. As part of the restoration effort, bison were recently reintroduced to Midewin, and they are impressive to see in person. Male bison can weigh up to 2000 pounds and stand 6 feet tall. They are also fast, running at speeds up to 35 miles per hour, meaning you definitely want to observe them from a distance.
Watch our virtual field trip video to hear from Midewin ecologist Bill Glass, who explains how bison help control grass heights, increase the diversity of plants, birds and more.
Other things to do at Midewin include horseback riding, biking, fishing, bird watching, volunteer activities, and more. For those who want to see the bison live, you're in luck because Midewin has a bison livecam!
Go Star Gazing at the Cosmic Campground
With modern light pollution from our cities and populated areas, many people have never had the chance to truly see the night sky. In a remote location in New Mexico, about an hour and a half from Silver City in the Gila National Forest, there's a special place called the Cosmic Campground. It was designated as the first International Dark Sky Sanctuary in North America, meaning it's one of the rare places where light pollution is almost non-existent and you can actually see a sky full of stars.
One of the reasons why the Cosmic Campground is so good for stargazing is that there's a 360-degree unobstructed view of the sky. Astronomer Al Grauer met me at the Cosmic Campground and brought along his special telescope so we could take a look at the moon and stars. Check it out in this unique Virtual Field Trip video.
Travelers can visit and camp out at the campground, either in tents or RVs. There are four concrete telescope / observation pads for those who want to bring special equipment for seeing the night sky. An organization called "Friends of the Cosmic Campground" often hosts star gazing parties. Check out the website for more information.
Volunteering on the Angeles National Forest
There are lots of ways to volunteer on our public lands, including our National Forests. Diverse projects might include trail work, bird surveys, fire lookout, or wilderness restoration projects. It's a great way to spend time outdoors and feel good about helping out in your local community. We're taking you on a virtual field trip to the Angeles National Forest, a playground for the people of Los Angeles and beyond, where a local organization welcomes visitors to help out with making trails more sustainable.
Just outside of Pasadena, we joined the Mount Wilson Bicycling Association (MWBA), which welcomes travelers and locals to participate in volunteer projects in the Angeles National Forest. This special national forest covers around 700,000 acres, much of which is in LA County in Southern California. A trail stewardship organization, the MWBA has been advocating for multi-use trails and sustainable trail use for over 30 years. Shamane Morejon welcomed me to work with her team to rebuild a trail that's popular with mountain bikers and hikers, because it's so accessible to Pasadena.
Join in the fun and learn about more ways you can volunteer on our National Forests.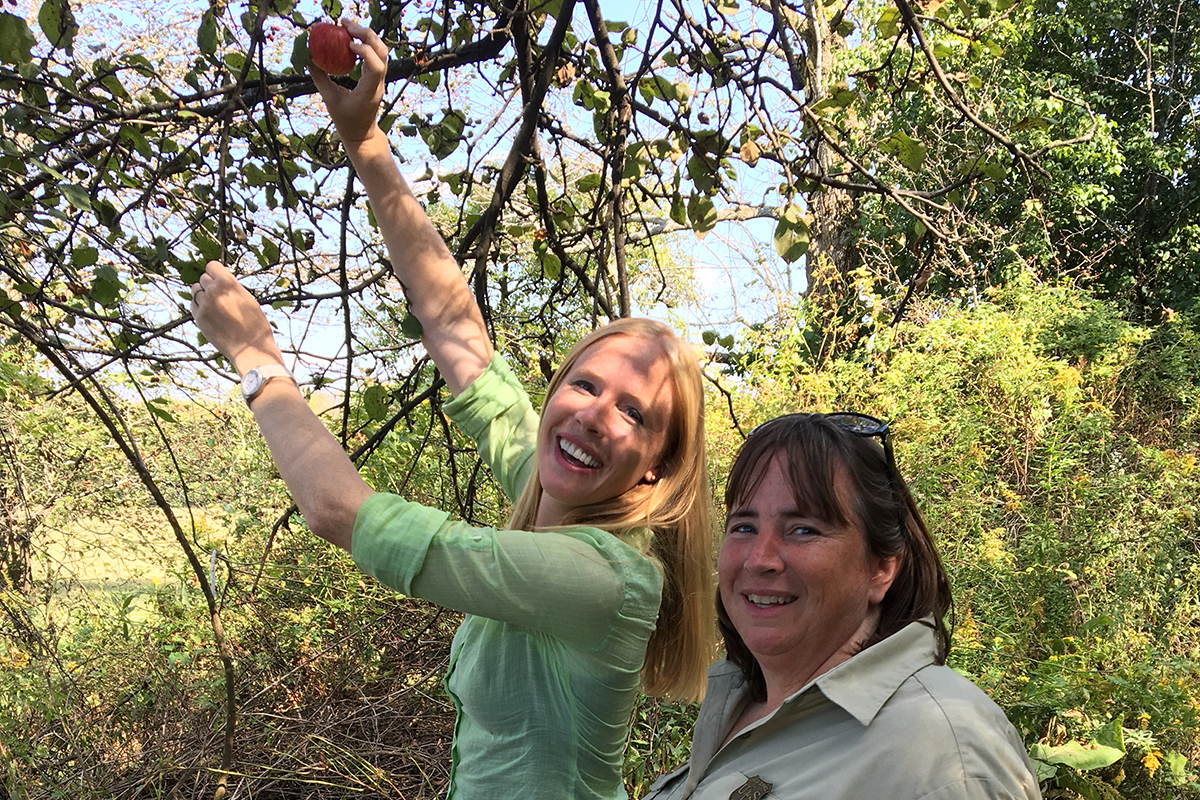 Women's History in the Finger Lakes National Forest
2020 marks the 100th anniversary of the passage of the 19th Amendment. Those interested in the pioneering women who forged new trails during the Women's Suffrage Movement can take a walk in the Finger Lakes National Forest in New York State with this Virtual Field Trip.
The Finger Lakes Region was a hotbed for activity during the Women's Suffrage Movement and some of this history is evident at Caywood Point at a place called the Queen's Castle, also known as Camp Fossenvue. Located on the shores of Seneca Lake, the largest of the Finger Lakes, this is a great spot to soak in history and have a picnic, perhaps with apples picked from trees within the forest itself. Apple trees were planted back in the thirties and forties, so they're the heritage breeds that are disease-resistant and taste incredible. Whenever you come across an apple tree, you can guarantee there's a heritage site right nearby.
After finding some apples, Jodie Vanselow joined me at Caywood Point to share information about the site's history, including stories of Elizabeth Smith Miller, one of the "queens" of the castle. Watch the video to learn more.
The Finger Lakes National Forest is the only national forest in New York State. Located about 4 and a half hours' drive from New York City, it's home to the longest continuous footpath in New York State, the Finger Lakes Trail, which runs through the forest and connects to other large trail networks, including the North Country National Scenic Trail and The Long Path. A draw for outdoor enthusiasts from around the world, travelers can camp out in the forest or stay at one of the area's B&Bs around places like Watkins Glen and Hammondsport.
For those interested in visiting these locations, check the local websites of each location and call ahead to make sure they're open. There are restrictions on locations right now due to COVID-19.
About the Author:
Darley Newman is a world traveler and the host and producer of the Emmy Award-winning PBS series "Equitrekking" and "Travels with Darley." She frequents national forests across the USA mountain biking, hiking, skiing and horseback riding and documenting the adventures through her series and social media.