Hoosier National Forest
The Hoosier National Forest, in the hills of south central Indiana, offers a wide range of recreation and sight-seeing activities. The Forest is rich in history and attractions. Rolling hills, back-country trails, and rural crossroad communities make this small, but beautiful Forest a favorite.
The mix of openland and forest provides a wide variety of wildlife habitats. The Forest has a few WIldlife Viewing Areas. Common mammals include white-tailed deer, fox, woodchuck, opossum, and gray squirrel. Common birds of interest are turkey, pileated woodpecker, several neotropical migrant songbirds, and migratory waterfowl. The karst ecosystems include many unusual cave species.
There are five federally-listed threatened and endangered species that might visit the Hoosier National Forest. These species are: Indiana bat, gray bat, bald eagle, rough pigtoe and fan shell mussels.

Cave environments, by their very nature, provide a unique ecological system. Indiana has one of the best-known karstareas in the United States. Well over 100 studies have been published on karst features within the State, many of these in the area of the Forest.

Over time, massive rock beds tilted and developed cracks and faults. Erosion has worn away the upper layers in the Mitchell Plain, exposing the geologically older limestones. Here the karst features such as sinkholes and disappearing streams are common elements of the landscape. The Mitchell Plain is home to the majority of Indiana's 2,500 caves.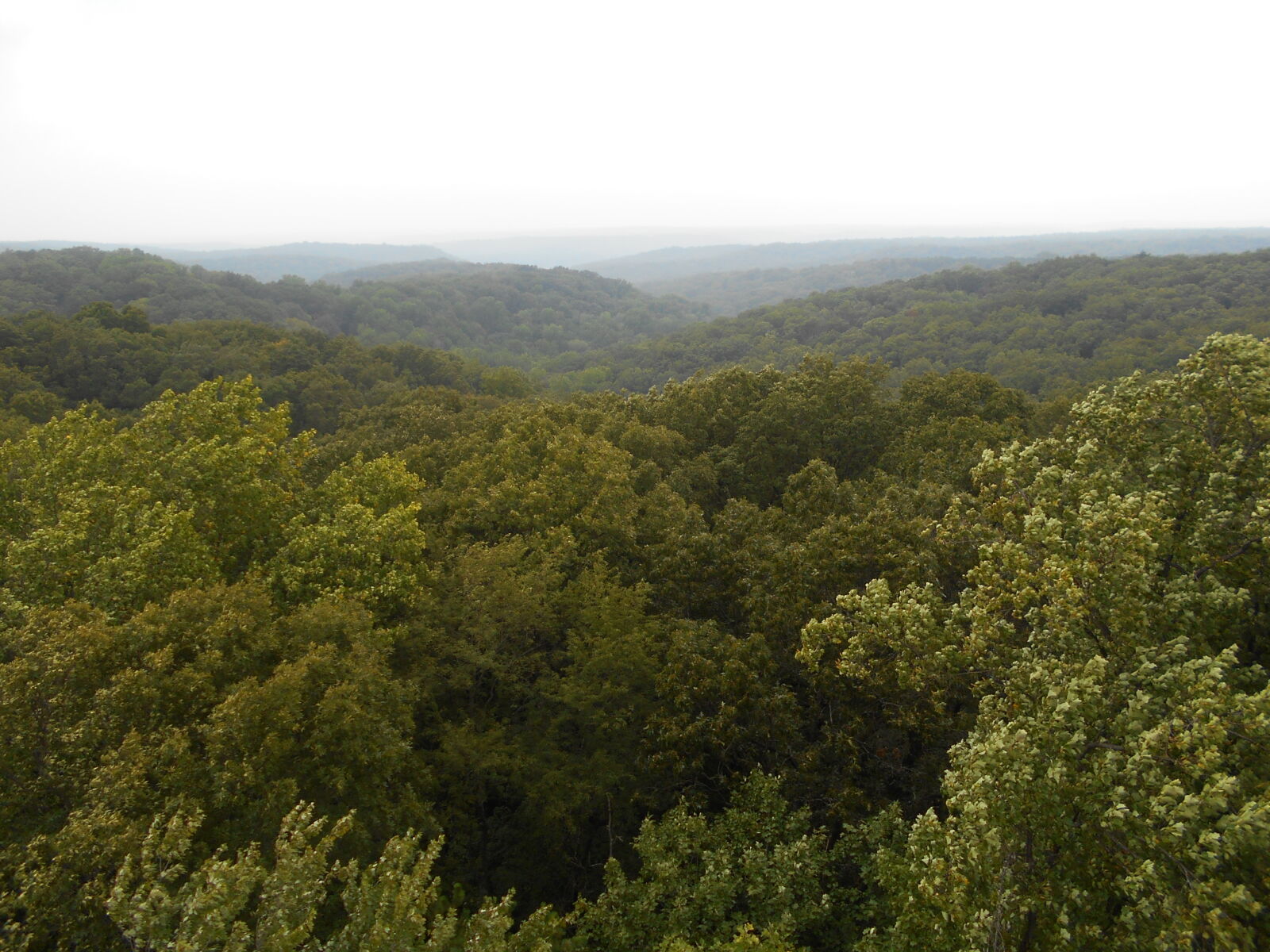 There is a wide selection of campgrounds and recreation areas. The Forest has many recreation opportunities: hiking, fishing,mountain biking, horseback riding, hunting, and visiting the Forest's special attractions.
The Hickory Ridge Lookout Tower, now standing guard over the Charles C. Deam Wilderness, was once a sentinel built to protect a fledgling forest from wildfire. Today, it stands as a tribute to its builders, the last lookout tower remaining on the Hoosier National Forest.

Hemlock Cliffs is a valley of special beauty in southern Indiana. A cool climate, created by the box canyon shape, sandstone rock formations, and seasonal waterfalls are responsible for the unique trees and plants that grow here.

There are Scenic Drives throughout the Hoosier National Forest. Driving is especially popular during the fall when colors are at their peak, and in spring when dogwood, redbud, and spring wildflowers bring the woods to life. The Ohio River Scenic Byway which follows the Ohio River through Ohio, Indiana, and Illinois, winds along the river through the southern portion of the Hoosier.