Puerto Ricans have a strong and intimate connection to the El Yunque National Forest not only for its vibrant forest ecosystems, diverse native species and abundant recreation opportunities, but also because of its geography. El Yunque sits on the island's eastern edge, on the slopes of the Luquillo Mountains.
The Taino were the island's first human inhabitants, and El Yunque loomed large in both their mythology and their day-to-day existence. They considered the Luquillo Range sacred for more than a thousand years. According to ancient Indian legend, the good spirit 'Yuquiyu' (or 'Yúcahu') reigned on his mighty mountain-top throne, protecting Puerto Rico and its people.
There are differing opinions as to where the El Yunque actually gets its name. The Taino are said to have referred to the tallest peak in the range as Yuke, which means "white lands" and refers to the thick clouds that encircle the peak. Others attribute its present-day name to the deity Yúcahu, who represented everything from agriculture, peace, tranquility and fertility to the notion of "goodness" itself. Yúcahu resided on El Yunque, where it was said he did battle with the god of chaos and disorder.
Frogs, Birds, Water, and More
El Yunque is one of the oldest natural reserves in the western hemisphere—first set aside by King Alfonso XII of Spain in 1876. It is home to hundreds of native plant species and almost 200 vertebrates, many of them endemic to El Yunque, including one of the world's most endangered birds, the Puerto Rican parrot. Like many National Forests, El Yunque is a critical source of water, providing nearly 20 percent of Puerto Rico's fresh water.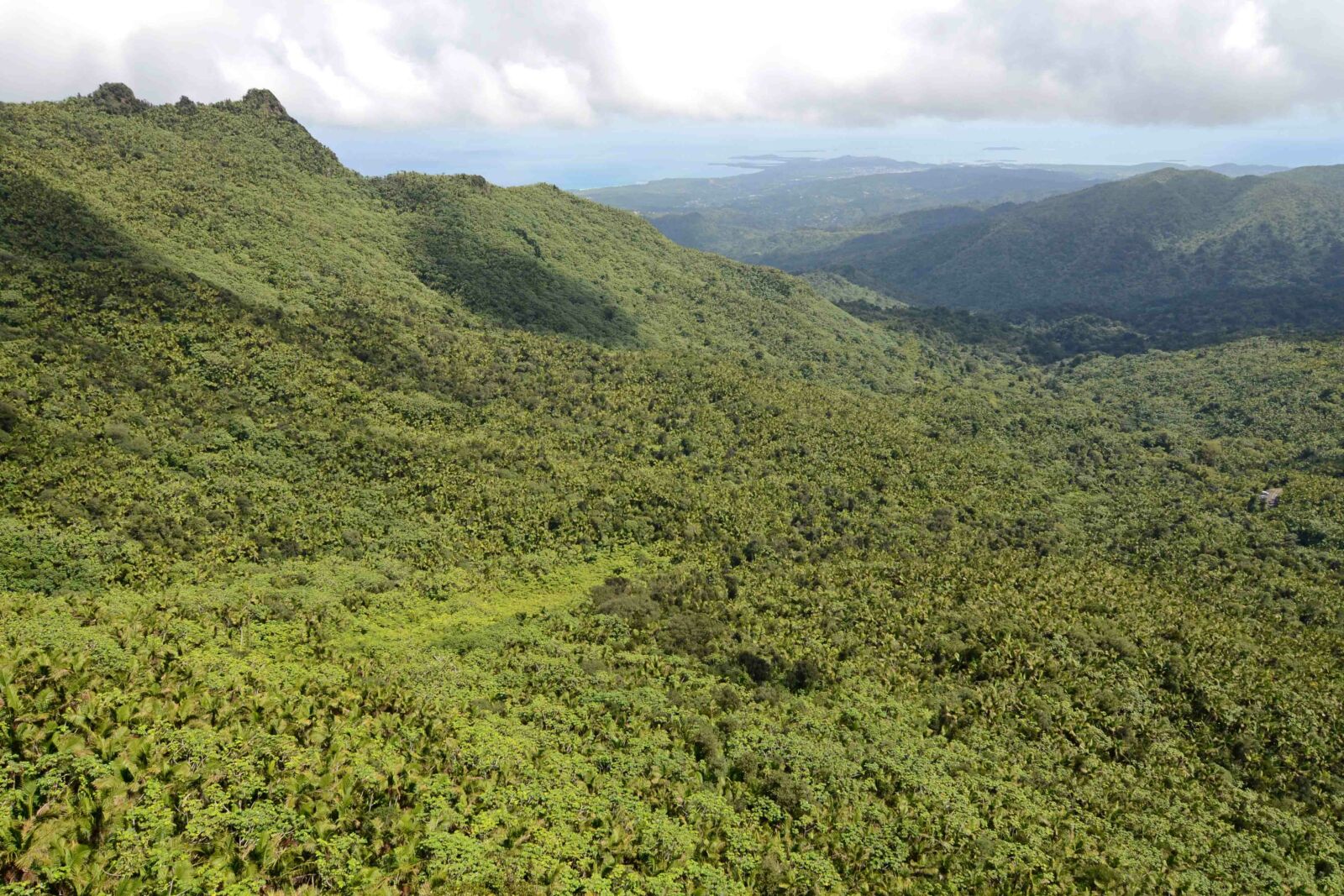 It was established as the Luquillo Forest Reserve in 1903 and became the Caribbean National Forest in 1906. Eventually, the name was changed to its present-day moniker. It has always been the only tropical rain forest in the National Forest System.
The forest's relatively small 28,000-acre size belies its importance as one of the most biologically diverse National Forests in the country. It is home to a dazzling diversity of flora, fauna and ecosystems, from sweltering lowland rainforests that hum with chirps of Coqui frogs, to chilly, cloud-covered dwarf forests – all providing habitat for hundreds of animal and plant species. The El Yunque contains over 240 species of native trees, of which 88 are rare and 23 are only found in the Forest. Along with the trees, the El Yunque hosts 50 species of native orchids, over 150 species of ferns, and 127 species of terrestrial vertebrates.
The steep slopes of the rugged Luquillo Mountains rise to 3,533 ft. and can receive rainfall of over 200 inches per year at higher elevations, providing water to Puerto Rico and helping sustain its remarkable diversity.
Island Protector and Recreation Destination
The landscape of El Yunque National Forest has long been valued for its role as island protector and for its importance to the health and quality of life for Puerto Rico's citizens. Today, it serves as an economic engine that helps propel Puerto Rico's economy. Visitors come to Puerto Rico and El Yunque to experience tropical forests, lush mountain terrain, and recreation opportunities. Each year, the El Yunque welcomes about 600,000 visitors from all over the world, making it the most visited natural attraction on the island.
It is home to a dazzling diversity of flora, fauna and ecosystems, from sweltering lowland rainforests that hum with chirps of Coqui frogs, to chilly, cloud-covered dwarf forests – all providing habitat for hundreds of animal and plant species.
Despite its small size, El Yunque provides impressive recreational opportunities for visitors and residents. From the El Portal Visitor Center, a walkway winds through the surrounding treetops. More than a dozen hiking trails cross the forest, including some that run to La Mina waterfall and Mount Britton, and then up to the high-altitude dwarf forest. In the southern part of the Forest, ancient petroglyphs left by the Taíno people captivate modern day visitors. Picnic pavilions, stone towers, rivers, waterfalls, and a visitor center packed with interpretive displays add to the recreational opportunities.
Hurricane Impacts and Forest Recovery
Hurricanes Irma and Maria passed over Puerto Rico in September 2017 and left a swath of destruction across the El Yunque. Whether addressing the massive number of downed trees or crippled facilities and severely impacted infrastructure, recovery operations on the Forest have required an increased dedication and a long-term collective community effort.
Through the El Yunque Stewardship Fund, the NFF, the U.S. Forest Service and community partners are working together to expand restoration efforts while increasing the collective capacity of local groups to engage in hands-on stewardship and recreational infrastructure improvements.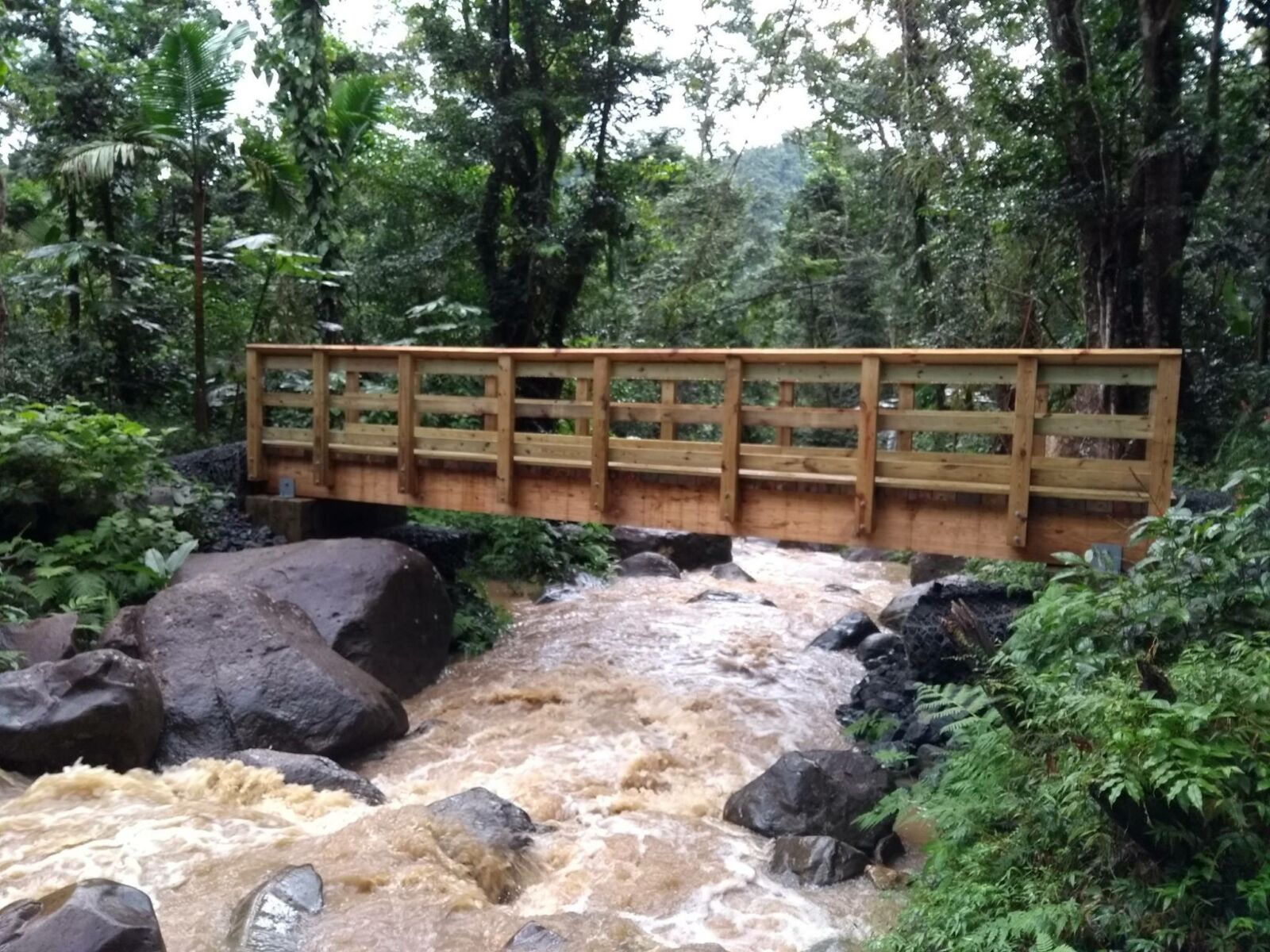 This NFF effort is rehabilitating damaged trails and repairing impaired watersheds and habitat, all while connecting citizens and communities to the land through collaboration, volunteering and learning opportunities. To date, the El Yunque Stewardship Fund has supported work on the Angelito Bridge and Trail, the Rio Sabana Recreation Area and Trail, and a scenic byway on the Forest. Learn more at nationalforests.org/elyunque.
Rich in history, teeming with life, and unique among our incredible National Forests, the El Yunque is a captivating destination beloved by locals and visitors alike. Rising impressively from the Caribbean Sea, this rugged and resilient landscape proves that amazing things come in small packages.