In 2016, life-long paddlers and river experts Susan and Adam Elliott (with full support from their faithful dog Wallace), envisioned an ambitious project: paddle 50 Wild and Scenic Rivers in celebration of the 50th Anniversary of the Wild and Scenic Rivers Act.
Since then, the Elliotts have been spending much of their life on the road in a vintage Catalina Coachman motorhome. Over the years, they've paddled 40 Wild and Scenic Rivers and have become parents to their daughter, Juniper.
Of course, many of America's Wild and Scenic Rivers run through National Forests, so we thought it would be great to learn more about the Elliotts and the National Forest rivers they paddled. We hope this interview will provide inspiration and a few tips on creating your own "Wild River Life."
NFF: What inspired you to start the 50 Rivers Project?
ADAM: The Wild and Scenic Rivers Act was signed into federal law 50 years ago. So, we decided to paddle 50 for the 50th Anniversary. The number has a nice ring to it! But, I have to give full credit to Susan for the motivation and vision. And for this stage in our lives, the timing couldn't be better. Susan just achieved her Masters in Water Resource Engineering, and we both get to spend a terrific amount of time with our baby, Juniper!
SUSAN: We both wanted to spend time on the road and paddling rivers all over the country! I'm sure that is the dream of many boaters. But we also wanted to make our efforts count toward the protection of the places we love to play outdoors. Our international river trips also inspired us to celebrate America's protected rivers. We've seen a lot of river system degradation in our travels in the form of mega-dams creating stair-step reservoirs, burning landfills being pushed into the river, raw sewage entering streams, or total de-watering and re-routing of streams for rampant development. We always looked forward to returning to our home rivers. So, we decided it was time to explore the rivers in our own country, especially those rivers that we, as a nation, have decided to protect.
NFF: How did you come up with your list of 50 rivers to paddle?
SUSAN: When we set the goal, a few trips immediately made it to our list. I have always wanted to hike into the Middle Fork of the Flathead River, or float on an Ozark stream. We also wanted to visit iconic whitewater destinations like the Tuolumne in California or the Cache la Poudre in Colorado. But since rivers, especially free-flowing ones, can be unpredictable, we also maintained flexibility with our "list." We found ourselves spontaneously adding rivers that suddenly fit into our tour, like Granite Creek and Hoback River in Wyoming. Mostly, we set out with about 25 rivers that we absolutely wanted to visit and made a flexible list with 25-35 additional rivers that we hoped would work.
NFF: You've covered a lot of river miles, why are wild rivers so important to the U.S.?
SUSAN: Rivers are the circulatory system for the entire planet. They pump and purify water, transport nutrients and sediment, and provide critical habitat for the majority of the world's plants and animals. They can't provide all these ecosystem services for free if we stuff them behind dams or divert their flow away from their natural course. We need rivers to be rivers. They do a lot for us in their free-flowing state. With our background in the recreation economy (guiding and instruction), we also know how inspiring wild rivers can be for individuals. Rivers inspire us, give us moments of solitude, and provide opportunities for play. A wild river reminds us of the forces of nature, of the wildlife that lives nearby, of our own humanity. They both humble us while also reminding us that we are strong and capable.
NFF: What is it that you want your followers to know about America's Wild and Scenic Rivers?
SUSAN: Everyone can enjoy Wild and Scenic Rivers, no matter their background or skill level. You don't have to be an expert paddler or a seasoned wilderness explorer. Many of these rivers flow near big cities or through suburbs. Simply go and sit next to one, watch the water flow over rocks and the riparian forests sway with the breeze. And of course, if you have the skill set, grab your boat and go float these incredible waterways. Floating on a river transforms our perspective of the watershed. They are the conveyor belts into places we can't reach on foot.
NFF: How many Wild and Scenic Rivers did you paddle that run through our National Forests?
SUSAN: Of the 40 Wild and Scenic Rivers we've paddled so far, 31 flow through our National Forests at some point along their journey. A small handful of those are jointly managed by the Forest Service and another federal agency, and many flow exclusively through National Forests.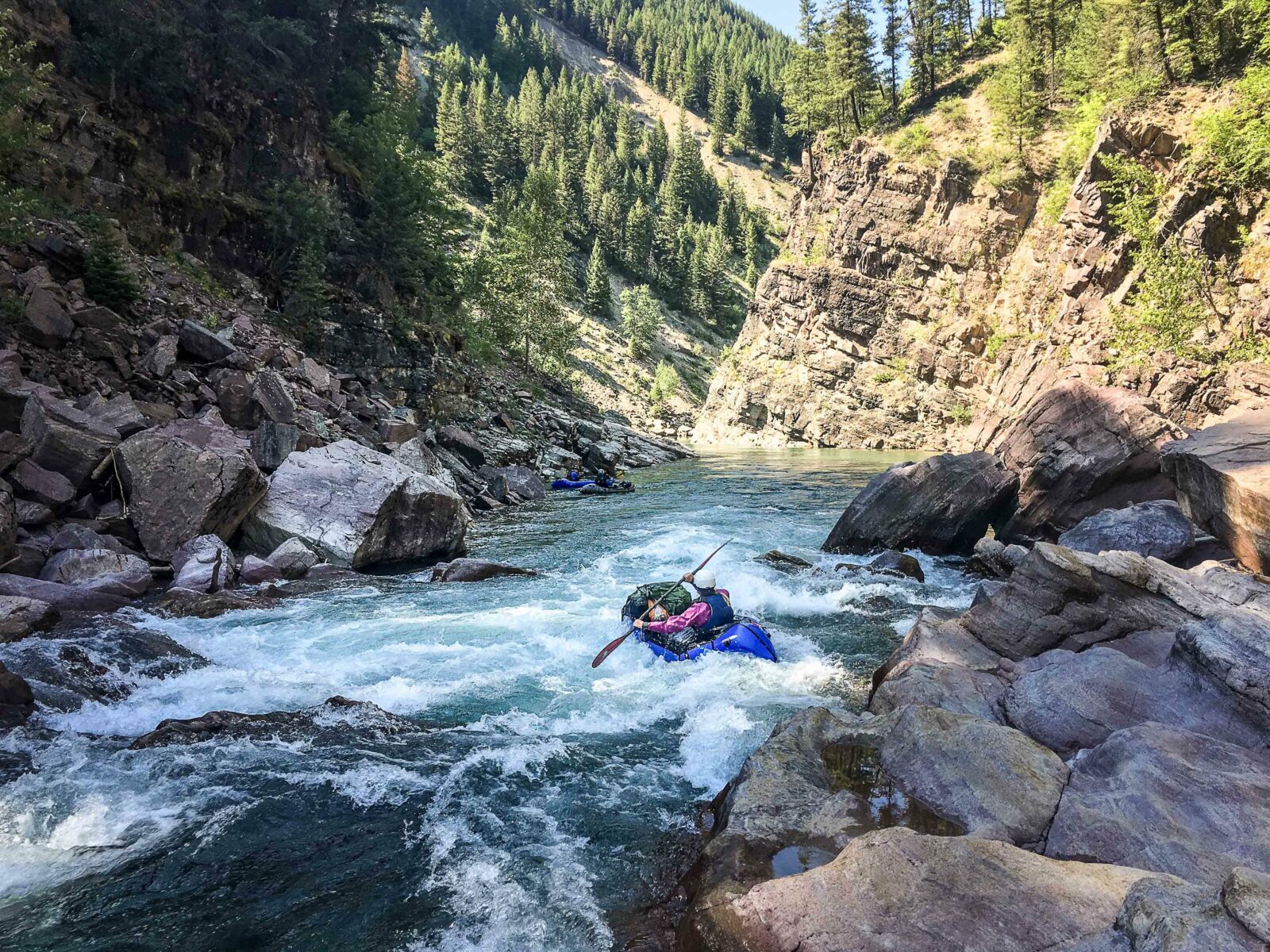 NFF: What have you noticed about rivers that run through National Forests that makes them different from other rivers?
ADAM: The best thing about Wild and Scenic Rivers that flow through National Forests is all of the other outdoor activities that are available as part of the river experience. When I am river guiding, I always tell our guests, that the river is only a small sliver of our outdoor experience. A river trip through a National Forest allows opportunities for all of the other things that we love about nature: seeing wildlife, hiking, swimming, and they offer excellent camping, hunting and fishing too.
NFF: You had a baby half-way through your project. How did that change things? Do you have any advice for families looking to get into paddling?
ADAM: We knew from before our trip began that we'd be trying to start a family. Honestly, travel, river conservation and recreation are central to how we want to raise our daughter. I went on my first multi-day rafting trip when I was just six months old on the San Juan River in Southern Utah. Juniper's health and safety are paramount, and we know that there are many ways to enjoy the river and road life that are safe and appropriate. For all of the young families out there, experienced or not, this is my advice: start 'em young and keep it fun. If it takes a village to raise a child, take your village to the river. Groups of families with kids of a similar age are great because you have several adults to keep the sunscreen applied, water bottles consumed, and PFDs buckled.
SUSAN: Getting pregnant changed a few things for me. I found that I didn't want to paddle hard whitewater, even if I felt confident that I could. As my belly got bigger, canoeing and rafting for long days became more comfortable than sitting in a kayak. We also knew that our plans might drastically change once our child was born. Perhaps she would hate her carseat, or need extra care that required us to stay put. We had to be open to any possibility while also moving forward with our plans in hopes that Juniper would happily join us. So far she is doing great! While we are no experts, I would say that being a parent so far doesn't mean we have to stop doing the things we love. We just need to take more breaks and do things slower than before. But taking more time turns out to be really fun!
NFF: Which was your favorite river? Top three if one is too hard to pick.
SUSAN: Our trip into the Middle Fork of the Flathead River always stands out when I think of my favorite Wild and Scenic Rivers so far. We hiked in six miles on Granite Creek Trail with packrafts rolled up in our packs, all our food and camping stuff for four days. Then we had a leisurely, and exciting, three-day paddle downstream through the Great Bear Wilderness in the Flathead National Forest. The camping, fishing, and paddling were excellent.
ADAM: I definitely agree with Susan here: the Middle Fork of the Flathead was such a great trip. However, I have to say that my personal favorite river in the Wild and Scenic system has to be the Middle Fork of the Feather in Plumas National Forest, up in northern California. I have paddled it four times at various flows over the past decade. This past spring however, I was part of a group that paddled it at considerably higher flows than typical. The group was comprised of all very experienced Class V paddlers with big water paddling skills and most of us were quite familiar with the run. The remoteness, challenging whitewater, stunning waterfalls, and length of the run all make this one of my favorite rivers anywhere.
NFF: Which river are you most looking forward to paddling as you work to complete this project?
SUSAN: We can't wait to visit the rivers in the East this year. With 40 rivers under our belt, we only have to hit ten more. I'm really excited about Wilson Creek in North Carolina, a river I was never able to catch with boatable flows when I lived out East. We also are excited to paddle the Chattooga River and the Eleven Point in Missouri. Then, we hope to make it up to the Northeast where we can take our daughter, Juniper, on some flatwater float trips on the Delaware and Clarion Rivers.
NFF: When you finish this project, you'll have been paddling and driving for nearly three years. Were there times when you doubted the wisdom of a project this ambitious? Did you ever consider quitting? What inspired you to keep going?
SUSAN: We moved into our "road home" in June of 2016, but have been stationed in the Northwest much of that time. This year, 2018, we will only live on the road for shorter trips around the West – to the Lochsa River in Idaho and the Smith River in California. So we really only lived on the road for about a year and a half. Finding internet and cool office spaces to write and edit photos has been tough. And there is always the difficulty of finding a dogsitter! Luckily, we've been able to do that in the way we had hoped, but we've always remained flexible.
NFF: Canoe, packraft, kayak or raft? Which is your favorite craft?
ADAM: Ha! This is one of the most difficult questions and one that I refuse to answer. :-) I must say they are all the best boat depending upon the river, your shuttle vehicle, how much gear you want to bring, etc. I love to cook gourmet meals with five courses, pack two pillows, plus a few different cameras, and travel deep into the wilderness. Rafting will always be there as primary craft for this style of multi-day trips with friends and family. However, a well-fitting whitewater kayak is hard to beat for getting your fill of pure, soul-nourishing, negatively charged ions.
SUSAN: My favorite watercraft absolutely depends upon the river, the group, the weather, and more. I think we take our whitewater kayaks out more than anything, but that is just because it is easy. We love taking people out on the water and a raft trip makes perfect sense for that. This tour has helped us expand our "favorite watercraft" list to include canoes and packrafts, both of which will be great for bringing our young daughter on the river in the next few years. We found ourselves wanting to take the canoe to more rivers because of how graceful it is on the water. We can pack a few more "creature comforts" than our tiny whitewater kayaks, bring the dog, and still go pretty light-weight for camping. I'm also excited to do more packrafting because it opens up exploration into the whole watershed, even multiple watersheds. We'll be able to hike into rivers, float, and even hike over the ridgeline to explore somewhere else.
NFF: Whitewater or flatwater?
ADAM: Again, with your impossible questions! We don't live in an "either/or" world. Do you like breathing or eating better? DO BOTH!
SUSAN: Perhaps our favorite type of river is one with both whitewater and flatwater: some excitement to challenge our skills and focus as well as long stretches to relax and listen to nature. I think we will always gravitate toward some whitewater. The problem solving aspect of navigating a boat through whitewater rapids instills self-confidence, strength, and great joy for me. I feel like the river and I are working together when paddling through rapids, at least when I am on my line!
NFF: You've still got some rivers yet to paddle, what's next for the Elliotts once you complete your list?
SUSAN: While we have ten more Wild and Scenic Rivers to paddle this year, I think we are both most excited about bringing our daughter on one of those river trips. Perhaps she will take on a challenge like this when she is older, to not just enjoy recreating in America's beautiful wild places, but also stand up and work to protecting those places that she loves to play too.
ADAM: We also can't wait for our guidebook "Paddling America: Explore and Discover Our 50 Greatest Wild and Scenic Rivers" to be published with Falcon Guides and Backpacker Magazine in October 2018! It includes many of our trips, some rivers we will visit this year, and even three rivers that will hopefully be designated soon.
Learn more and follow the Elliots on Social Media
Instagram - @wildriverlife

Facebook - wildriverlife