The newest residents of Midewin National Tallgrass Prairie haven't been there for more than 100 years. That changed in October when a small herd of bison arrived to their new Midewin home, an hour outside of Chicago.
Since the beginning of the country's only national tallgrass prairie, staff and locals have hoped to bring back bison to the "Prairie State." Thanks to the work, dedication and support of several partners, including the National Forest Foundation, this dream has become a reality.
The Forest Service has introduced four bulls and 23 cows to their new 1,200-acre enclosure at Midewin. Through strategic management efforts, Midewin's staff hope to see positive changes for prairie health. The experiment will explore how bison grazing patterns support the tallgrass ecosystem and how the bison's grazing will benefit grassland bird habitat. Lastly, the experiment will see if bison can safely be used a restoration tool across more than 1,200 acres.
Last week, the NFF gathered at Midewin with the Forest Service as well as partners and stakeholders to celebrate the bison's arrival. The exciting moment of the day came when the bison ran from the trotting pasture out into a larger area to graze and settle into Midewin.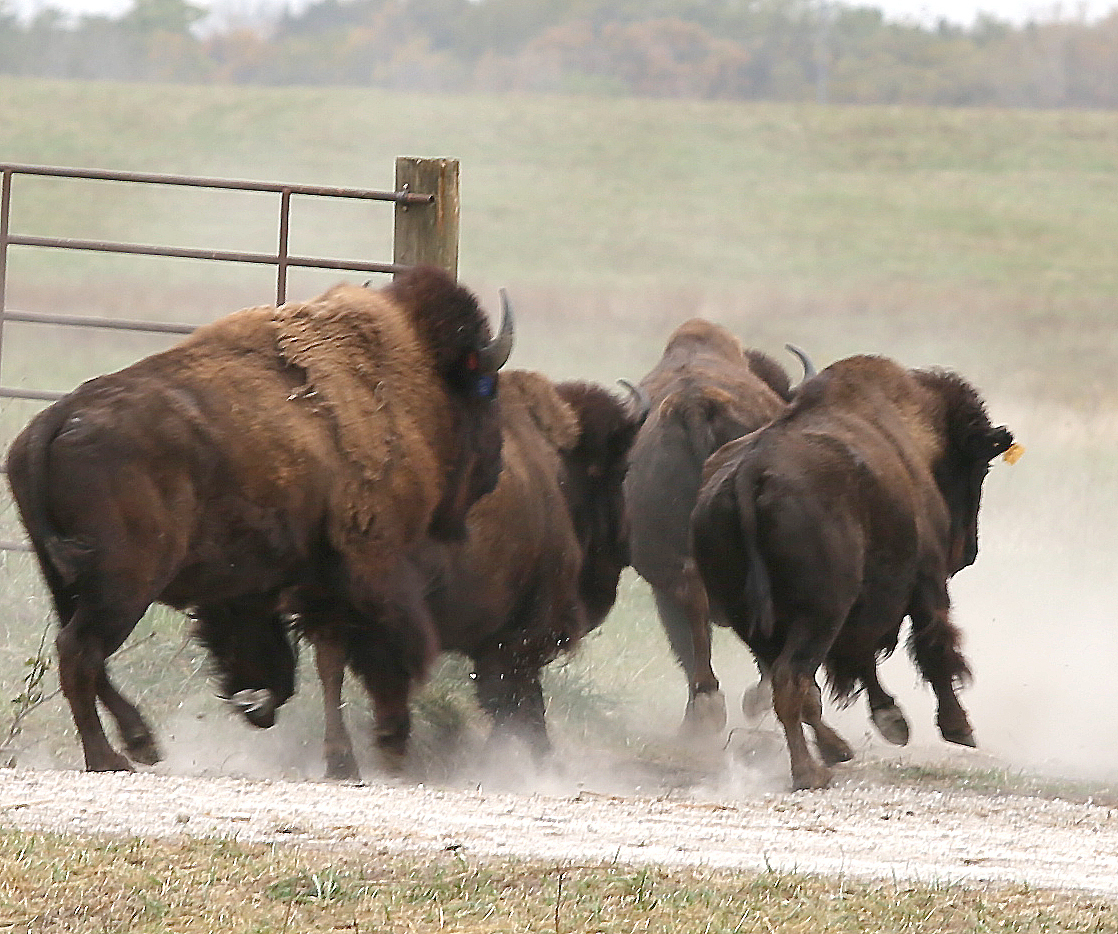 "We are excited and proud to be a part of this historic effort. It would not have been possible without the dedication and support of so many partners."
To safely house and care for the bison, the NFF raised funds and hired contractors to install fencing and other infrastructure at Midewin. This infrastructure includes:
35,575 feet – almost 7 miles – of six-foot-tall exterior fencing around the bison grazing pastures;
10,573 feet of four-foot-tall interior fencing separating the bison grazing pastures;
Corral fencing, watering station, water-pump, solar power and back-up generator;
A "Berlinic Cube," a bison-specific corral system for safe animal handling and health monitoring.
Later this fall, Midewin's bison herd will also be online. Thanks to crowdfunding and partner support, contractors will install a webcam at the pasture this fall so viewers across the globe can witness the bison grazing on the prairie.
"The bison's arrival marks a large achievement for the Forest Service as well as the large community of partners in the area. We can't wait to welcome everyone to explore all the Midewin has to offer, including, now, bison."
Visitors to Midewin are encouraged to stop in at the Welcome Center for more information about the herd and where to see the bison. The Forest Service and partners are planning a public event in the spring of 2016 to celebrate this historic "homecoming."
LEARN MORE ABOUT THE BISON PROJECT