Black Hills National Forest
The Black Hills National Forest is in western South Dakota and northeastern Wyoming, covering an area 125 miles long and 65 miles wide. The Forest encompasses rugged rock formations, canyons and gulches, open grassland parks, deep blue lakes, and unique caves.
For many people, from early Native Americans to today's visitors, the Black Hills has been a special place to come for physical and spiritual renewal.
The name "Black Hills" comes from the Lakota words Paha Sapa, which mean "hills that are black." Seen from a distance, these pine-covered hills, rising several thousand feet above the surrounding prairie, appear black.

The Black Hills area has a rich, diverse cultural heritage. Archaeological evidence suggests the earliest known use of the area occurred about 10,000 years ago. Later Native Americans, such as the Arapaho, Cheyenne, Kiowa, and Lakota, came to the Black Hills to seek visions and to purify themselves. The Black Hills was also a sanctuary where tribes at war could meet in peace.

Harney Peak, at 7,242 feet above sea level, is the highest point in the United States east of the Rockies. From a historic lookout tower on the summit, one has a panoramic view of parts of South Dakota, Nebraska, Wyoming, and Montana, as well as the granite formations and cliffs of the Black Elk Wilderness.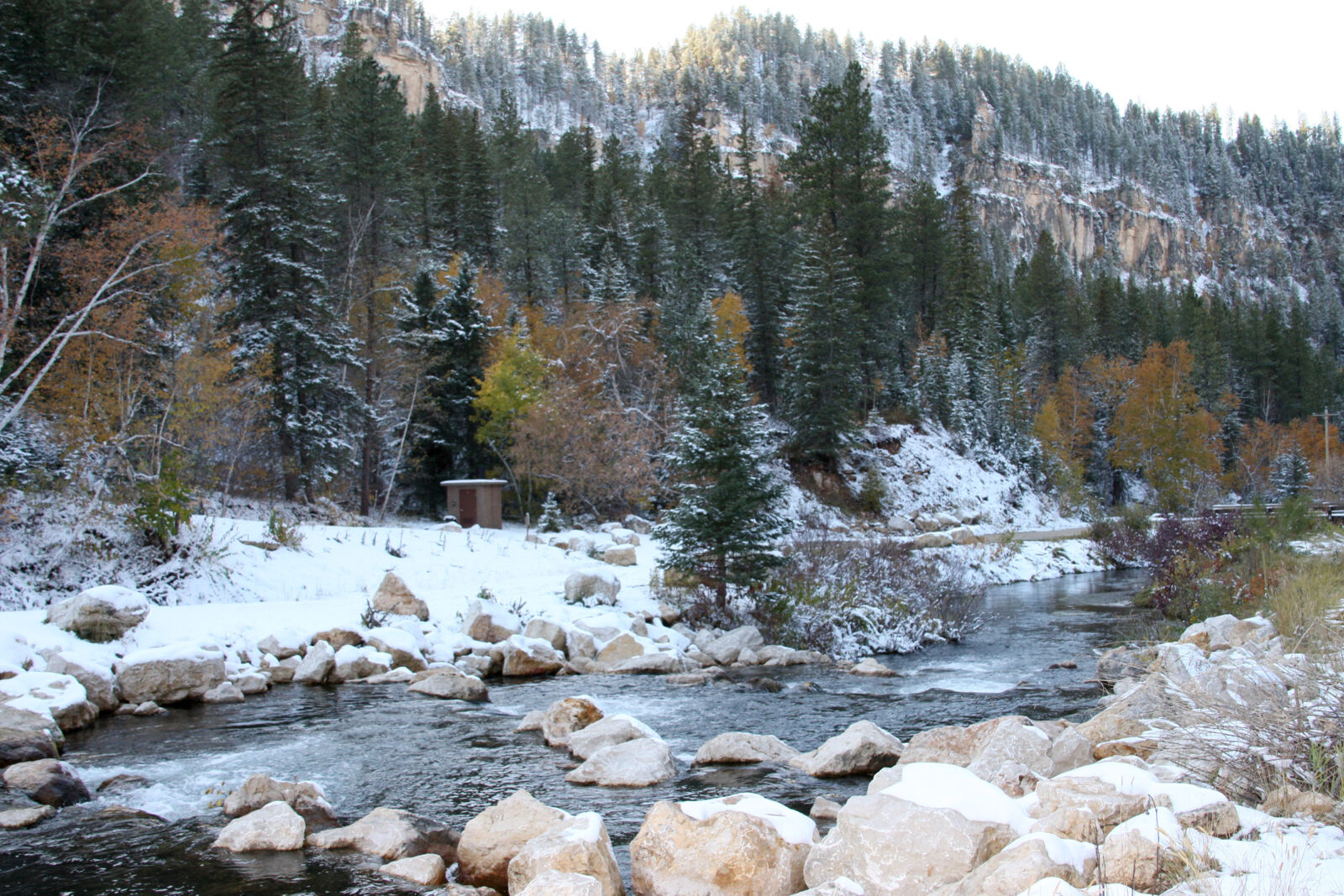 Amid the spendid scenery of the Black Hills National Forest are 11 reservoirs, 30 campgrounds, 32 picnic areas, two Scenic Byways, 1,300 miles of streams, 13,000 acres of wilderness, 353 miles of trails, and much more. Recreational activities are plentiful. The Forest has 450 miles of hiking trails ranging in length and difficulty. Click here for a list of trails and authorized uses.
Other activities include off-roading,caving, hunting, fishing, boating, horseback riding, and mountain biking.
Make sure you visit during a full moon and join in on a Moon Walk, which takes visitors to fire lookout towers, mining towns, beaver dams, caves, and more. Moon Walks are held on a Saturday night close to the full moon and begin at 7 pm. Most Moon Walks last from one to two hours. The walk is usually about one mile round trip.