Ashley National Forest
The Ashley National Forest, with headquarters in Vernal, Utah, comprises 1.3 million acres located in the northeastern portion of Utah and southwestern portion of Wyoming.
The Ashley National Forest includes three major areas: the northern and southern slopes of the Uinta Mountains, the Wyoming Basin, and theTavaputs Plateau and is bordered by the Uintah and Ouray Ute Indian Reservation, the Uinta and Wasatch-Cache National Forests, private property, and Bureau of Land Management and state lands. Dinosaur National Monument is located approximately 10 miles east of the Forest.
The Ashley National Forest was established by President Theodore Roosevelt in 1908 and is protected and managed to ensure timber, grazing, minerals, water, and outdoor recreation for the American people. The vast Uinta Mountains watershed within the Forest provides vital water supplies for power, industry, farm, and city use in Utah, Nevada, Wyoming, and California.
Forest landscape ranges from high desert country to high mountain areas. The elevation varies from a low of 6,000 feet to a high of 13,528 feet above sea level at the summit of Kings Peak.
Outdoor fun
More than 2.5 million visitors come to the Forest each year to participate in outdoor recreation activities, such as boating,fishing, backpacking, camping, hiking, horseback riding, and scenic driving. The highlight is the Flaming Gorge National Recreation Area (see below) but the mountains and high desert provide opportunities throughout the forest.
Twenty six miles of the Green River are open to approved water craft without permit and offer excellent fly fishing. There are also more than 1,000 miles of hiking trails and special areas for cross-country skiing as well as motorized recreation. For a more rugged adventure without the motors, consider a trek in the High Uintas Wilderness.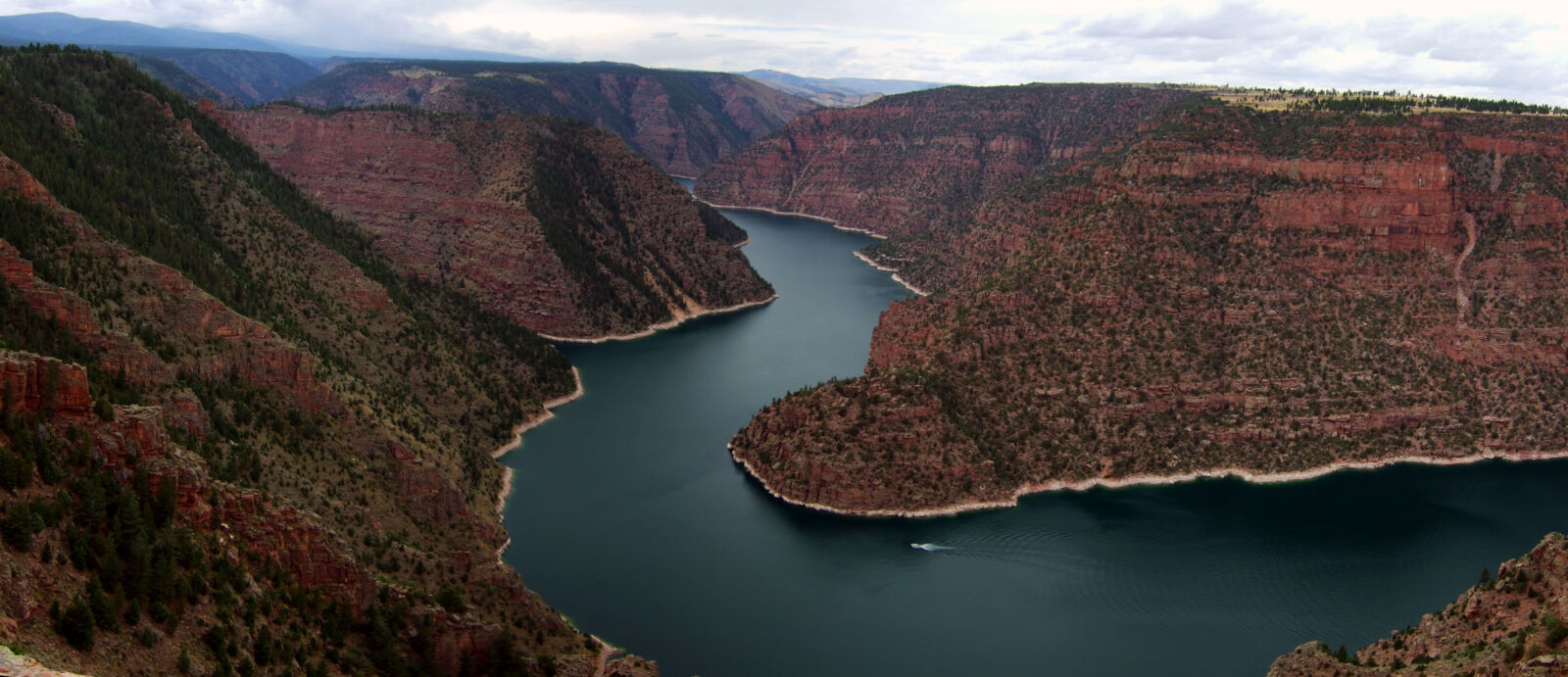 Flaming Gorge National Recreation Area
This rugged wildland stretches from Wyoming high deserts, where herds of antelope play along the lake shore, to the forested slopes of Utah's Uinta Mountains. A diverse land of scenic beauty, Flaming Gorge lends itself to many memorable outdoor adventures.
In 1869, Major John Wesley Powell, on expedition down the Green River, looked in awe at this magnificent country and named it Flaming Gorge. Today the brilliant red cliffs are scenic attractions for thousands of visitors annually. The heart of the National Recreation Area is a 91-mile-long reservoir, created by the Flaming Gorge Dam.
A Recreation Use Pass is necessary for recreational use of the Flaming Gorge National Recreation Area.

History
The history of the Ashley National Forest is a colorful parade of Native Americans, European trappers, explorers, outlaws, and settlers. Their deeds and lives create a colorful and interesting picture in the development of this area. Read more about thehistory of the forest.