Dixie National Forest
The Dixie National Forest, with headquarters in Cedar City, Utah, occupies almost two million acres and stretches for about 170 miles across southern Utah. The largest National Forest in Utah, it straddles the divide between the Great Basin and the Colorado River.
The Dixie National Forest is divided into four geographic areas. High altitude forests in gently rolling hills characterize the Markagunt, Pansaugunt, and Aquarius Plateaus. Boulder Mountain, one of the largest high-elevation plateaus in the United States, is dotted with hundreds of small lakes 10,000 to 11,000 feet above sea level.
The Forest has many climatic extremes. Precipitation ranges from 10 inches in the lower elevations to more than 40 inches per year near Brian Head Peak. At the higher elevations, most of the annual precipitation falls as snow. Thunderstorms are common during July and August and produce heavy rains.
Temperature extremes can be impressive, with summer temperatures exceeding 100 degrees Fahrenheit near St. George and winter lows exceeding -30 degrees Fahrenheit on the plateau tops.
The vegetation of the Forest grades from sparse, desert-type plants at the lower elevations to stand of low-growing pinyon pine and juniper dominating the mid-elevations. At the higher elevations, aspen and conifers such as pine, spruce, and fir predominate.
Outdoor activities
Three National Parks and two National Monuments are adjacent to the Dixie. Red sandstone formations of Red Canyon rival those of Bryce Canyon National Park. Hell's Backbone Bridge and the view into Death Hollow are breathtaking. From the top of Powell Point, it is possible to see for miles into three different states.
Recreational opportunities on the Forest are highly diversified and include camping, hunting, scenic driving, hiking and horseback riding, among others.
The Forest has 83,000 acres of wilderness in three areas: Pine Valley, Box-Death Hollow, and Ashdown Gorge. Others who prefer more developed areas and less primitive conditions may enjoy motorized activities and activities in places easily accessible by car.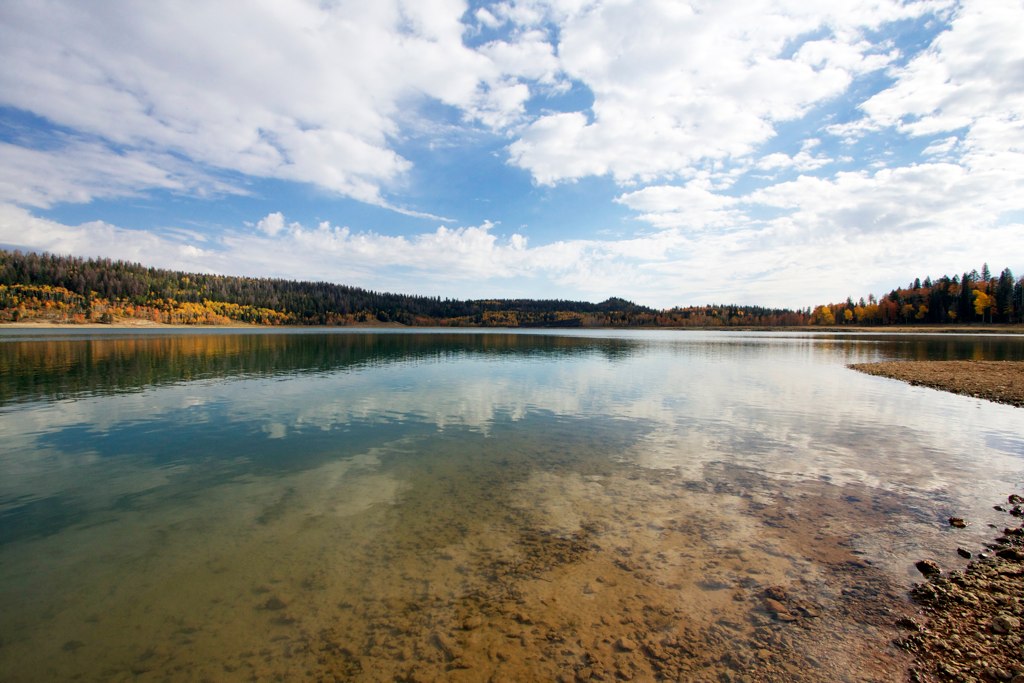 The forest supports a wide variety of wildlife species that provide many hours of viewing and enjoyment for visitors, in addition to playing important roles in the Forest ecosystem. The variety of terrain on the Forest furnishes habitat for many different wildlife species such as the cougar, bobcat, blue grouse, golden eagle, cottontail rabbit, wild turkey, antelope, and the Utah prairie dog. Big game hunting has traditionally been the major wildlife attraction on the Forest, although recently there has been an increased interest in viewing and photographing all types of wildlife.
Good fishing is found in the many lakes, reservoirs, and streams located on the Forest. Game fish include brook, rainbow, cutthroat, and brown trout. These lakes and streams also provide important habitat for many species of wildlife other than game fish.
There are 26 developed campgrounds and five picnic sites on the Forest. In addition, the Forest has several group camping areas and group picnic areas. Some of the campgrounds are located near lakes and reservoirs (Panguitch Lake, Navajo Lake, Enterprise Reservoir). These areas have boating and fishing opportunities available.
In winter, there are plenty of opportunities for cross skiing and snowmobiling. The Forest works with the State Parks to maintain some trails for skiing and snowmobiling. There are also more than a thousand miles of timber roads that can be used for these sports.
And those seeking adventure and thrills can check out downhill skiing at Brian Head.

Southern Utah is rich in historical lore. The archaeological record - pictographs, petrogylphs, dwellings, and artifacts - attests to the presence of prehistoric and historic peoples. It is the objective of the heritage program at the Dixie National Forest to help interpret and preserve these irreplaceable clues to our shared heritage. Come explore the fascinating history in this area, but please respect the cultural resources so that future generations will be able to enjoy the same experiences.