Hiawatha National Forest
With 100 miles of shoreline on three Great Lakes, the Hiawatha National Forest is uniquely positioned to provide visitors with a range of nationally distinct recreation opportunities.
The Hiawatha's great lakeshores, lighthouses, islands and snow create a playground and place of respite for people from major urban and rural areas of Michigan, Wisconsin, and other nearby states.
Bordering three Great Lakes, this Forest has plenty of water and water activities, including waterfalls, canoe trails, six Wild and Scenic Rivers, and sea kayaking. The Hiawatha National Forest offers fishing on more than 75 lakes and 600 miles of streams for a wide variety of warmwater and coldwater species.

There are also plenty of land activities: horseback riding, mountain biking, hiking, off-roading, and camping.

Among the other treasures in the Hiawatha are Grand Island National Recreation Area, Sand Dunes in the St. Ignace Area,Squaw Creek Old Growth Area, six designated Wilderness Areas, and Round Island.

The Point Iroquois Lightstation stands high above the waters of Lake Superior in the Hiawatha National Forest, at the entry to St. Mary's River, the only water connection between Lake Superior and the remaining Great Lakes. It served passing sailors by marking the narrow channel between the shallow sand beaches and shoals of Point Iroquois and the rocky reefs of Gros Cap on the Canadian side of Whitefish Bay.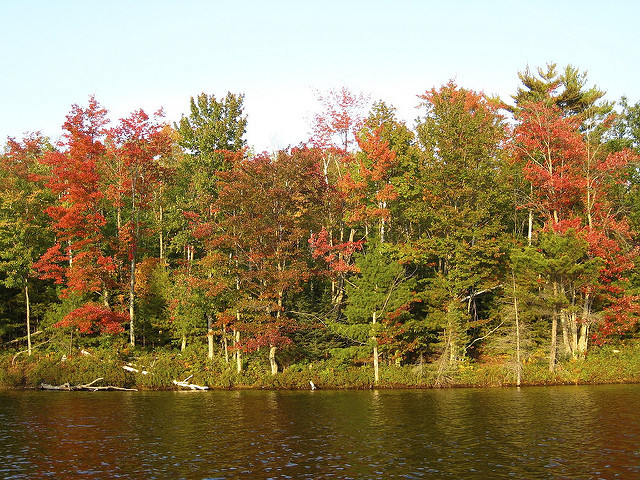 Climb the spiral staircase to the top of the 65-foot light tower. Observe the beauty of Canada, the lake, and the ocean-going freighters plying the river and Lake Superior as they come and go through the Soo Locks.
With 200 inches of snowfall yearly in some areas, the Hiawatha National Forest, is a true winter wonderland. The Forest is positioned in the "lake effect" snow shadows of Lakes Superior and Michigan. The cross country ski trail system offers nearly 90 miles of skating and diagonal-stride skiing of renowned quality. There are hundreds of trails for snowmobiling, with the trails connecting with the statewide system.

Snowshoeing, ice fishing and dog sledding are great backcountry winter options. And to round out your backcountry experience, there are two log cabins available for rent in the winter.