Mt. Baker-Snoqualmie National Forest
The Mt. Baker-Snoqualmie National Forest in Washington state is located little more than an hour's drive from the Seattle-metro area. Come fish the clear streams and enjoy the craggy, snow-capped peaks.
The Mt. Baker-Snoqualmie National Forest in Washington State extends more than 140 miles along the western slopes of the Cascade Mountains from the Canadian border to the northern boundary of Mt. Rainier National Park. The Forest covers portions of Whatcom, Skagit, Snohomish, King, and Pierce Counties. Proximity to Seattle and Vancouver, Canada, make the Mt. Baker-Snoqualmie National Forest one of the most visited National Forests in the country.
The Mt. Baker-Snoqualmie National Forest contains many scenic and historical points of interest. A colorful past history, including logging and mining, dominates some areas. Mountain tops gradually rise from 5,000 to 6,000 feet on the south end of the forest to 7,000 to 8,000 feet in the north. Two tall volcanoes, Mt. Baker and Glacier Peak, tower thousands of feet above the adjacent ridges. The Forest is home to more glaciers and snow fields than any other National Forest in the lower 48.
The Forest is also rich in lakes, with about 800, mostly in alpine areas. Baker Lake, a 10-mile long reservoir near Mt. Baker, produces hydro power for local electric utilities and provides exceptional recreation opportunities.
The area approaching the Cascade Crest is exceptionally rugged and scenic. In 1968 part of the Forest was transferred to the National Park Service as the North Cascades National Park.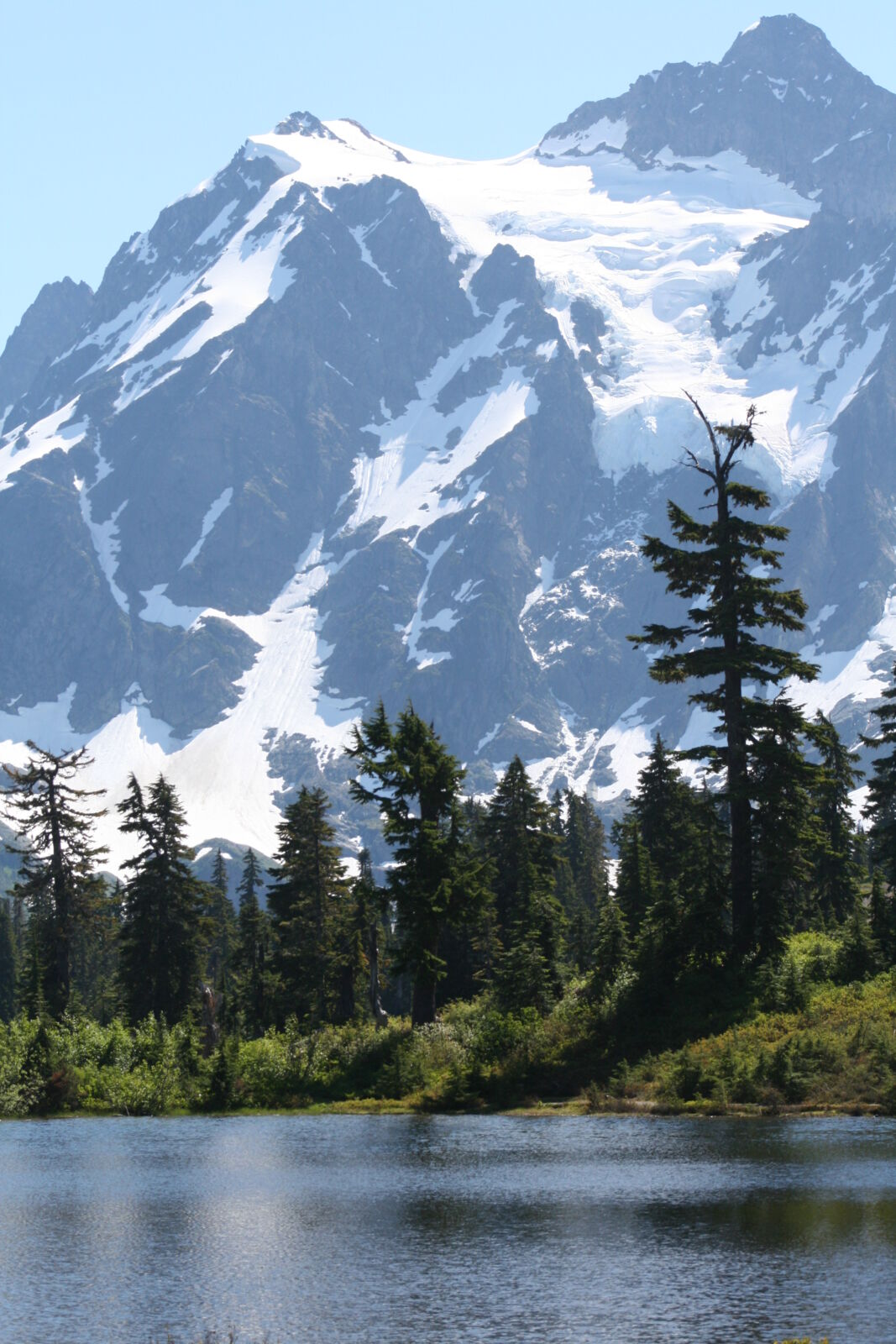 The Forest offers a variety of recreation sites, including more than 50 campgrounds, picnic areas and scenic viewpoints, water sport and snowplay areas. The Forest manages seven downhill ski areas, four at Snoqualmie Pass and one each at Crystal Mountain, Stevens Pass and Mt. Baker. It also features world-class hiking and mountaineering.
There are also more than 1,500 miles of hiking trails including portions of the Pacific Crest National Scenic Trail. The Forest also provides ample opportunities for hunting, fishing, skiing, snowmobiling, snowshoeing, river rafting, bird watching, berry picking, picnicking, and sightseeing.
The forest also includes eight Wilderness Areas! Check out Wilderness.net for even more information on these special areas.
Along with its recreation programs, the Mt. Baker-Snoqualmie National Forest has significant programs in fisheries and wildlife habitat, soils and watershed, lands and minerals, wood fiber, and human and cultural resources. Nineteen federally recognized Tribes still utilize areas of the Mt. Baker-Snoqualmie National Forest that were once inhabited or used by their ancestors. They, along with interest groups such as environmentalists, recreationists and timber industry representatives, take an active interest in the management of the Forest and its resources.
Check out this great photo album.