Siuslaw National Forest
The Siuslaw National Forest is a diverse and productive region extending from the Oregon Coast Range to Coos Bay on the Pacific Ocean and encompasses more than 630,000 acres of unique and varying ecosystems.
The forest is situated within the Oregon Coast Range, a mountain range that runs north to south from the Columbia River to north central California. The Siuslaw National Forest is bordered on the east by the Willamette Valley and the west by the Pacific Ocean and is one of only two national forests located in the lower 48 states to claim oceanfront property.
Pacific Coast Scenic Byway Highway 101 runs parallel along the west side of the Forest and the Pacific Ocean.
Four major rivers flow out of the Siuslaw National Forest into the Pacific Ocean: the Nestucca, Alsea, Siuslaw, and Umpqua (aWild and Scenic River), all of which provide excellent habitat for anadromous fish (fish that live in salt water but reproduce in fresh water.) Many other smaller streams and tributaries add to the annual route salmon and steelhead take to their ancestral spawning ground.
Abundant rainfall and mild winters provide growing conditions for a variety of plants. The Siuslaw has two distinct vegetation zones, Sitka spruce and western hemlock. The hardy Sitka spruce zone grows where the coast influence of mild temperatures, winds, and dense fog discourage other types of vegetation. Western hemlock grows well in shade beneath the dense Douglas-fire canopy. As Douglas fir matures, western hemlock takes over. Both zones contain freshwater, upland, offshore, and estuarine habitats that support a wide variety of vegetation, fish, and wildlife.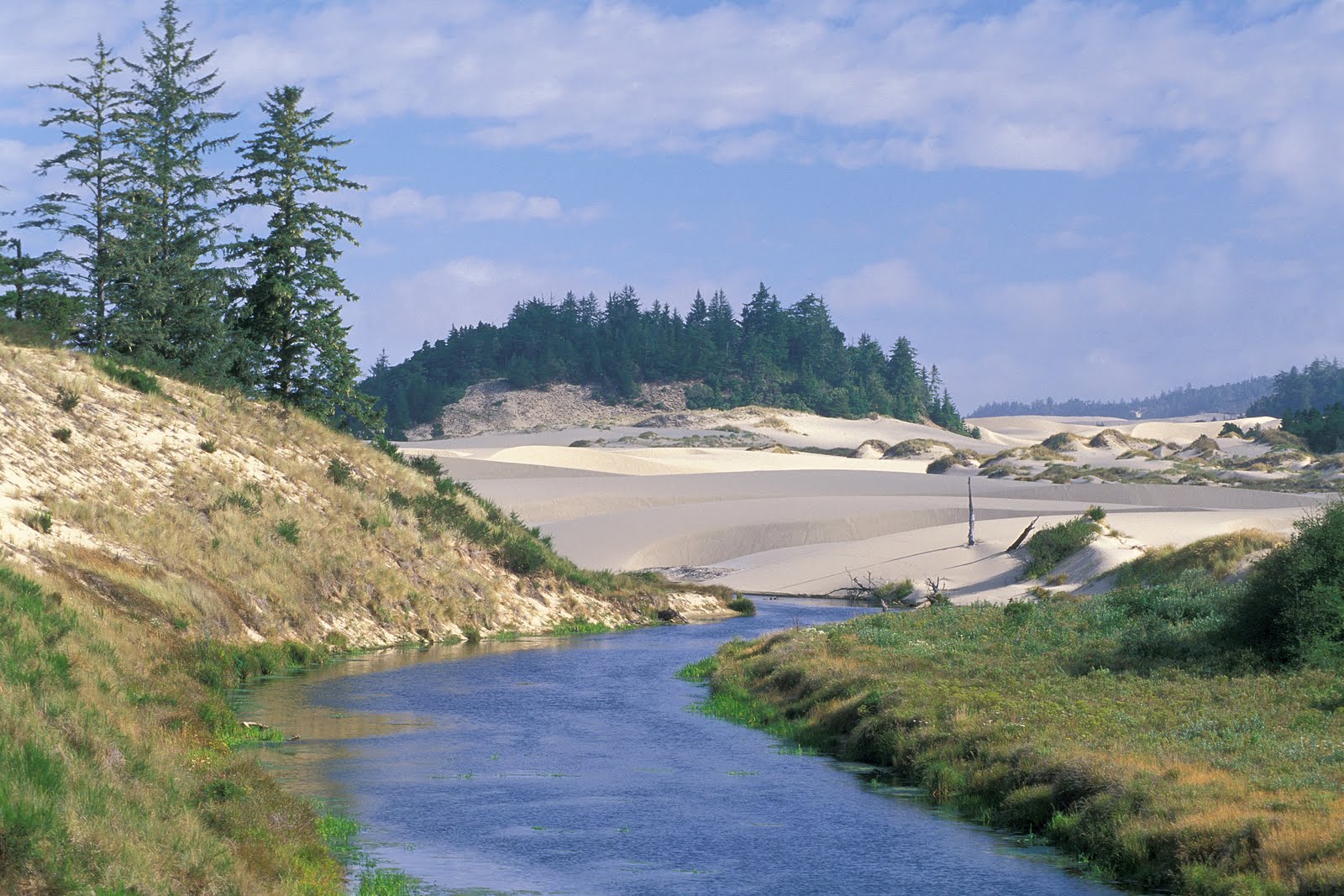 Because of the varied terrain, from mountains to beaches, visitors have a stunning choice of recreational opportunities. One can find activities to suit every taste, including hiking Marys Peak, the highest peak in the Coast Range at 4,097 feet, to beach combing, from whale watching to exploring the forest or Oregon Dunes National Recreation Area, the Siuslaw National Forest offers something for everyone.
People usually access the Forest using one of several major highways: Highways 26, 6 and 18 all access the North Central Coast, Highways 20 and 34 access Newport and the Central Coast, Highway 126 accesses Florence and the north part of the Oregon Dunes, and Highway 38 accesses Reedsport and the southern section of the Oregon Dunes.
For those looking for a wilder adventure, the forest offers three different Wilderness Areas: Drift Creek, Cummins Creek andRock Creek.
Other great Web pages
The Siuslaw National Forest Web site also offers an interactive and comprehensive trip planner and a great section on thenatural history of the area, including the geology and ecology.