Cibola National Forest
The Cibola National Forest is located in New Mexico, Texas and Oklahoma, and is part of the Southwestern Region.
Like most of the National Forests located in the western states, the Cibola National Forest grew out of lands that originally were known as Forest Reserves. These reserves were first established in the late 1800s and early 1900s as a means of affording protection to natural resources, such as watersheds, trees, and soils.
Cibola, pronounced See-bo-lah, is thought to be the original Zuni Indian name for their group of pueblos or tribal lands. Later, the Spanish interpreted the word to mean, "buffalo."
Valued for its recreation opportunities, natural beauty, timber, watersheds, water, forage, and wilderness resources, the forest is managed to give the American people the greatest benefits that can be produced on a permanent basis.
The Cibola National Forest is 1,625,542 acres in size. Elevation ranges from 5,000-11,301 feet. The forest includes the Datil, Gallinas, Magdalena, Bear, Manzano, Sandia, San Mateo, Mt. Taylor, and Zuni Mountains. There are four wildernesses contained within the forest: the Sandia Mountain, Manzano Mountain, Withington, and Apache Kid. The Cibola National Grasslands are located in northeastern New Mexico, western Oklahoma, and northwestern Texas, and are 263,954 acres in size.
Climate varies with elevation from desert up through juniper, pine, and spruce-fir forests. Sandia Crest, elevation 10,678 feet, is accessible by road, aerial tramway, and trails. Capillia Peak, elevation 9,375 feet, is accessible by road and trails. Mount Taylor, elevation 11,301 feet, has a good road to within a mile of the top. There are several other scenic drives available. Season of recreational use is all year, although the high country winter is severe. Summer nights are cool, or cold above 8,000 feet. July and August have frequent afternoon showers due to the monsoon season.
On the Cibola there are hunting opportunities for deer, elk, antelope, and turkey. There are fishing opportunities in Bluewater and McGaffey Lakes in the Zuni Mountains; Skipout, Spring Creek, and Dead Indian Lakes in Oklahoma; and Lake Marvin and Lake McClellan in Texas.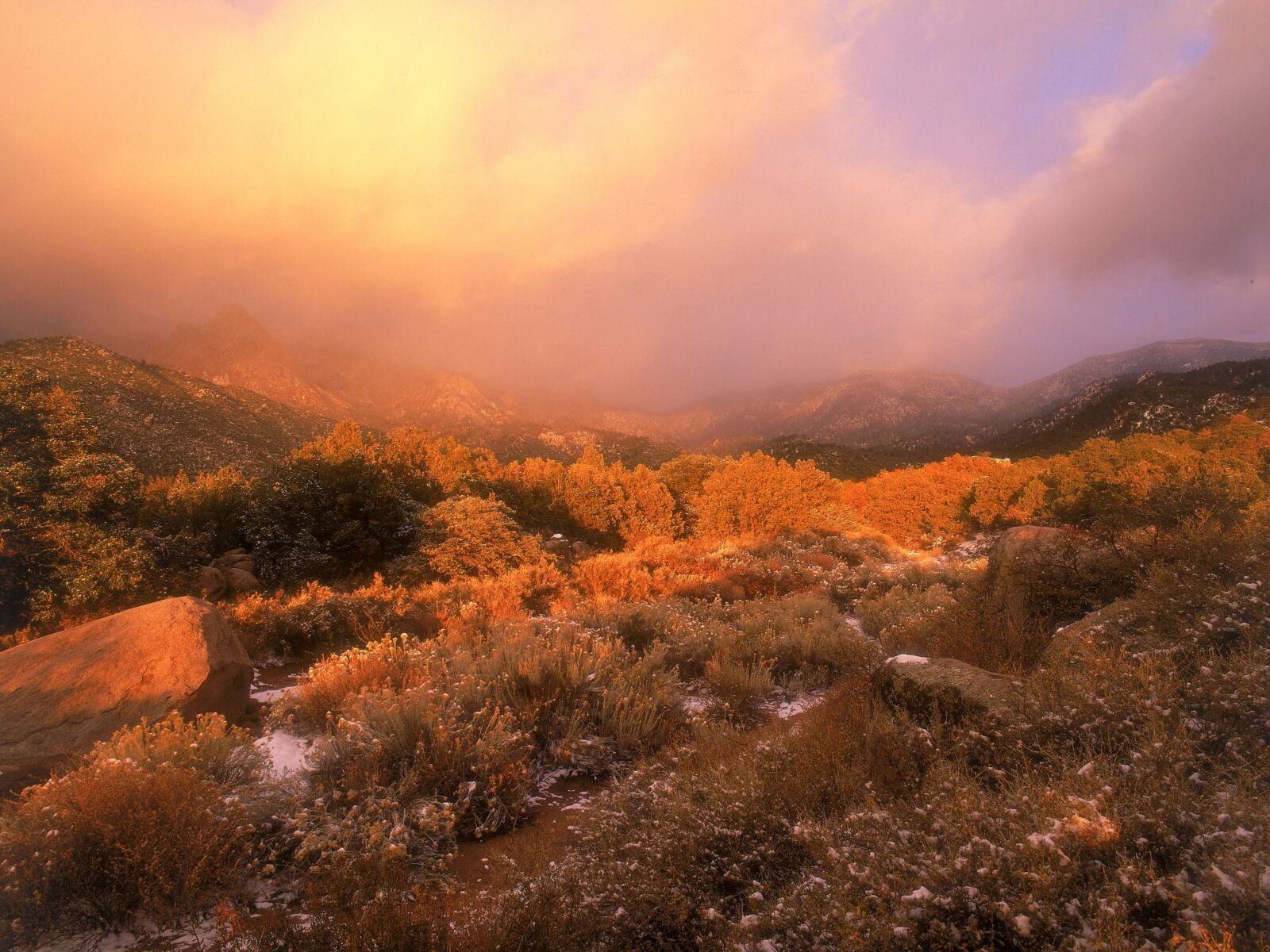 Downhill skiing is available at the Sandia Peak Ski Area, located on the east side of the Sandia Mountains. Located in the vicinity of the Cibola National Forest are heritage sites, including Indian Pueblos, prehistoric ruins, ice caves, and lava flows.
Watch raptors migrate through a unique program. Hawk Watch International (HWI) and the Cibola National Forest are working to learn more about raptors and their migration through New Mexico with two projects: Sandia Mountains Raptor Migration Project and Manzano Mountains Raptor Migration Project.
The Sandia Mountain Project runs from 24 February through 5 May each year. The most commonly seen species are the Swainson's Hawk, Sharp-shinned Hawk, Cooper's Hawk, Red-tailed Hawk, and American Kestrel.

The Manzano Mountain Project runs from 27 August through 5 November each year. The most commonly seen species are the Sharp-shinned Hawk, Cooper's Hawk, Red-tailed Hawk, and Turkey Vulture.
Onsite interpreters are available to help visitors better understand the "why's" and "how's" of migration. Interpreters are generally available six days per week throughout the monitoring season. If you have a group that would like to visit for educational purposes, HWI can help organize your trip around your learning objectives, and help you choose dates when you will get personal attention. Contact HWI at 1-800-726-HAWK (4295) to arrange your visit.