Bitterroot National Forest
Half of the Bitterroot National Forest in southwest Montana and Idaho is dedicated to the largest expanse of continuous wilderness in the lower 48 states -- the Selway Bitterroot, Frank Church River of No Return, and the Anaconda Pintler.
Much of the Bitterroot's beauty can be attributed to the heavily glaciated, rugged peaks of the Bitterroot Range. Drainages carved by glaciers form steep canyons that open into the valley floor. The abundance of natural resources offers a wide range of opportunities for recreation, grazing, wildlife, fisheries, timber, and minerals. Come enjoy the magnificent mountains, the serenity of wilderness, the miracle of spring flowers, majestic big game, and the sounds of birds here in our land of multiple uses.
Get outdoors!
Elevation ranges from 3,200 feet at the north end of the Bitterroot Valley to Trapper Peak at 10,157 feet in the mountains on the south. In the Idaho portion of the Forest, elevations drop to about 2,600 feet along the Selway River and 2,200 feet on theSalmon River.
Alpine lakes, mountain reservoirs, fast running streams and the meandering Bitterroot River offer anglers the opportunity to fish for brook, rainbow, and brown trout. Be sure to consult the current Montana or Idaho fishing regulations for details.
The Bitterroot Forest is home to many species of wildlife, from mule deer, whitetail deer, elk, bighorn sheep, mountain goats, black bear, mountain lions, and moose, to many varieties of smaller animals and birds. Birders can check out the Montana Nature and Birding Trail in the Bitterroot.
You can camp at eighteen developed campgrounds, hike or ride on more than 1,600 miles of trails, fish, hunt, white-water raft, boat, mountain bike, rock climb, horseback ride. Or for a more rugged adventure, check out one of the Wilderness Areas. Forty-seven percent of the Bitterroot National Forest (743,000 acres) is part of the Anaconda-Pintler, Selway-Bitterroot, andFrank Church-River of No Return Wilderness.
A night spent in a Forest Service fire lookout or cabin can also be a unique, and memorable experience.
Winter Activities
The Bitterroot National Forest is no exception in providing winter recreation. Opportunities from the thrill of downhill skiing and snowmobiling, to the quiet solitude of cross-country skiing and snowshoeing are available.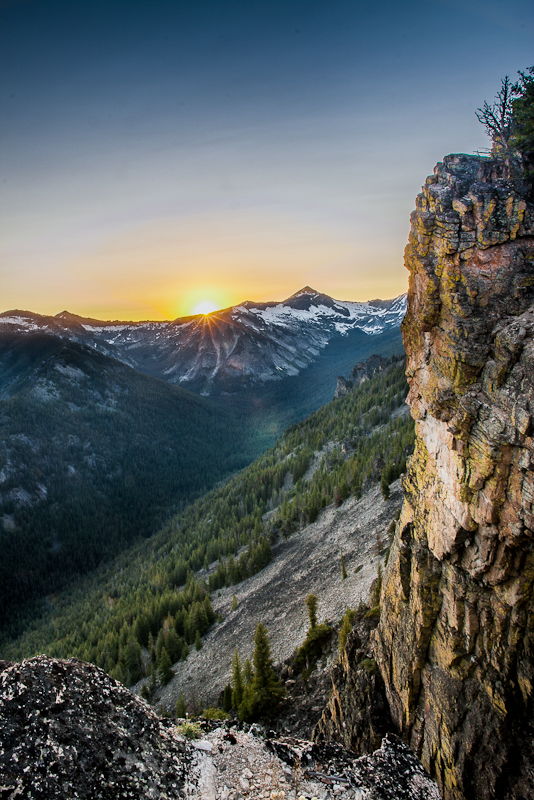 The natural world
In response to the changing needs of society, land managers on the Bitterroot National Forest use the principles of multiple use and ecosystem management to develop their objectives. Based on the sound principles of biological diversity and landscape management, the forest supports productive, healthy diverse ecosystems while providing the goods, services, values and opportunities that people desire. These include recreation, wildlife, fisheries, water, cultural resources, as well as timber, minerals, and grazing.
In the drier valley floor and lower foothills there is an arid-lands mix of grasslands, shrublands, and ponderosa pine that borders cottonwood forest along rivers and streams. On grassland ecosystems, wildlife and domestic livestock share forage. These rangelands provide benefits like wildlife habitats and recreation.
Mid-elevations receive more moisture and are habitat for stands of Douglas fir, lodgepole pine and western larch. Higher elevations produce Engelmann spruce, subalpine fir, subalpine larch and whitebark pine.
Vegetative management of the forest provides a sustained yield of forest products including saw timber, post, poles, and firewood, while providing improved wildlife habitat, forest health and high quality watersheds.